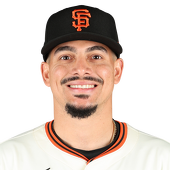 BLOG / COLUMNIST

NEXT
|
PREV

Posted 10 days ago. via razzball.com
After 25 minutes of intense Google searching, I can tell you without a shadow of a doubtWilly Adames is not William Adama. Though, 24 of those 25 minutes involved me removing a Firefox toolbar add-on that identified Cylons from humans. Meanwhile, searching Willy Adames on Razzball, reveals a flurry of results that tells me he has fallen dramatically in Prospector Ralph's eyes. He was a top 25 prospect for 2017 fantasy baseball, where PR seemed to be self-soothing, saying things like, "Not the best start to his Triple-A career," but "...lots of young players take a month to settle into a new level." Apparently, less players take two years to settle in, because PR dropped Willy Adames all the way to 57th overall on his top 100 prospects for 2018 fantasy baseball. There, he seemed to still be excited about Adames, while couching his comments with much more room for disappointment, mentioning how others now think he's overrated. Underrated, overrated or simply rated that is the question, after "To be or not to be," "How do I get my hand unstuck from a Pringles can?" and "Am I the only one that calls diarrhea, 'The Squirt Locker?'" Anyway, what can we expect from Willy Adames for 2018 fantasy baseball?
VIDEOS

NEXT
|
PREV

Add or Drop Willy Adames?
Top
The current trend indicates that there has been minimal movement in terms of ADDS or DROPS for Adames. In the past week his own percentage has increased by 2.89% . Meanwhile his start percentage has increased by 5.28% .
In the past 30 days, the highest own percentage for Adames is 20.36% and his lowest is 8.77%. In terms of start percentages, his highest start percentage is 22.86% and lowest is 0.00%.
Willy Adames Injury News
Top
DATE
OPP
H
HR
R
RBI
SB
BB
AVG
PTS
Diff.
Totals:
0
Willy Adames Fantasy Graph
Top
Fantasy Chart Loading...