FANTASY DRAFT GENIUS
Draft the perfect fantasy baseball team.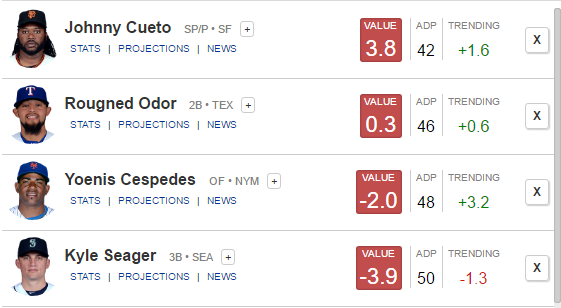 What Makes Our Draft Data Special

Up-to-date ADP data from COMPETITIVE fantasy leagues only.
Our data is from REAL fantasy leagues from FantasySP members and not automated drafts or collected elsewhere. We sort through it, and ensure you get ADP numbers from the best of the best.
Draft Genius features real-time draft trends for each player. Easily see how an injury immediately affects our Trending ADP numbers.
Customized Real-Time Team Projections

Real-time team projections compare your team to the rest of the league to show how you fit in.
The Draft Genius will automatically import your settings and categories your league uses.
Adjust your draft strategy based on team-needs.
Supports Popular Fantasy Drafts
We support ESPN, CBSSports, Yahoo!, and NFL.com.
We support all four major sports: NFL, MLB, NBA, and NHL.
Expect more features to be announced in the future.