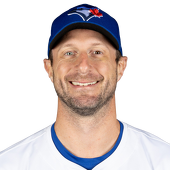 BLOG / COLUMNIST

NEXT
|
PREV

Posted 1 day ago. via Mets Blog
Michael Conforto had three hits Sunday, including a solo home run off Max Scherzer, during the team's 6-3 loss to the Nationals.
FANTASY ANALYSIS

NEXT
|
PREV

Posted 1 day ago. via rotoworld.com
Max Scherzer earned his third victory of the season on Sunday night, limiting the Mets to three runs on five hits over his eight frames. The reigning National League Cy Young award winner racked up nine strikeouts on the night while walking only one. [...]
LOCAL NEWSPAPER

NEXT
|
PREV

Posted 12 days ago. via Washington Times
WASHINGTON (AP) - Mike Leake outpitched 2016 NL Cy Young Award winner Max Scherzer, Stephen Piscotty homered and had five RBIs, and the St. Louis Cardinals beat the Washington Nationals 6-1 on Wednesday to avoid a three-game sweep. Leake (1-1) gave up four hits, struck out seven and walked none ...
VIDEOS

NEXT
|
PREV

RELATED NEWS

NEXT
|
PREV

Posted 1 day ago. via Federal Baseball
Daniel Murphy and Ryan Zimmerman combined for six RBIs with a pair of home runs and Max Scherzer went eight innings as the Washington Nationals swept the New York Mets with a 6-3 victory.

Home runs set the tone early in this one, and they would remain the theme all evening Sunday as the Washington Nationals beat the New York Mets 6-3 to sweep the first series of the season between the two NL East heavyweights.

Daniel Murphy's first at-bat came in the top of the first inning with the bases loaded and he took full advantage, hitting a grand slam to continue his dominance over his former team
Add or Drop Max Scherzer?
Top
The current trend indicates that there has been no movement in terms of ADDS or DROPS for Scherzer. In the past week his own percentage has hardly any movement . Meanwhile his start percentage has decreased by 5.5% .
In the past 30 days, the highest own percentage for Scherzer is 99% and his lowest is 89.09%. In terms of start percentages, his highest start percentage is 94.61% and lowest is 72.54%.
Max Scherzer Injury News
Top
DATE
OPP
INN
K
WLK
ER
DEC
ERA
WHIP
PTS
Diff.
04/23
@NYM
8.0
9
1
3
WIN
1.95
0.83
26
4
04/18
@ATL
7.0
7
3
0
WIN
1.37
0.86
26
0
04/12
STL
6.0
10
2
1
LOSS
2.13
0.95
21
5
04/07
@PHI
6.2
7
2
2
WIN
2.70
0.90
22
0
Totals:
27.2
33
8
6
95
Max Scherzer Fantasy Graph
Top
Fantasy Chart Loading...