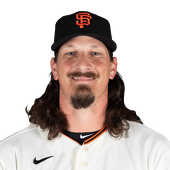 FANTASY ANALYSIS

NEXT
|
PREV

Posted 15 mins ago. via rotoworld.com
Jeff Samardzija was roughed up for eight hits and six runs in only 3 2/3 innings Wednesday in the Giants loss to the Nationals. He fanned three and also issued three free passes over his 86 pitches. [...]
BLOG / COLUMNIST

NEXT
|
PREV

Posted 6 hrs ago. via razzball.com
Giants starter Jeff Samardzija is a shark lurking in the waters on Tuesday, ready to put up a big performance for those who draft him. He is only projected as the seventh-best starter, but I think Shark is your best option outside of the three aces pitching today. He went five scoreless against a tough Angels lineup in his first time out, and that was when he was restricted to just 80 pitches. With a longer leash, Samardzija should have an even better start against the Nats. A popular sleeper candidate before his injury, Samardzija posted a 24.2% K-rate with just a 3.8% walk-rate in 2017, putting up a 3.63 Deserved Run Average. He's not a top-tier ace, but he's still a very useful fantasy starter, and people will start realizing that soon enough.New toDraft.com? Scared of feeling like a small fish in a big pond? Well, be sure to read our content and subscribe to theDFSBotfor your daily baseball plays. Just remember tosign up through usbefore jumping into the fray. Its how we know you care!
LOCAL NEWSPAPER

NEXT
|
PREV

Posted 27 days ago. via Washington Times
LOS ANGELES (AP) - San Francisco Giants closer Mark Melancon was put on the 10-day disabled list with a right elbow flexor strain before Thursday's opener, joining starters Madison Bumgarner and starter Jeff Samardzija on the sidelines. The move was made retroactive to Monday, and right-hander Reyes Moronta was recalled ...
VIDEOS

NEXT
|
PREV

RELATED NEWS

NEXT
|
PREV

Posted 15 mins ago. via rotoworld.com
Matt Adams plated six of the Nationals' 15 runs Wednesday in a win over San Francisco. Adams entered Wednesday's action with four RBI for the year. [...]
Add or Drop Jeff Samardzija?
Top
The current trend indicates that there has been average movement in terms of ADDS or DROPS for Samardzija. In the past week his own percentage has increased by 6.06% . Meanwhile his start percentage has increased by 57.25% .
In the past 30 days, the highest own percentage for Samardzija is 91.59% and his lowest is 80.89%. In terms of start percentages, his highest start percentage is 67.92% and lowest is 10.34%.
Jeff Samardzija Injury News
Top
Jeff Samardzija Stats
Top
DATE
OPP
INN
K
WLK
ER
DEC
ERA
WHIP
PTS
Diff.
04/20
@ANA
5.0
4
4
0
WIN
0.00
1.20
15
10.32
Totals:
5.0
4
4
0
15
Jeff Samardzija Fantasy Graph
Top
Fantasy Chart Loading...