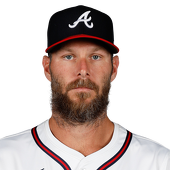 BLOG / COLUMNIST

NEXT
|
PREV

Posted 2 hrs ago. via razzball.com
Over the last four seasons Jose Quintana has averaged 461 points per season, finishing as a top 30 (or better) starting pitcher in each of those seasons. Over that same span of seasonshe has pitched at least 200 innings, and while he isn't a strikeout pitcher, averaging just 7.73 punch outs per nine, he has also averaged a very respectable 3.34 earned run average. Quintana might not be a stud, but he has certainly proven to be consistently good. And consistently good is great in points leagues.Considered by many to be a top trade candidate this season, Quintana stands to get a nice boost in value if he ends up playing for a contender (aka not for the White Sox). Put all of this together and I own him nearly all of my leagues. Take a look at what he's done this season and you can imagine I'm not very pleased with the results thus far. In his first four starts this year he has averaged just under five points start. Clayton Kershaw and Chris Sale have averagednearly that many points per inning! Ok, that's a bit of an exaggeration, but it's not far from the truth. You've got to be kidding me. Quintana better wake up soon or I'm going to have give Comfort Inn my business.Here's what else I've seen thusfar in points leagues...
LOCAL NEWSPAPER

NEXT
|
PREV

Posted 3 days ago. via Boston Herald
BALTIMORE - Steven Wrights fourth start was no more encouraging than the previous three, as the non-Chris Sale portion of the Red Sox rotation continues to provide nothing but questions.This time, at least, one could say the rain and moisture in the Camden Yards air served as the culprit causing headaches for Wright, whose knuckleball often doesnt fair well through that kind of weather.
FANTASY ANALYSIS

NEXT
|
PREV

Posted 5 days ago. via CBSSports.com
Sale allowed four hits and a walk while striking out 13 over eight innings in Thursday's 4-1 extra-inning win over Toronto.A potential win was negated when closer Craig Kimbrel allowed a game-tying run in the ninth [...]
VIDEOS

NEXT
|
PREV

Add or Drop Chris Sale?
Top
The current trend indicates that there has been no movement in terms of ADDS or DROPS for Sale. In the past week his own percentage has hardly any movement . Meanwhile his start percentage has increased by 0.29000000000001% .
In the past 30 days, the highest own percentage for Sale is 99% and his lowest is 91.70%. In terms of start percentages, his highest start percentage is 93.92% and lowest is 77.36%.
Chris Sale Injury News
Top
DATE
OPP
INN
K
WLK
ER
DEC
ERA
WHIP
PTS
Diff.
04/20
@TOR
8.0
13
1
0
N/A
0.91
0.71
30
0
04/15
TB
7.0
12
3
1
WIN
1.25
0.74
29
8
04/10
@DET
7.2
10
1
2
LOSS
1.23
0.68
23
8
04/05
PIT
7.0
7
1
0
N/A
0.00
0.57
22
7
Totals:
29.2
42
6
3
104
Chris Sale Fantasy Graph
Top
Fantasy Chart Loading...