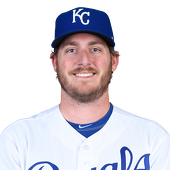 BLOG / COLUMNIST

NEXT
|
PREV

Posted 11 days ago. via mlb.com
The Royals optioned right-hander Brandon Maurer to Triple-A Omaha on Friday and recalled right-hander Kevin McCarthy.

Spin: Maurer had 20 saves in half of a season with the Padres, but Maurer never has shown that skill level with the Royals. He showed flashes of late-inning effectiveness last season in KC, but overall had a disappointing 8.10 ERA in 26 games with the club. This season, Maurer was 0-2 in five games and had a 12.46 ERA. Royals manager Ned Yost said it simply was time to try and get Maurer fixed. "I just think he came over here and started pressing last year, and never got off to a good start," Yost said. "He was just pressing and pressing. He got into Spring Training and wanted to impress, and started pressing again. "His stuff is still really good. He just needs to get into a different environment and get some confidence back. The reality is that his stuff is eighth-inning stuff or good enough when your closer needs a day. He just needs to have some success and get his confidence back."
FANTASY ANALYSIS

NEXT
|
PREV

Posted 12 days ago. via rotoworld.com
Royals optioned RHP Brandon Maurer to Triple-A Omaha. Maurer holds an 8.88 ERA across 31 relief appearances since the Royals acquired him last July, including a 12. [...]
LOCAL NEWSPAPER

NEXT
|
PREV

Posted 17 days ago. via Washington Times
CLEVELAND (AP) - Yan Gomes hit a tiebreaking two-run homer off Brandon Maurer in the ninth inning, lifting the Cleveland Indians to a 3-1 win over the Kansas City Royals on Sunday in the coldest game in Progressive Field history. Gomes drove a 3-2 pitch barely over the 19-foot wall ...
VIDEOS

NEXT
|
PREV

Add or Drop Brandon Maurer?
Top
The current trend indicates that there has been minimal movement in terms of ADDS or DROPS for Maurer. In the past week his own percentage has decreased by 0.68% . Meanwhile his start percentage has increased by 1.54% .
In the past 30 days, the highest own percentage for Maurer is 4.19% and his lowest is 0.44%. In terms of start percentages, his highest start percentage is 70.59% and lowest is 37.50%.
Brandon Maurer Injury News
Top
DATE
OPP
INN
K
WLK
ER
DEC
ERA
WHIP
PTS
Diff.
04/12
ANA
1.1
0
0
1
N/A
12.46
2.54
0
30.34
04/09
SEA
1.0
1
0
0
N/A
15.00
2.67
3
36.5
04/08
@CLE
0.1
1
1
2
LOSS
22.50
3.50
-1
36.84
03/31
CHW
1.0
0
1
3
LOSS
16.21
3.00
-3
25.5
03/29
CHW
0.2
1
1
0
N/A
0.00
1.50
2
20.18
Totals:
4.1
3
3
6
0
Brandon Maurer Fantasy Graph
Top
Fantasy Chart Loading...