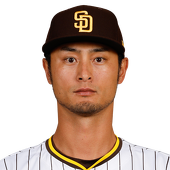 FANTASY ANALYSIS

NEXT
|
PREV

Posted 3 days ago. via rotoworld.com
Yu Darvish allowed one hit through his first four innings before proceeding to allow five runs in the fifth, exiting after 4 2/3 in a loss to the Rockies on Saturday. [...]
BLOG / COLUMNIST

NEXT
|
PREV

Posted 11 days ago. via mlb.com
Cubs right-hander Yu Darvish lost after allowing four runs, nine hits and four walks to go with four strikeouts over four innings vs. the Braves on Friday.

Spin: Making his Wrigley Field debut for the Cubs, Darvish took the loss in Atlanta's 4-0 victory on a chilly day. Preston Tucker hit a three-run homer and another run scored on a wild pitch by Darvish in a long fifth inning. The problem wasn't the home run as much as a balk called against Darvish in the fifth during Freddie Freeman's at-bat, when Ozzie Albies was on second. Both Darvish and Cubs manager Joe Maddon disagreed with home-plate umpire Bruce Dreckman's call. Darvish said he became "frustrated" after the call. "The umpire told me it's because I paused in the motion," Darvish said. "Over the course of my career, I've done that many times and it's never called balk. Even Freeman told me it wasn't a balk."
VIDEOS

NEXT
|
PREV

Add or Drop Yu Darvish?
Top
The current trend indicates that there has been no movement in terms of ADDS or DROPS for Darvish. In the past week his own percentage has hardly any movement . Meanwhile his start percentage has decreased by 3.41% .
In the past 30 days, the highest own percentage for Darvish is 99% and his lowest is 91.95%. In terms of start percentages, his highest start percentage is 95.35% and lowest is 60.10%.
Yu Darvish Injury News
Top
DATE
OPP
INN
K
WLK
ER
DEC
ERA
WHIP
PTS
Diff.
04/21
@COL
4.2
4
4
5
LOSS
6.86
1.63
4
35.18
04/13
ATL
4.2
4
4
4
LOSS
6.00
1.53
3
24.18
04/07
@MIL
6.0
9
1
1
N/A
5.23
0.97
22
4
03/31
@MIA
4.1
4
2
5
N/A
10.39
1.62
4
18.34
Totals:
19.2
21
11
15
30
Yu Darvish Fantasy Graph
Top
Fantasy Chart Loading...