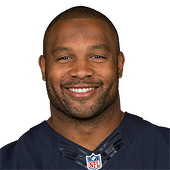 Briggs (foot) had nine tackles on Sunday against the Lions. [...]
Related Lance Briggs News
CHICAGO (AP) - Lance Briggs, a seven-time Pro Bowl linebacker who helped the Chicago Bears reach the Super Bowl, plans to retire. Briggs said Wednesday afternoon during CSN Chicago's telecast of the Cubs' game against the Reds at Wrigley Field that he is ready to call it a career. He ...
The only certainty is that Lance Briggs deserves his due as one of the greatest Chicago Bears in franchise history.
Barring an unexpected contract offer in the coming days, Lance Briggs plans to file his retirement papers with the NFL.