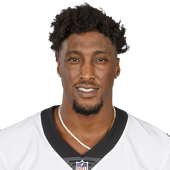 FANTASY ANALYSIS

NEXT
|
PREV

Posted 3 days ago. via rotoworld.com
Michael Thomas hauled in just 3-of-6 targets for 11 yards in the Saints' Week 6 win over the Lions. It was a dreadful game for Thomas, who has one of his targets wrestled away by Darius Slay for an interception. [...]
LOCAL NEWSPAPER

NEXT
|
PREV

Posted 6 days ago. via Sun-Sentinel
Miami Dolphins safety Michael Thomas said the teams newly-implemented policy of requiring players to stand for the national anthem or stay in the locker room or tunnel is a good thing because it leaves no room for ambiguity."Thats probably the best way to look at I," said Thomas, one of three...
BLOG / COLUMNIST

NEXT
|
PREV

Posted 22 days ago. via fanhouse.com
Gregg Popovich has once again criticized President Donald Trump, saying the country has become "an embarrassment to the world"LeBron James gave one of the most powerful speeches of his career about anthem protests, Trump, and the state of the countryDolphins safety Michael Thomas breaks down speaking about Trump's criticism of NFL playersNASCAR owners side with Trump, say they will fire drivers who protest national anthemRead more...Permalink|Email this|LinkingBlogs|Comments
VIDEOS

NEXT
|
PREV

RELATED NEWS

NEXT
|
PREV

Posted 4 hrs ago. via rotoworld.com
Willie Snead played just 21-of-71 snaps in the Week 6 win over the Lions. Snead was right in saying the Saints were going to work him in "slowly" coming off a three-game suspension followed by a hamstring injury and the bye week. [...]
Add or Drop Michael Thomas?
Top
The current trend indicates that there has been no movement in terms of ADDS or DROPS for Thomas. In the past week his own percentage has hardly any movement . Meanwhile his start percentage has increased by 20.56% .
In the past 30 days, the highest own percentage for Thomas is 99% and his lowest is 99%. In terms of start percentages, his highest start percentage is 97.97% and lowest is 8.12%.
Michael Thomas Injury News
Top
Michael Thomas Fantasy Scoring
Top
RECEIVING
WK
OPP
TARGET
REC
YD
TD
Pts
Diff.
6
DET
6
3
11
0
1
20
4
@MIA
11
8
89
1
15
5
3
@CAR
8
7
87
1
15
15
2
NE
10
5
89
0
9
17
1
@MIN
8
5
45
0
5
16
43
28
321
2
44
Michael Thomas Fantasy Graph
Top
Fantasy Chart Loading...