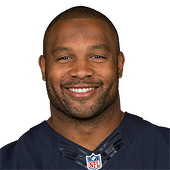 BLOG / COLUMNIST

NEXT
|
PREV

Posted 13 days 19 hrs 53 mins ago. via Bears Talk
The Lance Briggs Show returns to CSN for another season, beginning Tuesday night at 11 p.m.
VIDEOS

NEXT
|
PREV

RELATED NEWS

NEXT
|
PREV

Posted 1 days 8 hrs 8 mins ago. via Bears Talk
In the latest Bears Talk Podcast, CSN's Chris Boden is joined by Dave Wannstedt, Lance Briggs, Alex Brown, and Jim Miller to talk about what happened Week 3 in Dallas.
Add or Drop Lance Briggs?
Top
The current trend indicates that there has been no movement in terms of ADDS or DROPS for Briggs. In the past week his own percentage has hardly any movement . Meanwhile his start percentage has remained steady.
In the past 30 days, the highest own percentage for Briggs is 0% and his lowest is 0.00%. In terms of start percentages, his highest start percentage is 0% and lowest is 0.00%.
Lance Briggs Injury News
Top
Lance Briggs Fantasy Scoring
Top
TACKLES
WK
OPP
TOTAL
AST
SACK
PASS DEF
INT
INT TD
PTS
Lance Briggs Fantasy Graph
Top
Fantasy Chart Loading...