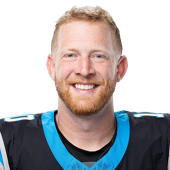 PUNTS
AVG
YDS
LONG
65
N/A
N/A
70
Tracked By:
BLOG / COLUMNIST

NEXT
|
PREV

Posted 58 days ago. via profootballtalk.com
The Rams fake punt didnt work, and they missed an extra point. But they still have a 6-0 lead. On fourth-and-10 at the Tennessee 32, punter Johnny Hekker, who was 2-for-2 passing this season and 9-for-14 for his career, tried a long pass to Michael Thomas on a fake punt. The pass was incomplete. But [more]
VIDEOS

NEXT
|
PREV

Johnny Hekker Injury News
Top
Johnny Hekker Fantasy Scoring
Top
Sorry, no stat breakdown available. Right now the site is geared towards offensive players. If you would like to see defensive breakdowns and scoring added then please contact us and voice your concern!
Johnny Hekker Fantasy Graph
Top
Fantasy Chart Loading...