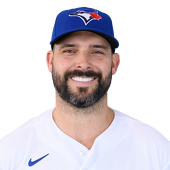 FANTASY ANALYSIS

NEXT
|
PREV

Posted 18 hrs ago. via rotoworld.com
Tanner Roark pitched five innings of two-run ball in a win over the Rockies on Wednesday. Not bad for a Coors Field outing. Roark has given up a total of two homers while going 3-0 with a 3. [...]
BLOG / COLUMNIST

NEXT
|
PREV

Posted 19 hrs ago. via Federal Baseball
Over the last 24 hours in Coors Field, the Washington Nationals (15-6) have scored 26 runs in 15-12 and 11-4 wins over the Colorado Rockies.

Tanner Roark looked like he might be impervious to altitude through four scoreless in Coors Field tonight, but the right-hander ran into trouble in the Colorado fifth, giving up a single and three consecutive walks that got the Rockies on the board.

Roark got up to 41 pitches in the fifth inning, and 104 overall, giving up a second run on a bases-loaded grounder to second, but he left the game with a 5-2 lead over the Rockies, and the Washington Nationals eventually won, 11-4
LOCAL NEWSPAPER

NEXT
|
PREV

Posted 21 days ago. via Boston Herald
WASHINGTON - Tanner Roark's spring training workload was cut by participating in the World Baseball Classic and having his final tuneup rained out. So neither he nor the Washington Nationals were quite sure what they would get in the righty's regular-season debut.For a couple of innings Wednesday night, it was rough: Two runs, two singles, two hit batters, two walks, a wild pitch. A whopping 46 pitches.
VIDEOS

NEXT
|
PREV

RELATED NEWS

NEXT
|
PREV

Posted 16 hrs ago. via Federal Baseball
"We have depth," Dusty Baker said. "We have power. Most of them are swinging pretty good right now."

Daniel Murphy singled off Colorado Rockies' starter Tyler Chatwood to start the top of the second and one and two-out walks to Jayson Werth and Tanner Roark, respectively, loaded the bases in front of Adam Eaton, who sent a ground ball through the right side to drive in two runs for an early 2-0 lead.

Trea Turner homered with one out in the fifth, and after a walk to Bryce Harper, Ryan Zimmerman hit a two-run blast to right-center field to put the Washington Nationals up 5-0 early in what ended up an 11-4 win over the Colorado Rockies
Add or Drop Tanner Roark?
Top
The current trend indicates that there has been no movement in terms of ADDS or DROPS for Roark. In the past week his own percentage has hardly any movement . Meanwhile his start percentage has increased by 10.7% .
In the past 30 days, the highest own percentage for Roark is 99% and his lowest is 90.86%. In terms of start percentages, his highest start percentage is 89.88% and lowest is 64.24%.
Tanner Roark Injury News
Top
DATE
OPP
INN
K
WLK
ER
DEC
ERA
WHIP
PTS
Diff.
04/26
@COL
5.0
4
4
2
WIN
3.64
1.18
12
16
04/21
@NYM
6.2
5
3
3
N/A
3.65
1.05
13
23.18
04/15
PHI
7.0
3
0
2
N/A
3.50
0.89
16
21
04/10
STL
5.0
3
0
3
WIN
4.09
1.09
11
20.82
04/05
MIA
6.0
6
2
2
WIN
3.00
0.83
21
8.5
Totals:
29.2
21
9
12
75
Tanner Roark Fantasy Graph
Top
Fantasy Chart Loading...