How Derek Carr's Injury Affects Saints' Alvin Kamara, Chris Olave, Michael Thomas, Rashid Shaheed and Juwan Johnson in Week 4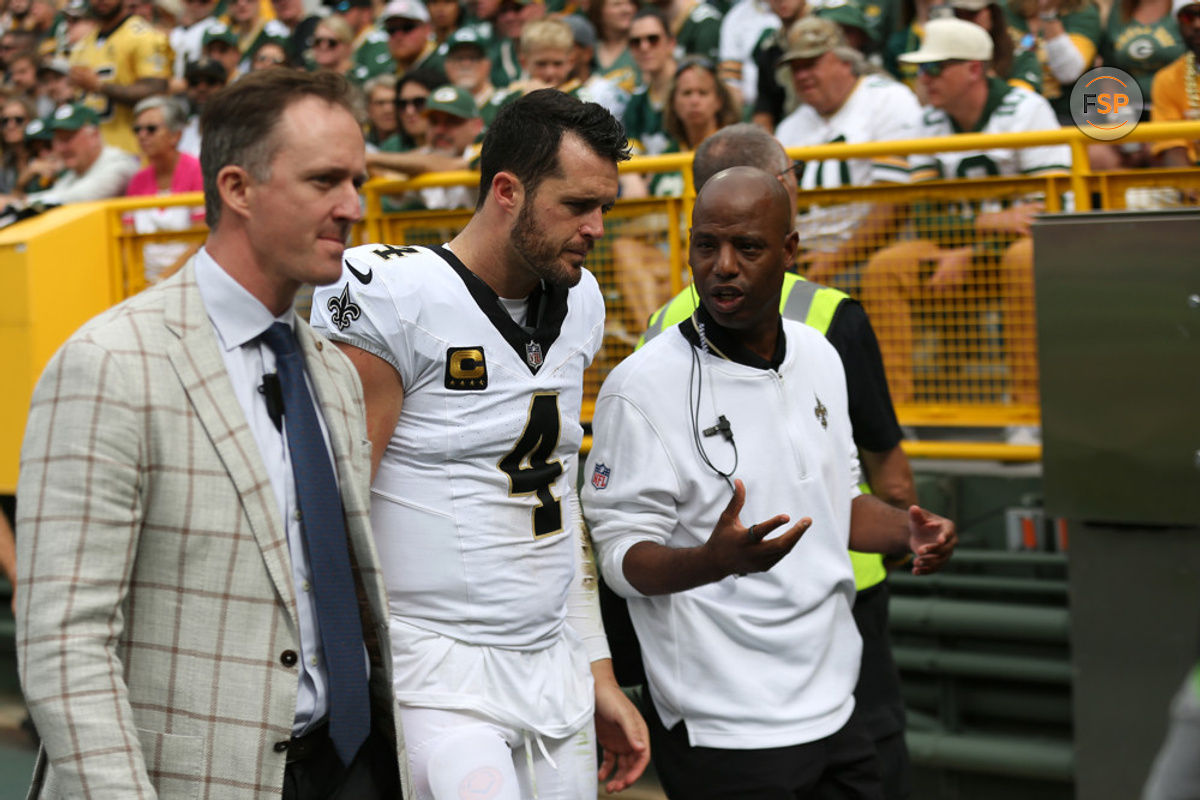 First-year New Orleans Saints quarterback Derek Carr injured his right shoulder during the team's week 3 loss to the Green Bay Packers. He avoided a season-ending injury and is actually listed as questionable for the team's week 4 game against the Tampa Bay Buccaneers.
If Carr is able to play Sunday, he'll likely be playing at less than 100% health. If he misses the game, Jameis Winston will get the start.
Should you make your decision on whether or not to play some of the Saints' skill players based on who starts? Let's discuss it.
Explore the best in-season tool to manage lineup/start decisions including predictive waiver analytics to help prioritize waiver pickups, projections, auction values, trade suggestions, trade value charts, rest of season rankings, power rankings, and tons more with Fantasy Assistant.
Who to Start if Derek Carr Plays
A shoulder injury to a quarterback suggests that the Saints might run the ball a bit more if Carr were to play, so let's talk about the team's running backs first.
After using Jamaal Williams, Tony Jones and Kendre Miller to get through the first three weeks, Alvin Kamara returns from his three-game suspension and will start for the Saints this week.
Kamara has been a fantasy star over his career. He isn't the typical workhorse back, instead making his biggest impact as a receiver. Last season, Kamara finished with 1,387 scrimmage yards and four touchdowns, with 490 yards and two scores coming as a pass catcher.
He's most utilized in the short passing game, simply getting the ball in his hands and then letting him use his athleticism to create big plays. If Carr does play, I'd imagine the Saints would go with a short passing game to help protect his shoulder, and that plays into Kamara's favor. He'll also likely lead the team in rushing attempts, so Kamara is a must start if you own him.
With Williams out, Jones and Miller will serve as complementary players out of the backfield. Both should see the field, but I don't expect either to have big fantasy showings unless they score. I'd avoid starting both Jones and Miller.
Chris Olave, Michael Thomas and Rashid Shaheed have become a solid wide receiver trio for the Saints. 
Olave is the No. 1 option and currently leads the team in targets (22), receptions (22) and yards (302). He can be a deep threat or excel in the short passing game, so even with a less than 100% Carr, Olave is a starter for me.
Thomas excels most in the short passing game and his averages back that up over his career. This season, Thomas has 18 catches and 166 yards. I'd also feel safe starting Thomas if Carr plays.
Shaheed is more of a deep threat for the Saints. He's caught nine passes for 152 yards and a touchdown through three games. He also serves as a returner on punts and kickoffs, and had a punt return score against the Packers last week. Even with the added possible return points, I'm not comfortable starting Shaheed if Carr plays. He'd probably need a touchdown or couple big plays to outscore some of the other options you could play from your roster.
Juwan Johnson is the team's top tight end option. He's caught seven passes for 61 yards across three games. He simply hasn't produced enough for me to feel safe starting him, especially if Carr is less than 100%.
Who to Start if Jameis Winston Plays
Winston ended up playing just under 40% of the team's offensive snaps against the Packers. He completed 10-of-16 passes for 101 yards. He didn't throw a touchdown or interception and was sacked once.
Winston isn't the typical backup quarterback, as he's made 80 starts during his NFL career. He's been in New Orleans for the past four years, but has started just 10 games.
The biggest knock on Winston throughout his career has been throwing interceptions. He famously threw 30 picks while also going for over 5,000 passing yards and 33 touchdowns in his final year with the Buccaneers.
If he starts this week against his former team, the Saints' playbook should be a bit more open than if Carr started while banged up. I think that opens possibilities up for deep passes but at the same time making the running game more of a focus.
If Carr is out and Winston starts, I think the Saints would pass a few more times. That would help keep Kamara's workload down as he gets reacclimated with the game. I still think Kamara should start if Winston plays though. He's still going to get enough touches to contribute a solid fantasy showing.
I think Jones and Miller could be a touch more involved if Winston plays, but again, I don't see them getting enough looks to be part of your starting lineup. They are ranked 60th and 61st in our week 4 projections for a reason.
As for the receivers, I think Winston starting boosts the stock of all three guys. Olave and Thomas become safer plays in my opinion, while Shaheed gets more consideration for my starting lineup. Not knowing how many touches Kamara is going to get in his first game back, I'd still refrain from starting Shaheed.
Johnson could see a couple extra targets and get a few more catches and yards with Winston playing, but I'd still not start Johnson. There's just too many other options ahead of him for touches to feel safe.
Final Thoughts
While the starting quarterback for Sunday's game remains a mystery, whoever starts would not change my starting options from the team. Their workloads might look a bit different depending on who starts, but Kamara, Olave and Thomas are talented enough to produce with either guy.
As for the two quarterbacks, I'd actually be more comfortable starting Winston than I would Carr. Carr hasn't produced very good fantasy numbers so far this season, and an injury wouldn't help matters. If Winston starts and takes care of the ball, I can see him finishing in the top half of the league this week.
With that said, I'd try to avoid both guys as starters unless you don't have any other options.
#saints
#derek-carr
#alvin-kamara
#chris-olave
#michael-thomas
#rashid-shaheed
#juwan-johnson
#jameis-winston