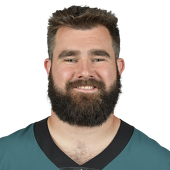 LOCAL NEWSPAPER

NEXT
|
PREV

Posted 2 days ago. via philly.com
A week later, there's finally a sports pundit who had a hot take for Jason Kelce's impassioned speech during the Eagles' Super Bowl parade.
BLOG / COLUMNIST

NEXT
|
PREV

Posted 5 days ago. via profootballtalk.com
Eagles center Jason Kelce created the most memorable moment of the Eagles Super Bowl parade when he gave a long speech about how the team had been overlooked from the steps of the Philadelphia Museum of Art. That speech veered into profanity at times and Kelce said on WMMR that he worried about people getting [more]
VIDEOS

NEXT
|
PREV

Jason Kelce Injury News
Top
Jason Kelce Fantasy Scoring
Top
Sorry, no stat breakdown available. Right now the site is geared towards offensive players. If you would like to see defensive breakdowns and scoring added then please contact us and voice your concern!
Jason Kelce Fantasy Graph
Top
Fantasy Chart Loading...