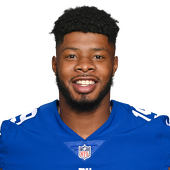 LOCAL NEWSPAPER

NEXT
|
PREV

Posted 1 day ago. via Washington Times
CLEVELAND (AP) - A man who is suing Cleveland Browns wide receiver Corey Coleman and several others over an alleged 2016 New Year's Eve assault now says Coleman led the group in the attack. Cleveland.com reports Adam Sapp testified Tuesday Coleman led the group of men that beat him in ...
FANTASY ANALYSIS

NEXT
|
PREV

Posted 12 days ago. via fftoday.com
John Dorsey wheeling and dealing

The Cleveland Browns are trading two draft picks to the Miami Dolphins for wide receiver Jarvis Landry, sources tell ESPN's Adam Schefter.The Browns are also working on a new contract for Landry, and a deal is expected to get done, according to a source. Exact terms of the draft picks the Browns will give up are not yet known, but a league source said one is in 2018 and one in 2019, and none are higher than the third round.The trade can become official on Wednesday at 4 p.m. (ESPN)

FF Today's Take: The Browns have a plethora of draft picks thanks to recently ousted front office personnel and new GM John Dorsey is in the mood to wheel and deal. The compensation is said to be a fourth-round pick in 2018 and a seventh-round pick in 2019. Landry will give the Browns as possession style receiver to go along with Josh Gordon and Corey Coleman. At best, this is a lateral move for Landry's fantasy value as the veteran receiver will be learning a new system and the Browns are likely to be breaking in a new quarterback.
VIDEOS

NEXT
|
PREV

Add or Drop Corey Coleman?
Top
The current trend indicates that there has been no movement in terms of ADDS or DROPS for Coleman. In the past week his own percentage has hardly any movement . Meanwhile his start percentage has remained steady.
In the past 30 days, the highest own percentage for Coleman is 99% and his lowest is 0.00%. In terms of start percentages, his highest start percentage is 0% and lowest is 0.00%.
Corey Coleman Injury News
Top
Corey Coleman Fantasy Scoring
Top
RECEIVING
WK
OPP
TARGET
REC
YD
TD
Pts
Diff.
17
@PIT
6
1
18
0
2
19
16
@CHI
6
1
3
0
0
18
15
BAL
3
1
16
0
2
23
14
GB
6
5
62
1
12
13
13
@LAC
4
0
0
0
0
31
12
@CIN
8
3
64
0
6
32
11
JAC
11
6
80
0
8
24
2
@BAL
7
1
9
0
1
25
1
PIT
6
5
53
1
11
9
57
23
305
2
43
Corey Coleman Fantasy Graph
Top
Fantasy Chart Loading...