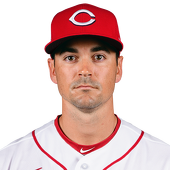 BLOG / COLUMNIST

NEXT
|
PREV

Posted 9 days ago. via Nationals Baseball
And should you care about him?

The answer to the former is a perfectly competent SS/MI in the field with a garbage bat. The answer to the latter is "No, not really"

Matt Reynolds was a high draft pick (2nd round) for the Mets in 2012. He floundered in A ball in 2012 and High A in 2013 but such as it goes for guys you like, the Mets kept pushing him and in 2014 he "broke out" with a high average stay in AA (.355) and a nice looking run in AAA. But that only brought him to the outski
LOCAL NEWSPAPER

NEXT
|
PREV

Posted 9 days ago. via Washington Times
The Washington Nationals acquired utility player Matt Reynolds from the New York Mets in exchange for cash. The Nationals announced the move Monday night. The 27-year-old Reynolds made his major league debut with the Mets in 2016. He hit .230 with one homer and five RBIs in 68 games last ...
FANTASY ANALYSIS

NEXT
|
PREV

Posted 9 days ago. via rotoworld.com
Nationals acquired INF/OF Matt Reynolds from the Mets for cash considerations. Reynolds had been designated for assignment, but he quickly landed back on his feet and will remain in the National League East. [...]
VIDEOS

NEXT
|
PREV

Add or Drop Matt Reynolds?
Top
The current trend indicates that there has been no movement in terms of ADDS or DROPS for Reynolds. In the past week his own percentage has hardly any movement . Meanwhile his start percentage has remained steady.
In the past 30 days, the highest own percentage for Reynolds is 0% and his lowest is 0.00%. In terms of start percentages, his highest start percentage is 0% and lowest is 0.00%.
Matt Reynolds Injury News
Top
DATE
OPP
INN
K
WLK
ER
DEC
ERA
WHIP
PTS
Diff.
Totals:
0.0
45
Matt Reynolds Fantasy Graph
Top
Fantasy Chart Loading...