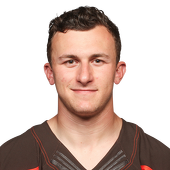 LOCAL NEWSPAPER

NEXT
|
PREV

Posted 2 days ago. via nj.com
With the dire shape of the Jets quarterback situation, should they consider Johnny Manziel? When should fans expect a playoff run?
BLOG / COLUMNIST

NEXT
|
PREV

Posted 7 days ago. via shutdown corner
Whos up for some more Johnny Football? Because if you believe him, Johnny Manziel is workinghis way back to the NFL. Yes, still.

Manziel, the Heisman-winning, football-slinging wunderkind who rocketed straight to the top of the nations sports consciousness-and straight out of a job after just 15 games in the NFL-has fallen into something of a predictable routine: get caught on social media doing something stupid, then claim that he still wants an NFL job. Repeat ad infinitum
FANTASY ANALYSIS

NEXT
|
PREV

Posted 9 days ago. via rotoworld.com
Free agent Johnny Manziel said he has had a couple conversations with NFL teams about returning to the league. Manziel met with Saints coach Sean Payton during Super Bowl week, but nothing came of it. [...]
VIDEOS

NEXT
|
PREV

Add or Drop Johnny Manziel?
Top
The current trend indicates that there has been minimal movement in terms of ADDS or DROPS for Manziel. In the past week his own percentage has decreased by 0.16% . Meanwhile his start percentage has remained steady.
In the past 30 days, the highest own percentage for Manziel is 0.79% and his lowest is 0.00%. In terms of start percentages, his highest start percentage is 0% and lowest is 0.00%.
Johnny Manziel Injury News
Top
Johnny Manziel Fantasy Scoring
Top
PASS
RUSH
WK
OPP
YD
TD
INT
YD
TD
FUMBL
PT
Diff.
0
Johnny Manziel Fantasy Graph
Top
Fantasy Chart Loading...