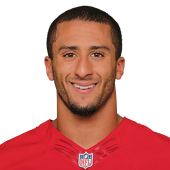 BLOG / COLUMNIST

NEXT
|
PREV

Posted 4 hrs ago. via fanhouse.com
Colin Kaepernick's attorney has confirmed that the former 49ers quarterbackhas filed a grievance accusing NFL owners of collusion.Colin Kaepernick could suddenly find himself face-to-face with the NFL as the league meets with players over anthem protestsColin Kaepernick's collusion grievance is unlikely to get him on an NFL roster, but it may serve 2 other purposesColin Kaepernick accuses NFL owners of collusion in grievancePermalink|Email this|LinkingBlogs|Comments
LOCAL NEWSPAPER

NEXT
|
PREV

Posted 15 hrs ago. via Arizona Republic
Colin Kaepernick's unlikely impact is that he has unified the league and its players union against social injustice.
FANTASY ANALYSIS

NEXT
|
PREV

Posted 1 day ago. via footballguys
The Green Bay Packers are not likely to pursue free-agent QB Colin Kaepernick (49ers), mainly because head coach Mike McCarthy does not want to go after a veteran QB without previous ties to the Packers offense.
VIDEOS

NEXT
|
PREV

RELATED NEWS

NEXT
|
PREV

Posted 3 hrs ago. via fanhouse.com
Free agent quarterback Colin Kaepernick has filed a collusion grievance against the NFL, and at least one prominent player supports the move: Seattle Seahawks cornerback Richard Sherman.Colin Kaepernick may have a better shot at proving collusion than initially suspectedColin Kaepernick could suddenly find himself face-to-face with the NFL as the league meets with players over anthem protestsColin Kaepernick's collusion grievance is unlikely to get him on an NFL roster, but it may serve 2 other purposes Permalink | Email this | Linking Blogs | Comments
Add or Drop Colin Kaepernick?
Top
The current trend indicates that there has been minimal movement in terms of ADDS or DROPS for Kaepernick. In the past week his own percentage has decreased by 0.06% . Meanwhile his start percentage has increased by 2.67% .
In the past 30 days, the highest own percentage for Kaepernick is 1.61% and his lowest is 0.87%. In terms of start percentages, his highest start percentage is 15.29% and lowest is 10.29%.
Colin Kaepernick Injury News
Top
Colin Kaepernick Fantasy Scoring
Top
PASS
RUSH
WK
OPP
YD
TD
INT
YD
TD
FUMBL
PT
Diff.
0
Colin Kaepernick Fantasy Graph
Top
Fantasy Chart Loading...