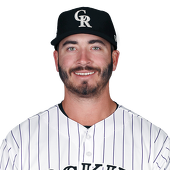 LOCAL NEWSPAPER

NEXT
|
PREV

Posted 2 days ago. via Denver Post
Right-hander Chad Bettis' hot start and the Rockies' 26 homers through their first 19 games has grabbed headlines, but the club's defense is playing a huge supporting role.
BLOG / COLUMNIST

NEXT
|
PREV

Posted 3 days ago. via mlb.com
Rockies right-hander Chad Bettis allowed five hits and two walks to go with three strikeouts over 7 1/3 shutout innings vs. the Pirates on Tuesday.

Spin: Needing just 85 pitches in 27-degree wind chill, Bettis improved to 3-0 and lowered his ERA to 1.44 in four starts. He has allowed 17 hits in 25 innings for a .200 batting average against. Bettis wasn't damaged because of quick outs that included three strikeouts, two double plays (one on a grounder) and 11 groundouts. "What worked the best was my changeup," Bettis said. "This season, it seems like we're talking more and more about my changeup more than anything. I've got a real good feel for it, so I'm going to use it to the best of my ability."
FANTASY ANALYSIS

NEXT
|
PREV

Posted 3 days ago. via rotoworld.com
Chad Bettis lowered his ERA on the season to 1.44 following 7 1/3 shutout innings in Tuesday's 2-0 victory over the Pirates. It was snowing in Pittsburgh but that didn't seem to affect Bettis, who yielded just five hits and a couple walks in the gem. [...]
VIDEOS

NEXT
|
PREV

Add or Drop Chad Bettis?
Top
The current trend indicates that there has been significant movement in terms of ADDS or DROPS for Bettis. In the past week his own percentage has increased by 41.36% . Meanwhile his start percentage has decreased by 13.28% .
In the past 30 days, the highest own percentage for Bettis is 49.42% and his lowest is 2.84%. In terms of start percentages, his highest start percentage is 78.26% and lowest is 27.78%.
Chad Bettis Injury News
Top
DATE
OPP
INN
K
WLK
ER
DEC
ERA
WHIP
PTS
Diff.
04/17
@PIT
7.1
3
2
0
WIN
1.44
1.08
21
15.84
04/12
@WAS
7.0
5
2
1
WIN
2.04
1.13
23
8
04/07
ATL
5.2
3
2
1
N/A
2.53
1.41
10
15.18
04/02
@SD
5.0
4
4
2
WIN
3.60
1.80
12
13
Totals:
25.0
15
10
4
63
Chad Bettis Start or Sit Fantasy Trends
Top
Chad Bettis Fantasy Graph
Top
Fantasy Chart Loading...