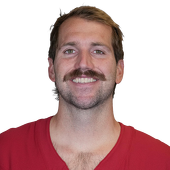 LOCAL NEWSPAPER

NEXT
|
PREV

Posted 17 days ago. via Arizona Republic
The Cardinals have re-signed long snapperAaron Brewer to a four-year contract, the team announced on Wednesday.
FANTASY ANALYSIS

NEXT
|
PREV

Posted 17 days ago. via footballguys
Arizona Cardinals impending free-agent LS Aaron Brewer was re-signed to a four-year deal Wednesday, March 7. Financial terms were not disclosed.
BLOG / COLUMNIST

NEXT
|
PREV

Posted 17 days ago. via profootballtalk.com
The Cardinals are keeping one impending free agent from hitting the open market next week. The team announced Wednesday that they have re-signed long snapper Aaron Brewer. Brewer signed a four-year deal with the team. "I met my fiancee here," Brewer said in the teams announcement. "Im from San Diego and its really close. They [more]
VIDEOS

NEXT
|
PREV

Aaron Brewer Injury News
Top
Aaron Brewer Fantasy Scoring
Top
Sorry, no stat breakdown available. Right now the site is geared towards offensive players. If you would like to see defensive breakdowns and scoring added then please contact us and voice your concern!
Aaron Brewer Fantasy Graph
Top
Fantasy Chart Loading...