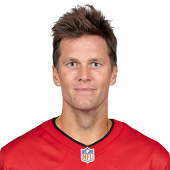 BLOG / COLUMNIST

NEXT
|
PREV

Posted 11 hrs ago. via CSN NE
Mike Florio from Pro Football Talk says that Tom Brady won't have a farewell tour because he doesn't want anyone to know when his final year will be.
LOCAL NEWSPAPER

NEXT
|
PREV

Posted 20 hrs ago. via Boston Herald
PATRIOTS 36, SAINTS 20The Saints were just what the Patriots needed to get back on track. They are a team for whom defense is an endangered species. Those guys couldnt stop a leaf blowing across the lawn.That being the case, the Patriots offense did just what it needed to do. It disemboweled the Saints in the first half. The game was essentially finished by halftime courtesy of Tom Bradys execution of Josh McDaniels game plan.
FANTASY ANALYSIS

NEXT
|
PREV

Posted 2 days ago. via rotoworld.com
Tom Brady completed 30-of-39 passes for 447 yards and three touchdowns in the Patriots' Week 2 win over the Saints. Brady decimated the Saints' "defense" from the first series, throwing for touchdowns on each of the first three drives and finishing the first quarter with 177 passing yards. [...]
VIDEOS

NEXT
|
PREV

RELATED NEWS

NEXT
|
PREV

Add or Drop Tom Brady?
Top
The current trend indicates that there has been no movement in terms of ADDS or DROPS for Brady. In the past week his own percentage has hardly any movement . Meanwhile his start percentage has decreased by 0.22% .
In the past 30 days, the highest own percentage for Brady is 99% and his lowest is 70.49%. In terms of start percentages, his highest start percentage is 98.94% and lowest is 93.61%.
Tom Brady Injury News
Top
Tom Brady Fantasy Scoring
Top
PASS
RUSH
WK
OPP
YD
TD
INT
YD
TD
FUMBL
PT
Diff.
2
@NO
447
3
0
9
0
0
31
0
1
KC
267
0
0
0
0
0
11
20
714
3
0
9
0
0
41
Tom Brady Fantasy Graph
Top
Fantasy Chart Loading...