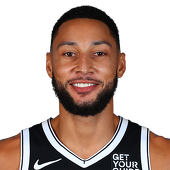 LOCAL NEWSPAPER

NEXT
|
PREV

Posted 5 hrs ago. via Arizona Republic
Ben Simmons looked the part during his NBA debut, tallying 18 points, 10 rebounds and five assists.
FANTASY ANALYSIS

NEXT
|
PREV

Posted 8 hrs ago. via rotoworld.com
Ben Simmons looked great in his NBA debut on Wednesday, making 7-of-15 FGs and 4-of-6 FTs for 18 points, 10 rebounds, five assists, two steals and one block. [...]
BLOG / COLUMNIST

NEXT
|
PREV

Posted 14 days ago. via Dime Magazine
It didn't take Ben Simmons long to have an impact in his NBA debut for the Philadelphia 76ers.
VIDEOS

NEXT
|
PREV

RELATED NEWS

NEXT
|
PREV

Posted 4 hrs ago. via Boston Herald
WASHINGTON — Bradley Beal threw the best lob of his life to John Wall, and the Washington star finished the alley-oop that the longtime teammates are accustomed to making.The experienced Wizards made the plays to beat the young Philadelphia 76ers 120-115 on Wednesday night in the season opener for each team. The NBA debuts of Sixers top picks Ben Simmons and Markelle Fultz took a back seat to Wall and Beal getting the job done despite not having their best shooting performances.
Add or Drop Ben Simmons?
Top
The current trend indicates that there has been no movement in terms of ADDS or DROPS for Simmons. In the past week his own percentage has hardly any movement . Meanwhile his start percentage has increased by 4.32% .
In the past 30 days, the highest own percentage for Simmons is 99% and his lowest is 94.54%. In terms of start percentages, his highest start percentage is 96.53% and lowest is 68.67%.
Ben Simmons Injury News
Top
DATE
OPP
M
FG
PTS
AST
STL
REB
BLK
TO
FPT
Diff
Totals:
0
/
Ben Simmons Fantasy Graph
Top
Fantasy Chart Loading...