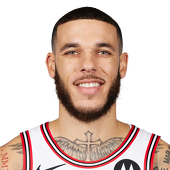 BLOG / COLUMNIST

NEXT
|
PREV

Posted 2 days ago. via OC Register Lakers Blog
Back in May, Lonzo Ball was considered a top prospect for the 2017 NBA Draft and just released his signature shoe, the ZO2 Primes by the Big Baller Brand.

Five months later, Ball is preparing for the upcoming NBA season as a member of the Los Angeles Lakers and released his first rap single, which helped promote his brother LaMelo Ball and his new signature shoe.

Lonzo stated in a video with Slam Magazine that the family decided to go "back to the lab" to work on his signature shoe. The video also features another rap single by the Lakers rookie point guard
LOCAL NEWSPAPER

NEXT
|
PREV

Posted 2 days ago. via Boston Herald
Customers who dropped $495 on Lonzo Balls signature shoe this spring wont be receiving the shoes they ordered. Big Baller Brand released brand new designs for the ZO2 Prime on Thursday, replacing the prototype Ball wore in two games this summer.The new shoes are designed to be lightweight, using carbon fiber and mesh from racing yachts.
FANTASY ANALYSIS

NEXT
|
PREV

Posted 16 days ago. via rotoworld.com
Lonzo Ball worked out at the team facility on Thursday. There was never really any concern on Ball's calf injury from summer league, but it would appear he's ready to roll. [...]
VIDEOS

NEXT
|
PREV

RELATED NEWS

NEXT
|
PREV

Posted 4 hrs ago. via OC Register Lakers Blog
For the first time since Kobe Bryant's Achilles' tendon popped, the excitement about the Lakers is entirely justified. They finally seem to have built a young core of potential stars, have a point guard who is being handed the Showtime baton and realistic hopes of adding one or more All-Stars next summer.

It has been a long summer since the conclusion of a fourth consecutive losing season, one full of activity. D'Angelo Russell has been exiled to Brooklyn, replaced by Lonzo Ball and his dazzling passing skills. Kentavious Caldwell-Pope and Brook Lopez have been added to the roster
Add or Drop Lonzo Ball?
Top
The current trend indicates that there has been no movement in terms of ADDS or DROPS for Ball. In the past week his own percentage has hardly any movement . Meanwhile his start percentage has decreased by 6.9% .
In the past 30 days, the highest own percentage for Ball is 99% and his lowest is 0.00%. In terms of start percentages, his highest start percentage is 99% and lowest is 0.00%.
Lonzo Ball Injury News
Top
DATE
OPP
M
FG
PTS
AST
STL
REB
BLK
TO
FPT
Diff
Totals:
0
/
Lonzo Ball Start or Sit Fantasy Trends
Top
Lonzo Ball Fantasy Graph
Top
Fantasy Chart Loading...