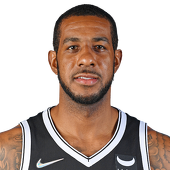 FANTASY ANALYSIS

NEXT
|
PREV

Posted 1 day ago. via rotoworld.com
LaMarcus Aldridge continued his impressive run on Wednesday with 25 points, 10 rebounds, four assists, two blocks and one 3-pointer in 39 minutes vs. the Wolves. [...]
LOCAL NEWSPAPER

NEXT
|
PREV

Posted 1 day ago. via Boston Herald
SAN ANTONIO - LaMarcus Aldridge was unhappy with the Spurs the past two seasons and Gregg Popovich understood why.Their heart-to-heart talk has made basketball life much easier for Aldridge, and his comfort was apparent in the season opener.Aldridge had 25 points and 10 rebounds, and San Antonio held on for a 107-99 victory over the Minnesota Timberwolves on Wednesday night while playing without leading scorer Kawhi Leonard.
BLOG / COLUMNIST

NEXT
|
PREV

Posted 2 days ago. via Spurs Nation
Two days after LaMarcus Aldridge and the Spurs agreed to a three-year, $72.3 million contract extension, Spurs coach Gregg Popovich said that hes misused the power forward over the last two seasons. "He just didnt feel comfortable and its 98.75 percent on me, and whatever is left because I cant subtract that well," Popovich said
VIDEOS

NEXT
|
PREV

RELATED NEWS

NEXT
|
PREV

Posted 1 hr ago. via Chicago Tribune
TV/radio: 7 p.m. Saturday, WGN- 9, WLS-AM 890.
Storylines: Kawhi Leonard and Tony Parker are expected to miss their second straight games with quadriceps injuries. Lauri Markkanen will have his hands full with LaMarcus Aldridge, who posted 25 points, 10 rebounds and four assists in the Spurs' home-opening...
Add or Drop LaMarcus Aldridge?
Top
The current trend indicates that there has been no movement in terms of ADDS or DROPS for Aldridge. In the past week his own percentage has hardly any movement . Meanwhile his start percentage has decreased by 33.35% .
In the past 30 days, the highest own percentage for Aldridge is 99% and his lowest is 95.83%. In terms of start percentages, his highest start percentage is 97.36% and lowest is 60.16%.
LaMarcus Aldridge Injury News
Top
LaMarcus Aldridge Stats
Top
DATE
OPP
M
FG
PTS
AST
STL
REB
BLK
TO
FPT
Diff
10/18
MIN
39
9/21
25
4
0
10
2
3
42
12
Totals:
39
9/21
25
4
0
10
2
3
42
LaMarcus Aldridge Fantasy Graph
Top
Fantasy Chart Loading...