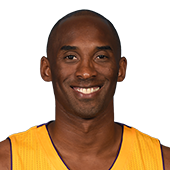 BLOG / COLUMNIST

NEXT
|
PREV

Posted 8 days ago. via Ball Dont Lie
During the annual NBA rookie photo shoot, Bleacher Reports Natalie Weiner used the most recent incarnation of a years-old debate to present Los Angeles Lakers rookie Lonzo Ball with a difficult choice. LeBron James or Kobe Bryant: who ya got, youngblood?

Usually, its Lonzos dad who says the stuff that ignites the populace. This time, though?

"I've been saying LeBron my whole life, so I'm gonna go with LeBron." Lonzo on the Kobe vs. LeBron debate

A post shared by Sports Videos (@houseofhighlights) on Aug 11, 2017 at 3:29pm PD
LOCAL NEWSPAPER

NEXT
|
PREV

Posted 31 days ago. via Chicago Tribune
In 2007, Kobe Bryant made it clear to the Lakers that he wanted to be traded to the Bulls.
The Lakers had no intention of trading the face of the franchise. But they ended up exchanging proposals to placate Bryant. Most of them involved gutting the Bulls to the point Bryant no longer found playing...
VIDEOS

NEXT
|
PREV

Add or Drop Kobe Bryant?
Top
The current trend indicates that there has been no movement in terms of ADDS or DROPS for Bryant. In the past week his own percentage has hardly any movement . Meanwhile his start percentage has remained steady.
In the past 30 days, the highest own percentage for Bryant is 0% and his lowest is 0.00%. In terms of start percentages, his highest start percentage is 0% and lowest is 0.00%.
Kobe Bryant Injury News
Top
DATE
OPP
M
FG
PTS
AST
STL
REB
BLK
TO
FPT
Diff
Totals:
0
/
Kobe Bryant Fantasy Graph
Top
Fantasy Chart Loading...