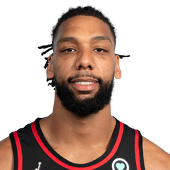 FANTASY ANALYSIS

NEXT
|
PREV

Posted 4 hrs ago. via rotoworld.com
Jahlil Okafor made his Nets debut against the Raptors on Friday, scoring 10 points with four rebounds and one steal in 23 minutes. He even attempted two 3-pointers, but Okafor was a -21 in the plus-minus stat. [...]
LOCAL NEWSPAPER

NEXT
|
PREV

Posted 5 hrs ago. via New York Post
TORONTO - The Nets finally decided to Free Jah and also got their first taste of Sauce Castillo. After escaping virtual banishment in Philadelphia and then waiting several games to suit up with their new teammates, Jahlil Okafor and Nik Stauskas made their Nets debuts Friday night. And even the season-worst 120-87 loss to the...
BLOG / COLUMNIST

NEXT
|
PREV

Posted 3 days ago. via Dime Magazine
Embiid got to speak his mind about the Jahlil Okafor trade and more, and he didn't hold back in an ESPN interview published on Tuesday.
VIDEOS

NEXT
|
PREV

RELATED NEWS

NEXT
|
PREV

Posted 4 hrs ago. via rotoworld.com
Jarrett Allen was a DNP-CD on Friday against the Raptors. This probably isn't going to stick because the Nets really do like Allen. Jahlil Okafor was OK on offense, but the Nets got thumped on defense while he was out there. [...]
Add or Drop Jahlil Okafor?
Top
The current trend indicates that there has been average movement in terms of ADDS or DROPS for Okafor. In the past week his own percentage has increased by 6.04% . Meanwhile his start percentage has increased by 5.3% .
In the past 30 days, the highest own percentage for Okafor is 85.25% and his lowest is 11.00%. In terms of start percentages, his highest start percentage is 80.65% and lowest is 19.51%.
Jahlil Okafor Injury News
Top
DATE
OPP
M
FG
PTS
AST
STL
REB
BLK
TO
FPT
Diff
11/07
@UTA
3
0/2
0
1
0
0
0
1
1
65
10/21
@TOR
22
4/7
10
0
0
9
2
2
19
29
Totals:
25
4/9
10
1
0
9
2
3
20
Jahlil Okafor Fantasy Graph
Top
Fantasy Chart Loading...