Fantasy Basketball Tools
Below is a list of our industry leading fantasy basketball tools to help you manage your fantasy team.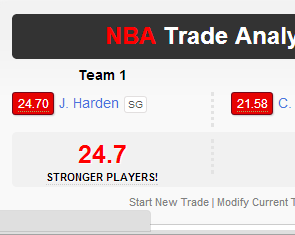 Evaluate and create fantasy trades to decide if a trade is fair or in your favor. Analyze up to 10 total players in a trade and each player is assigned a player rating. We analyze dozens of statistical categories, trends, player expectations and more.
This tool is great for league commissoners or individual players in the league.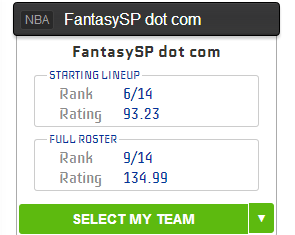 The Fantasy Assistant is the swiss-army knife of fantasy tools, and it's completely free to try. Get personalized waiver wire suggestions and trade suggestions. View position based analysis for each team in your league to see strengths and weaknesses with ease.
The single best tool available to help dominate your league.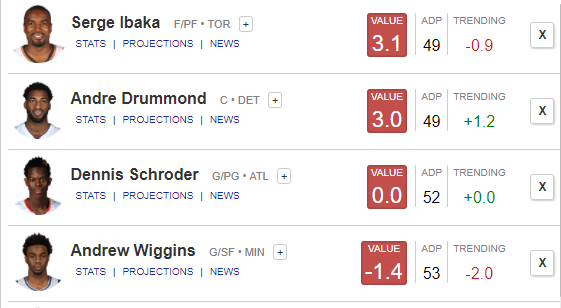 Utilize the Draft Genius during your next Yahoo, CBSSports, and ESPN draft.
Our fantasy basketball draft tool helps you decide who to draft next, in real-time, for your fantasy team based on value and position in the draft.
Up-to-date ADP data from COMPETITIVE fantasy leagues only.
Draft Genius features real-time draft trends and graphs for each player. Easily see how an injury immediately affects our Trending ADP numbers.
Real-time team projections compare your team to the rest of the league to show how you fit in.
The Draft Genius will automatically import your settings and categories your league uses.
Adjust your draft strategy based on team-needs.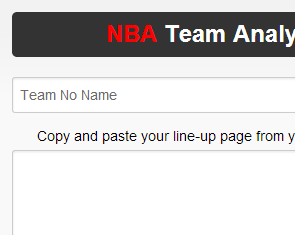 Evaluate your fantasy basketball team and compare your team against others across the country. Each player on your team will be assigned a rating, which is then totaled to find your overal team rating.
This tool is great for simple analysis, though we suggest using the Fantasy Assistant for more in-depth and personalized team analysis.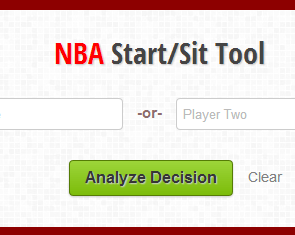 Utilize our tool to decide who to start and sit. Start or Sit decisions based on up to 7 different categories for accurate analysis: Injury Status, Fantasy Expert Ratings, Scheduled Matchups, Player Analysis, Performance Trends, FantasySP Player Ratings, and more
The ultimate tool to decide who to start or sit is completely free.