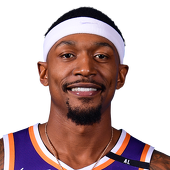 BLOG / COLUMNIST

NEXT
|
PREV

Posted 9 hrs ago. via Ball Dont Lie
Well, that didnt take long.

Even before the highly anticipated season opener between the Philadelphia 76ers and the Washington Wizards, "Trust the Process" chants found their way to Washington, D.C., on Wednesday night.

Eager to see the regular-season debuts of Ben Simmons and Markelle Fultz, the last two No. 1 overall picks in the NBA draft, plus Philadelphia favorite Joel Embiid, Philly fans were already in midseason form before the game, chanting "Trust the Process" as Wizards guard Bradley Beal addressed the home crowd at the newly renamed Capital One Arena
FANTASY ANALYSIS

NEXT
|
PREV

Posted 7 days ago. via rotoworld.com
Bradley Beal had 15 points, four rebounds, four assists and one steal in 28 minutes vs. the Heat on Wednesday. We haven't written about Beal since Game 7 vs. [...]
LOCAL NEWSPAPER

NEXT
|
PREV

Posted 21 days ago. via Washington Times
RICHMOND -- Even without the ball, John Wall and Bradley Beal were in sync Monday. When Wall spoke, Beal often nodded. The same was true in reverse. They giggled together and muttered from time to time out of range of the microphones in front of them, a tendency that has ...
VIDEOS

NEXT
|
PREV

RELATED NEWS

NEXT
|
PREV

Posted 4 hrs ago. via Boston Herald
WASHINGTON — Bradley Beal threw the best lob of his life to John Wall, and the Washington star finished the alley-oop that the longtime teammates are accustomed to making.The experienced Wizards made the plays to beat the young Philadelphia 76ers 120-115 on Wednesday night in the season opener for each team. The NBA debuts of Sixers top picks Ben Simmons and Markelle Fultz took a back seat to Wall and Beal getting the job done despite not having their best shooting performances.
Add or Drop Bradley Beal?
Top
The current trend indicates that there has been no movement in terms of ADDS or DROPS for Beal. In the past week his own percentage has hardly any movement . Meanwhile his start percentage has decreased by 0.23% .
In the past 30 days, the highest own percentage for Beal is 99% and his lowest is 96.32%. In terms of start percentages, his highest start percentage is 98.28% and lowest is 90.23%.
Bradley Beal Injury News
Top
DATE
OPP
M
FG
PTS
AST
STL
REB
BLK
TO
FPT
Diff
Totals:
0
/
Bradley Beal Start or Sit Fantasy Trends
Top
Bradley Beal Fantasy Graph
Top
Fantasy Chart Loading...