| | | | | | |
| --- | --- | --- | --- | --- | --- |
| DET | 0 | 10 | 0 | 0 | 10 |
| DEN | 14 | 3 | 14 | 7 | 38 |
Odds Across Sportsbooks
| | DET | DEN | |
| --- | --- | --- | --- |
| Consensus | | | |
| DraftKings | | | |
| FanDuel | | | |
| SugarHousePA | | | |
| SugarHouseNJ | | | |
| ParxPA | | | |
| 888SportNJ | | | |
| RiversCasinoPA | | | |
| Caesars | | | |
| PointsBet | | | |
| BetMGM | | | |
| UnibetNJ | | | |
Green dot denotes best odds.
| | DET | DEN | |
| --- | --- | --- | --- |
| Consensus | | | |
| DraftKings | | | |
| FanDuel | | | |
| SugarHousePA | | | |
| SugarHouseNJ | | | |
| ParxPA | | | |
| 888SportNJ | | | |
| RiversCasinoPA | | | |
| Caesars | | | |
| PointsBet | | | |
| BetMGM | | | |
| UnibetNJ | | | |
Green dot denotes best odds.
Game Charts
DET0%
DEN100%
Passing
FP
ATT
CMP
YDS
YPC
TD
INT
LONG
SACK
RATE

Jared Goff

11.6
39
24
215
9
1
1
20
2
74.2
Rushing
FP
ATT
YDS
YPC
LONG
TD
FUM

Craig Reynolds

11.9
11
83
7.5
35
0
0

Jared Goff

11.6
2
10
5
13
0
0

Godwin Igwebuike

0.5
8
25
3.1
6
0
1
Receiving
FP
TAR
REC
YDS
YPR
LONG
TD
FUM

Amon-Ra St. Brown

15.3
12
8
73
9.1
19
0
0

Kalif Raymond

13.1
5
4
31
7.8
9
1
0

Craig Reynolds

11.9
2
2
16
8
14
0
0

Josh Reynolds

8.2
5
3
52
17.3
20
0
0

Brock Wright

5
5
3
20
6.7
11
0
0

Shane Zylstra

3.8
6
2
18
9
14
0
0

Tom Kennedy

1.7
1
1
7
7
7
0
0

Taylor Decker

0.8
1
1
-2
-2
-2
0
0

KhaDarel Hodge

0
1
0
0
0
0
0
0
Kicking
FP
FGA
FGM
PCT
LONG
XP

Riley Patterson

4
1
1
100
36

1

/

1

Team Defense
FP
PA
TD
SACK
FR
INT
YDS

DET

-3
38
0
1
0
0
358
Passing
FP
ATT
CMP
YDS
YPC
TD
INT
LONG
SACK
RATE

Teddy Bridgewater

15.16
25
18
179
9.9
2
0
32
1
118.58
Rushing
FP
ATT
YDS
YPC
LONG
TD
FUM

Melvin Gordon III

23.1
24
111
4.6
16
2
0

Javonte Williams

21.3
15
73
4.9
9
1
0
Receiving
FP
TAR
REC
YDS
YPR
LONG
TD
FUM

Javonte Williams

21.3
2
1
10
10
10
1
0

Albert Okwuegbunam

15.1
5
5
41
8.2
16
1
0

Jerry Jeudy

9.7
6
5
47
9.4
21
0
0

Noah Fant

9.1
4
4
51
12.8
32
0
0

Tim Patrick

4.1
5
2
21
10.5
13
0
0

Courtland Sutton

1.9
2
1
9
9
9
0
0

Diontae Spencer

0
1
0
0
0
0
0
0
Kicking
FP
FGA
FGM
PCT
LONG
XP

Brandon McManus

10
1
1
100
52

5

/

5

Team Defense
FP
PA
TD
SACK
FR
INT
YDS

DEN

10
10
0
2
1
1
316
Game News

We're all guessing today. My gut says Jefferson gets more carries and Igwebuike gets more targets, but as of 48 hours ago they were planning on Jamaal Williams handling most of the workload today. They do like Craig Reynolds quite a bit. He could see a handful of snaps, too. twitter.com/t_berg24/statu…

Dan Campbell declined the delay of game to start the game "for DT" "[Denver] reached out to me about that yesterday, and I appreciate that. It was for 'DT'. That's who we did that for." Very classy gesture.
Godwin Igwebuike lost 2 fumbles in the same practice during training camp. He overcame those problems and demonstrated enough ball security to make the team. Today, those issues are back. Dodged a bullet there, but man, he has got to hang onto the football always.

So @AdamSchefter also said he's starting Lions RB Craig Reynolds in fantasy today. Let's go!

#Lions Injury Update: LB Alex Anzalone (Ankle) has been downgraded to Out.
Jared Goff threw for minus-7 yards in the first quarter. This is the third time in Goff's last 7 games that he has lost yardage while trying to pass in the first quarter. Has to be some kind of NFL record.

Another stop for the Lions' defense, Aaron Glenn is fired up and the crowd is booing.
Josh Woods has 13 tackles today. That's a single-game high for the Lions this season.
Alim McNeill on the field going through early warm-ups, so perhaps the flu won't destroy the Lions DL today.
The Detroit Lions were facing difficult odds in Denver on Sunday. The Lions squared off with the Broncos without several important starters due to a rash of injuries and a COVID-19 outbreak.

Detroit kept it interesting for a half, but the Broncos had too many horses for the depleted Lions to keep pace with over the second half. Denver ran for over 100 yards in the second half and capitalized on two costly Detroit turnovers to race away from a 17-10 halftime lead to a convincing 38-10 final score.

The Lions were forced to call up seven players from the practice squad just to fill out a complete roster. Missing top passing target, TE T.J. Hockenson, and top RBs D'Andre Swift and Jamaal Williams, the shorthanded Lions stood little chance from the get-go. An inspired performance by Craig Reynolds at running back and some nice play calls manufactured a competitive first half
The Lions sent fifth- and seventh-round picks to Denver for receiver Trinity Benson and a sixth-round pick. But Benson has been a nonfactor all season, catching just 8 passes for 72 yards in 7 games. He's a healthy inactive against his old team today.

Anthony Lynn isn't calling plays anymore, but Dan Campbell has made sure to point out that Lynn has a big hand in the run game. That scheme keeps working, no matter how deep the Lions have to go into their RB depth chart.

Nickell Robey-Coleman in at corner. Cart coming over to the bench area for Jacobs, who can't put any weight on his left leg.
Penei Sewell is back up and in the huddle. Might have tweaked that shoulder injury again trying to recover the fumble.
Taylor Decker just caught a pass, in case you were wondering how things were going
offensive line continues to get better despite not having Ragnow ... ... In weird ways I think it's forced Jonah Jackson (who was already improving rapidly) to get better. Same with Vaitai. Lions have been able to block downhill vs. many this year twitter.com/ChrisBurkeNFL/…
After being literally plagued with illnesses and injuries all week, the Detroit Lions were forced to make a flurry of roster moves just one day before they're set to face the Denver Broncos.

Over the last five days, the team has had to place center Evan Brown, running back Jamaal Williams, safety Tracy Walker, and cornerbacks Bobby Price, Mark Gilbert, and Ifeatu Melifonwu on the Reserve/COVID-19 list.

The Lions also ruled out running back D'Andre Swift, as well as linebackers Julian Okwara and Jalen Reeves-Maybin. Tight end T.J. Hockenson is doubtful to play and 12 other players are listed as questionable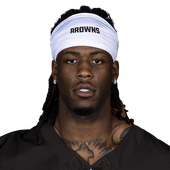 Broncos' leading receivers: Noah Fant: 4 catches, 51 yards Jerry Jeudy: 5 catches, 47 yards Albert O: 5 catches, 41 yards, TD
Both Tim Patrick and Noah Fant are on the sideline to start the second half.
Melvin Gordon hand injury - questionable to return today.
Nothing Javonte Williams does surprises Teddy Bridgewater anymore: "It's the standard now. He's been playing great football all year, and he's continuing to do that."
Justin Simmons immediately went over to the No. 88 on the field and placed the ball on it after his diving INT. So cool.

The story behind the Broncos' opening 10-man formation and the cooperation between Vic Fangio and Dan Campbell. 'He was with us': Broncos honor Thomas in win espn.com/nfl/story/_/id…
Not sure I've ever seen a team sign a wideout to a pricey extension and then just not bother to utilize that player. Courtland Sutton has 2 targets today and is on his way to falling short of three catches in SIX straight games. There is no excuse for how this has played out.
Broncos safety Kareem Jackson, who grew up 35 miles from Demaryius in Georgia, was same age and selected 2 picks ahead of DT in 2010 draft (20 and 22) placed this jersey on Broncos bench as he came out for early warm up. #9sports pic.twitter.com/Gobihdt64u
Tim Patrick on Demaryius Thomas: "He's always going to be there. I think he's going to be there more for us in life... He probably was out there with us, but I know, his main focus was making sure we were good mentally outside of football."
Shelby Harris with a bat down at the LOS. Best hands in the league.
Injury updates: DE Shelby Harris (knee) is QUESTIONABLE to return. ILB Kenny Young is being evaluated for a possible concussion.

Bryce Callahan is active and will officially be back.
From @gmfb Weekend: Talking #Broncos G Quinn Meinerz, fresh off his "Angry Runs" win, and the trade back by GM George Paton that looks pretty damn good so far. pic.twitter.com/HCpz1vJIz6
Dre'Mont Jones with his second clean sack of Goff. #9sports
Pat Surtain comes up and makes nice tackle on St. Brown. 1 yard completion. #9sports
DT Mike Purcell is active today. Lions have strong running game, at least they did. Their top 2 RBs are out. #9sports
Maybe start thinking about RB Damarea Crockett finish out the game. #9sports
Dre'Mont Jones got the sack, but give credit to Jonathon Cooper for getting pressure off the edge to force Goff to step right into Jones.

We've got real Stephen Weatherly/Shamar Stephen potential this afternoon too

Jonathan Cooper getting the start along with Bradley Chubb today.

Scoring Summary
| Team | QTR | TIME | SCORING PLAY | | |
| --- | --- | --- | --- | --- | --- |
| DEN | 1ST | 9:51 | Javonte Williams rushed up the middle for 5 yard touchdown | 0 | 7 |
| DEN | 1ST | 0:57 | Melvin Gordon III rushed up the middle for 1 yard touchdown | 0 | 14 |
| DET | 2ND | 12:38 | Jared Goff passed to Kalif Raymond to the left for 7 yard touchdown | 7 | 14 |
| DET | 2ND | 6:39 | Riley Patterson kicked a 36-yard field goal | 10 | 14 |
| DEN | 2ND | 0:02 | Brandon McManus kicked a 52-yard field goal | 10 | 17 |
| DEN | 3RD | 11:09 | Teddy Bridgewater passed to Javonte Williams to the left for 10 yard touchdown | 10 | 24 |
| DEN | 3RD | 6:38 | Melvin Gordon III rushed up the middle for 14 yard touchdown | 10 | 31 |
| DEN | 4TH | 2:00 | Teddy Bridgewater passed to Albert Okwuegbunam to the right for 4 yard touchdown | 10 | 38 |
Full Play-by-Play
Injury Report
| Name | Pos | Injuries | Status |
| --- | --- | --- | --- |
| Romeo Okwara | OLB | Achilles | OUT |
| Joel Heath | DE | Acl | OUT |
| Trey Flowers | DE | Knee | OUT |
| Frank Ragnow | C | Toe | OUT |
| Jalen Reeves-Maybin | OLB | Shoulder | OUT |
| Tyrell Crosby | OL | Undisclosed | OUT |
| Shaun Dion Hamilton | ILB | Undisclosed | OUT |
| Quintez Cephus | WR | Collarbone | OUT |
| Hunter Bryant | TE | Undisclosed | OUT |
| D'Andre Swift | RB | Shoulder | OUT |
| Matt Nelson | OT | Ankle | OUT |
| Austin Seibert | K | Right Hip | OUT |
| Jeff Okudah | CB | Torn Achilles | OUT |
| Logan Stenberg | OL | Knee | OUT |
| Charlie Taumoepeau | TE | | OUT |
| Jashon Cornell | DT | Illness | OUT |
| Bobby Price | S | Shoulder | OUT |
| Javon McKinley | WR | Undisclosed | OUT |
| AJ Parker | CB | Ankle | OUT |
| Name | Pos | Injuries | Status |
| --- | --- | --- | --- |
| Andre Mintze | OLB | Hamstring | OUT |
| KJ Hamler | WR | Torn Acl | OUT |
| Adrian Killins | RB | Ankle | OUT |
| Calvin Anderson | OT | Knee | OUT |
| Cody Conway | OT | Knee | OUT |
| Malik Reed | OLB | Covid-19 | OUT |
| P.J. Locke | S | Covid-19 | OUT |
| Alexander Johnson | ILB | Chest | OUT |
| Natrez Patrick | OLB | Leg | OUT |
| Mike Boone | RB | Covid-19 | OUT |
| Pita Taumoepenu | ILB | Covid-19 | OUT |
| Duke Dawson Jr. | CB | Knee (acl) | OUT |
| Josey Jewell | ILB | Torn Pectoral | OUT |
| DaeSean Hamilton | WR | Torn Acl | OUT |
| Shelby Harris | DE | Ankle | OUT |
| Graham Glasgow | G | Ankle | OUT |
| Brett Jones | C | Bicep/covid-19 | OUT |