Edge+
yearly
NFL Betting analytics, real-time odds, win probability, prop bet research tools, DFS Optimzer +fantasy.
Promo codes apply for first month or year only. Cancel anytime.
Public Money Betting Splits Across Every Game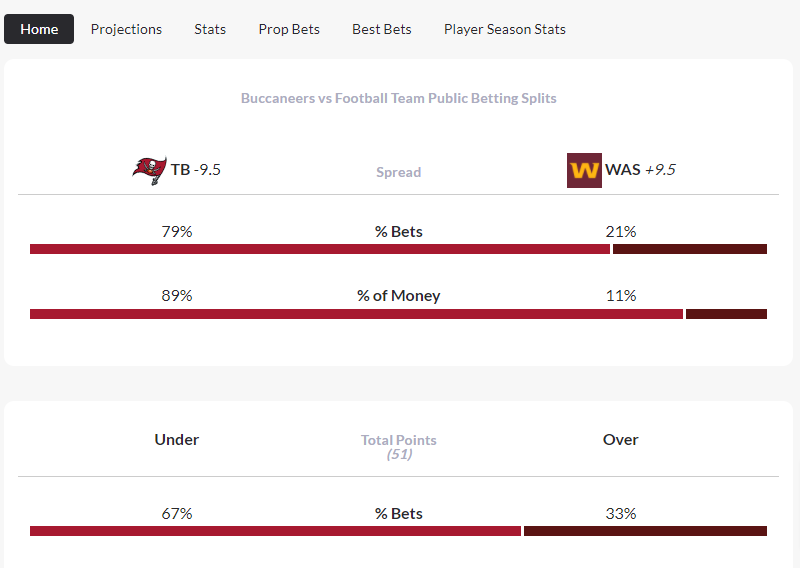 Odds Across Multiple Sportsbooks
Real-time News & Analysis
Over 25,000 Happy Customers
Testimonials from around the world.
James, Florida
Finally one place that includes quality fantasy and betting analytics and tools.
Matt, Texas
I have been using the fantasy package for over 5 years and could not live without it. Start decisions are on point.
Luca, Québec Canada
I play fantasy all-year round and their trade value charts and trade suggestions are truly next level. One of the few that actually support both NHL & NBA leagues.
David, North Carolina
The Prop Bet Cheatsheet & Over/Under Rankings pinpointed several prop bets every week last season that netted me over $20,000!
Adam, New York
The Fantasy Assistant is the most powerful in-season tool in the fantasy sports world.
Not to mention, Predictive Analytics allowed me to target the top guy on the waiver wire each week. Highly recommend it!.
Steven, New Jersey
The NFL Over/Under Prop Bet rankings is an incrediblely powerful research tool. I've never seen such an easy tool for player props across operators. I know exactly which props to target and stay away from.
Fantasy League Hosts
Unlock our tools. Easy imports take seconds.
We sync with: NFL, Sleeper, ESPN, CBSSports, Yahoo, Fantrax, FleaFlicker, and Ottoneu. More support coming soon!
Frequently Asked Questions
What happens if I cancel my plan early?
Your membership will remain active until the next billing period. Once the next billing period arrives your account will be downgraded to free.
Do you support private leagues at ESPN, etc?
Yes, we offer the easiest sync process around. Sync on any device at any time. Private leagues included.
When will Edge+ add more sports?
The NFL is just the beginning. Expect new additions in the coming years - beginning with the MLB and NBA.