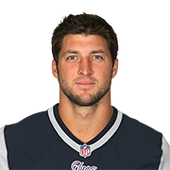 LOCAL NEWSPAPER

NEXT
|
PREV

Posted 9 days ago. via Washington Times
JUPITER, Fla. (AP) - Tim Tebow singled twice and made a diving catch at the right-field warning track, his best day as a professional baseball player. "I think I've had fun every game, genuinely, but I think this one, there was a lot of action," Tebow said after Wednesday after ...
BLOG / COLUMNIST

NEXT
|
PREV

Posted 16 days ago. via fanhouse.com
Tim Tebow made headlines last week for launching nine home runs in batting practice for the New York Mets. On Wednesday, he learned just how big the gap is between Major League pitchers and the pitching coaches who throw meatballs in warmups.- MLB (@MLB) March 8, 2017Tim Tebow ties the game up by driving in a run on this double play ball. pic.twitter.com/CgdxTTLpiZ- #InAllKindsOfWeather (@AllKindsWeather) March 8, 2017Tim Tebow HBP in 3rd AB against Red Sox pic.twitter.com/GB59ccuGZA- Boston Sports Info (@bostonsportsinf) March 8, 2017Aaaaaand Tim Tebow gets caught in a line-drive double play. pic.twitter.com/lwxeWbM8cM- (((Lichtenstein))) (@ABLichtenstein) March 8, 2017Read more...Permalink|Email this|LinkingBlogs|Comments
VIDEOS

NEXT
|
PREV

Add or Drop Tim Tebow?
Top
The current trend indicates that there has been minimal movement in terms of ADDS or DROPS for Tebow. In the past week his own percentage has increased by 0.5% . Meanwhile his start percentage has remained steady.
In the past 30 days, the highest own percentage for Tebow is 1.46% and his lowest is 0.00%. In terms of start percentages, his highest start percentage is 0% and lowest is 0.00%.
Tim Tebow Injury News
Top
Tim Tebow Fantasy Scoring
Top
PASS
RUSH
WK
OPP
YD
TD
INT
YD
TD
FUMBL
PT
Diff.
0
Tim Tebow Fantasy Graph
Top
Fantasy Chart Loading...