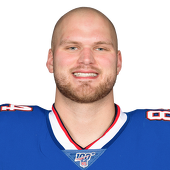 FANTASY ANALYSIS

NEXT
|
PREV

Posted 20 hrs ago. via footballguys
Cincinnati Bengals OT Jake Fisher (heart) has been medically cleared to participate in offseason workouts and training camp.
BLOG / COLUMNIST

NEXT
|
PREV

Posted 1 day ago. via CSN NW
Bengals tackle Jake Fisher ended last season on the non-football illness list when he was diagnosed with an irregular heartbeat that required him to have a corrective surgical procedure. It's been over three months since that procedure and Fisher has now been medically cleared to resume his football career. For now, that means stepping his [more]
VIDEOS

NEXT
|
PREV

Jake Fisher Injury News
Top
Jake Fisher Fantasy Scoring
Top
Sorry, no stat breakdown available. Right now the site is geared towards offensive players. If you would like to see defensive breakdowns and scoring added then please contact us and voice your concern!
Jake Fisher Fantasy Graph
Top
Fantasy Chart Loading...