| | | | | | |
| --- | --- | --- | --- | --- | --- |
| DEN | 6 | 10 | 3 | 11 | 30 |
| DAL | 0 | 0 | 0 | 16 | 16 |
Odds Across Sportsbooks
| | DEN | DAL | |
| --- | --- | --- | --- |
| Consensus | | | |
| DraftKings | | | |
| FanDuel | | | |
| SugarHousePA | | | |
| SugarHouseNJ | | | |
| Parx | | | |
| 888SportNJ | | | |
| RiversCasinoPA | | | |
| Caesars | | | |
| PointsBet | | | |
| BetMGM | | | |
| Unibet | | | |
Green dot denotes best odds.
| | DEN | DAL | |
| --- | --- | --- | --- |
| Consensus | | | |
| DraftKings | | | |
| FanDuel | | | |
| SugarHousePA | | | |
| SugarHouseNJ | | | |
| Parx | | | |
| 888SportNJ | | | |
| RiversCasinoPA | | | |
| Caesars | | | |
| PointsBet | | | |
| BetMGM | | | |
| Unibet | | | |
Green dot denotes best odds.
Game Charts
DEN100%
DAL0%
Passing
FP
ATT
CMP
YDS
YPC
TD
INT
LONG
SACK
RATE

21.86
28
19
249
13.1
1
0
44
4
107.59
Rushing
FP
ATT
YDS
YPC
LONG
TD
FUM

21.86
3
-1
-0.3
1
1
0

17.5
21
80
3.8
14
1
0

11.1
17
111
6.5
30
0
0
Receiving
FP
TAR
REC
YDS
YPR
LONG
TD
FUM

18.5
5
4
85
21.2
44
1
0

17.5
2
2
15
7.5
8
0
0

12.9
8
6
69
11.5
25
0
0

6.5
5
4
25
6.2
17
0
0

5
1
1
40
40
40
0
0

3.9
2
1
9
9
9
0
0

1.6
1
1
6
6
6
0
0
Kicking
FP
FGA
FGM
PCT
LONG
XP

Brandon McManus

12
4
3
75
53

1

/

2

Team Defense
FP
PA
TD
SACK
FR
INT
YDS

DEN

7
16
0
2
1
1
290
Passing
FP
ATT
CMP
YDS
YPC
TD
INT
LONG
SACK
RATE

18.88
39
19
232
12.2
2
1
32
2
73.88
Rushing
FP
ATT
YDS
YPC
LONG
TD
FUM

18.88
2
16
8
9
0
0

12.6
10
51
5.1
11
0
0

5.3
4
11
2.8
8
0
0
Receiving
FP
TAR
REC
YDS
YPR
LONG
TD
FUM

20.3
7
5
33
6.6
11
2
0

12.6
3
3
25
8.3
21
0
0

9.4
5
4
54
13.5
20
0
0

5.7
5
2
37
18.5
32
0
0

5.3
2
1
32
32
32
0
0

4.8
5
2
28
14
24
0
0

4.3
9
2
23
11.5
18
0
0

0
1
0
0
0
0
0
0

0
2
0
0
0
0
0
0
Kicking
FP
FGA
FGM
PCT
LONG
XP

Greg Zuerlein

0
0
0
0
0

0

/

0

Team Defense
FP
PA
TD
SACK
FR
INT
YDS

DAL

3
30
0
4
0
0
407
Game News
Broncos announced that QB Drew Lock is out for today's game in Dallas due to COVID-19 protocols.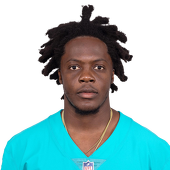 It's extra good the Broncos didn't trade Teddy Bridgewater this week. If they had, their starting QB would be Brett Rypien and the backup would likely be Kendall Hinton.
The Broncos are undefeated in games Jerry Jeudy plays this season 👀👀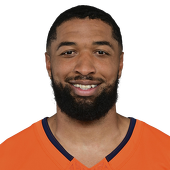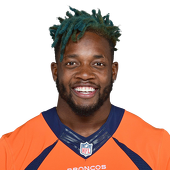 The underdog Broncos rushed for a season-high 190 yards despite missing three-fifths of the starting offensive line due to injury, with Williams going for 111 yards — his first career game over the century mark — and Melvin Gordon adding 80.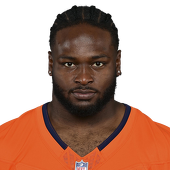 "Losing Von, I feel like it really made us look deep down in ourselves and say we really gotta step up if we want to fill that hole." My @nflnetwork postgame interview with Javonte Williams after his first 100-yard game in a #Broncos beatdown of the #Cowboys. pic.twitter.com/twEfy8bWcA

Vic Fangio: "Our special teams took the day off today" Yikes.
Brandon McManus is off the past two weeks. He missed his first of the year last week. Missed another FG today and an extra point.
Injury update for the Broncos: CB Pat Surtain II (knee) is questionable to return.
Teddy Bridgewater rushes it in for a touchdown, then finds Courtland Sutton for a 2-point conversion. The Broncos have a 27-0 lead. They have a 21-5 edge in first downs. They have better than a 3-to-1 edge in time of possession. Utter domination.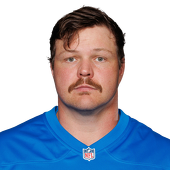 Bobby Massie and Graham Glasgow have both been ruled out for the rest of this game. Which means Denver has 2 of its preferred 5 on the OL. ... and the Broncos are still bullying the Cowboys on the ground.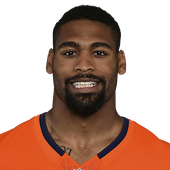 Broncos are without their top THREE OLBs from the start of the season. And they are still getting big-time production from Jonathon Cooper.

So, in summary, here are the Broncos first-teamers who are unavailable today: Bolles (injured) Callahan (IR) Chubb (IR) Fant (COVID-19 list) Jewell (IR) A.Johnson (IR) Purcell (injured) Reed (injured) And, of course, Von Miller was traded. No. 4 WR KJ Hamler on IR.
The NFL has a very high vaccination rate, first Second, the NFL forced the Broncos to play with Kendall Hinton at QB. They're willing to do it twitter.com/mnsportsguy0/s…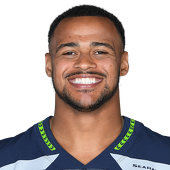 #Broncos announce Drew Lock out because of COVID-19. Brett Rypien moves into the backup role. Broncos are already without Noah Fant and Netane Muti because of COVID. #Denver7
Injury update: TE Albert Okwuegbunam (knee) is QUESTIONABLE to return.
Justin Simmons is having another EXCELLENT game. Had the big TFL and took away the Cowboys crossing route on third down.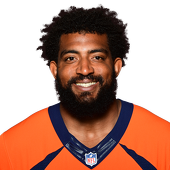 Injury update: RT Bobby Massie (ankle) is QUESTIONABLE to return.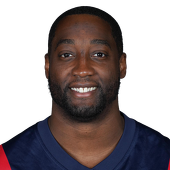 Calvin Anderson is doing an excellent job at LT. Haven't mentioned his name once, which means he's doing his job really well.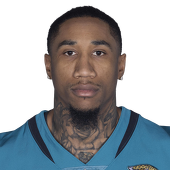 Really good news: Ronald Darby is back on the field.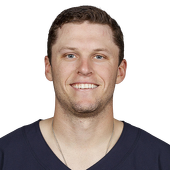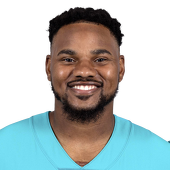 Sutton, Gordon and inactive Malik Reed staying on field at midfield to be with Glasgow. #Broncos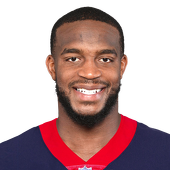 Kareem Jackson with the TFL. Cowboys not finding any rhythm today.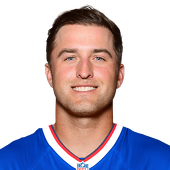 Sam Martin punt blocked. Gives Cowboys a lift. Martin had no chance. Gifford came straight up A gap untouched. But WAIT! Broncos ball. Cowboy touched blocked kick past line of scrimmage, and then Broncos recovered. Broncos ball. HUGE break. #9sports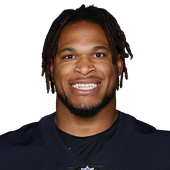 Kenny Young might not have wanted to be a Bronco, but he's certainly bringing it. The dude can play.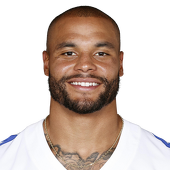 Patriots QB Mac Jones joins Andrew Luck (2012) and Dak Prescott (2016) as the only rookies since the merger to have 5+ wins, 10+ pass TD and 2,000+ pass yds in their first 9 career games
#Cowboys WRs CeeDee Lamb (ankle) and Amari Cooper (hamstring) -- both listed as questionable -- will play today against the #Broncos, per sources.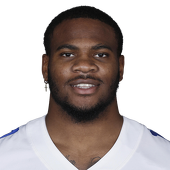 Micah Parsons is the first rookie in team history with 5.0 sacks through the first eight games of a career.
Live from Arlington, Texas, where the #Cowboys expect CeeDee Lamb (ankle) and Amari Cooper (hamstring) to be full-go today, while the #Broncos have a game-day COVID issue. @NFLGameDay @nflnetwork pic.twitter.com/8D1B0ZzCzF
With that run, Ezekiel Elliott surpassed 7,000 career rushing yards. Elliott joins Emmitt Smith as the only Cowboy - 11th in NFL history - to reach 7,000 rushing yards in his first 79 games.
Quite a way to start for the Cowboys. Tony Pollard with a 54-yard return on the opening kickoff.

Cowboys coach Mike McCarthy on @1053thefan: "It's a noon game. We want to get up, get going and get our crowd into this thing."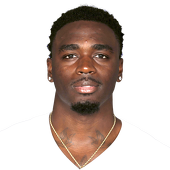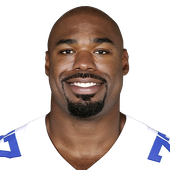 Shouts out to the guy walking around the south side of AT&T Stadium in a Tyron Smith jersey. OL jerseys always deserve shoutouts.

Everybody wants aggressive until it doesn't work. Loved both of the early calls. I trust Dak to make that throw to Cedrick Wilson 99.99999% of the time. Bad day at the office for everyone. Which, in no way should change the way they call those situations imo. twitter.com/undermyvoodoo9…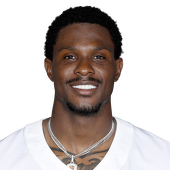 That doesn't seem in spirit with the rule. Cowboys get a punt block, but because ball touched CB Nahshon Wright after line of scrimmage, Broncos recover and receive an automatic first down.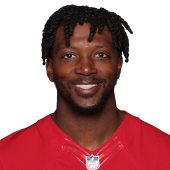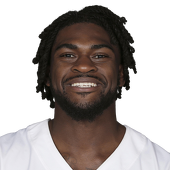 Cowboys CB Trevon Diggs on his game vs. Broncos. "I didn't play good at all." Focus now is on collective growth. "I don't like losing. So, we've got to come back next week harder. We know what we've got to do. We're going to stick together, and we're going to get it done."

Cowboys owner Jerry Jones: "I've seen us play well, and we're capable of righting this ship and playing winning football."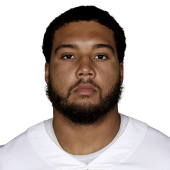 With Tyron Smith out, the #Cowboys plan to start Terence Steele at left tackle and La'el Collins at right tackle against the #Broncos, I'm told. Steele has gotten backup reps at LT much of the season and Collins has RT experience, so a smooth transition technique-wise.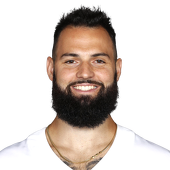 Cowboys only have four inactives today vs. Denver: LT Tyron Smith, QB Will Grier, S Israel Mukuamu, WR Simi Fehoko

Cowboys OC Kellen Moore rightfully gets a lot of credit when things are going well. That doesn't mean he is to blame when things are falling apart. By and large, play-calling today has been fine. Execution been atrocious.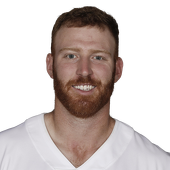 This makes me long for the days of Cooper Rush.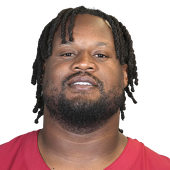 Cowboys DT Carlos Watkins: "It was a funny game. We've been rolling hot for a while, but it was a humbling game. We needed that. We have to look at it and make corrections."
Dak says his calf feels fine, no cause for concern there. He reiterates what Leighton Vander Esch said a little while ago, which is that Denver was much more physical than them. First time he thinks that's happened all year.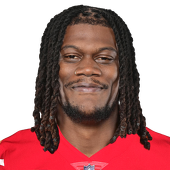 Cowboys DE Randy Gregory on the film from today's loss to Broncos: "We're not just going to burn it and move on. There's a lot of things we can take from it. We can learn from these experiences and come back better."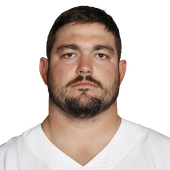 Womp, womp. Cowboys did exactly what I wanted them to do. Just couldn't block up the fourth down run. Looked like Zeke wanted to go behind Zack Martin, just didn't see an opening. Waste of a fantastic kick return.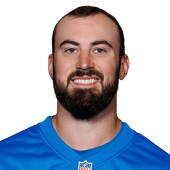 Sean McKeon & Francis Bernard both figure to make their 2021 debuts today. Both made the roster as undrafted free agents last year, both got hurt during training camp and haven't been available. Both are active today.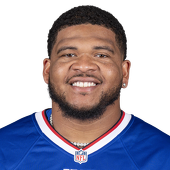 Terence Steele is a backup player for a reason. He is much improved, but still a backup. To suggest La'el Collins shouldn't get the RT back and Steele shouldn't be the 3rd tackle (thus today's LT) is the result of consumption of a bottle of crazy pills. twitter.com/15_grover/stat…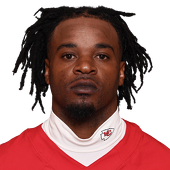 Rookie Kelvin Joseph just made his first positive play of the season. The 2nd round pick recovered Cedric Wilson fumble on punt return for Cowboys to keep the ball on their own 22-yard line.
Scoring Summary
| Team | QTR | TIME | SCORING PLAY | | |
| --- | --- | --- | --- | --- | --- |
| DEN | 1ST | 1:52 | Melvin Gordon III rushed to the left for 3 yard touchdown | 6 | 0 |
| DEN | 2ND | 12:21 | Teddy Bridgewater passed to Tim Patrick to the left for 44 yard touchdown | 13 | 0 |
| DEN | 2ND | 3:46 | Brandon McManus kicked a 53-yard field goal | 16 | 0 |
| DEN | 3RD | 8:12 | Brandon McManus kicked a 27-yard field goal | 19 | 0 |
| DEN | 4TH | 11:24 | Teddy Bridgewater rushed up the middle for 1 yard touchdown. 2pt attempt converted, Teddy Bridgewater pass to Courtland Sutton. | 27 | 0 |
| DEN | 4TH | 6:36 | Brandon McManus kicked a 42-yard field goal | 30 | 0 |
| DAL | 4TH | 4:14 | Dak Prescott passed to Malik Turner to the left for 5 yard touchdown. 2pt attempt converted, Ezekiel Elliott run to the left. | 30 | 8 |
| DAL | 4TH | 1:00 | Dak Prescott passed to Malik Turner down the middle for 4 yard touchdown. 2pt attempt converted, Dak Prescott run to the left. | 30 | 16 |
Full Play-by-Play
Injury Report
| Name | Pos | Injuries | Status |
| --- | --- | --- | --- |
| Michael Ojemudia | CB | Hamstring | OUT |
| Netane Muti | G | Covid-19 | OUT |
| Essang Bassey | CB | Knee (acl) | QUES |
| Andre Mintze | OLB | Hamstring | QUES |
| Bradley Chubb | OLB | Ankle | OUT |
| Alexander Johnson | ILB | Chest | OUT |
| Noah Fant | TE | Covid-19 | OUT |
| DaeSean Hamilton | WR | Torn Acl | OUT |
| Josey Jewell | ILB | Torn Pectoral | OUT |
| Micah Kiser | ILB | Groin | OUT |
| Drew Lock | QB | Covid-19 | OUT |
| Natrez Patrick | OLB | Leg | OUT |
| Cody Conway | OT | Knee | OUT |
| Malik Reed | OLB | Hip | OUT |
| Levante Bellamy | RB | Ankle | OUT |
| KJ Hamler | WR | Torn Acl | OUT |
| Mike Purcell | NT | Thumb | OUT |
| Graham Glasgow | G | Hip | OUT |
| Garett Bolles | OT | Ankle | OUT |
| Bryce Callahan | CB | Knee | OUT |
| Brett Jones | C | Bicep | OUT |
| Name | Pos | Injuries | Status |
| --- | --- | --- | --- |
| Darian Thompson | SS | Hamstring | OUT |
| Maurice Canady | CB | Concussion | OUT |
| Tyron Smith | OT | Ankle | OUT |
| Brent Urban | DE | Triceps | OUT |
| DeMarcus Lawrence | DE | Foot | OUT |
| Mitch Hyatt | OT | Knee | OUT |
| Michael Gallup | WR | Calf | QUES |
| Trysten Hill | DT | Knee | QUES |
| Blake Jarwin | TE | Hip | OUT |
| Josh Ball | OT | Ankle | OUT |
| Jabril Cox | LB | Torn Acl | OUT |
| Reggie Robinson II | CB | Toe | OUT |
| T.J. Vasher | WR | Knee | OUT |
| Sewo Olonilua | FB | Neck | OUT |
| Rico Dowdle | RB | Hip | OUT |
| Neville Gallimore | DT | Elbow | OUT |