| | | | | | |
| --- | --- | --- | --- | --- | --- |
| CIN | 3 | 10 | 14 | 14 | 41 |
| BAL | 0 | 10 | 7 | 0 | 17 |
Odds Across Sportsbooks
| | CIN | BAL | |
| --- | --- | --- | --- |
| Consensus | | | |
| DraftKings | | | |
| FanDuel | | | |
| SugarHousePA | | | |
| SugarHouseNJ | | | |
| Parx | | | |
| 888SportNJ | | | |
| RiversCasinoPA | | | |
| Caesars | | | |
| PointsBet | | | |
| BetMGM | | | |
| Unibet | | | |
Green dot denotes best odds.
| | CIN | BAL | |
| --- | --- | --- | --- |
| Consensus | | | |
| DraftKings | | | |
| FanDuel | | | |
| SugarHousePA | | | |
| SugarHouseNJ | | | |
| Parx | | | |
| 888SportNJ | | | |
| RiversCasinoPA | | | |
| Caesars | | | |
| PointsBet | | | |
| BetMGM | | | |
| Unibet | | | |
Green dot denotes best odds.
Game Charts
CIN100%
BAL0%
Game News
Ja'Marr Chase has been named the NFL Offensive Rookie of the Year.
The Cincinnati Bengals and Baltimore Ravens enter their first battle of the 2021 season in great spots.

Baltimore has performed as expected, gunning out to a 5-1 record. Cincinnati has done much of the same on the way to 4-2, primarily based on an easy opening schedule and the idea Joe Burrow's return would elevate the whole team.

It certainly has, as he's led a couple of game-winning drives and finally played in a full 16 games — and those 16-game numbers look great. It sure doesn't hurt that he's flanked by great weapons, headlined by Ja'Marr Chase, as well as a strong defense
Samaje Perine goes all the way for a 46-yard TD run! @Bengals can smell first place in the AFC North. 📺: #BALvsCIN on CBS 📱: NFL app pic.twitter.com/vrNwXu6a3h
W/ all his early success, I asked Ja'Marr Chase if he still felt like a rookie. He said his teammates make sure he does. (Read: he has to buy snacks) Tee Higgins, overhearing, says: "He was bad at it at first." Chase: "Now I just tell them to write me a list." Talented AND smart!
The #Bengals have never beaten Lamar Jackson. In their last three meetings, they've been outscored by the #Ravens by 95 combined points. But CIN RB Joe Mixon told me, no, no baggage coming in here. "We're a completely different team." One, he said, that's "looking to dominate."
Bengals take a 13-10 lead into halftime after Evan McPherson's 30-yard FG at the buzzer.
Bengals DE Trey Hendrickson on his conversation with Ravens OT Alejandro Villaneueva after a holding penalty: "Cheating in any game... it's frowned upon."
C.J. Uzomah: "That locker room right now is lit."

Bengals coach Zac Taylor: "We cannot get complacent whatsoever."

I haven't given Lou Anarumo much credit, but it's time. I kept waiting for the other shoe to drop, but it just hasn't. He's found a way to HIDE a cornerback that has gotten attacked his entire career and is getting a pass rush without more than one impact rusher. Impressive!
Tyler Boyd all alone in the middle of the field. Burrow and Bengals just have guys running free everywhere.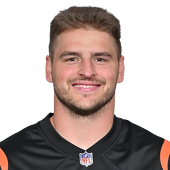 Per NFL Next Gen, Bengals LB Logan Wilson was not on the field for that third-down attempt. Was Markus Bailey and Germaine Pratt.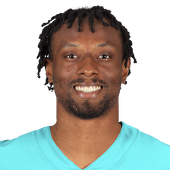 Bengals CB Eli Apple with a "Big Truss," a Baltimore catchphrase, and then some in the postgame aftermath. pic.twitter.com/ItRpJpzisd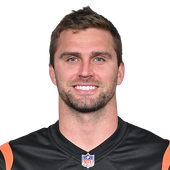 Bengals DE Trey Hendrickson on fellow DE Sam Hubbard after Hubbard's big day: "It's about time people starting putting respect on Sam's name. That guy can rush."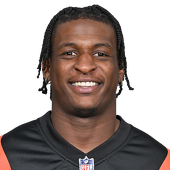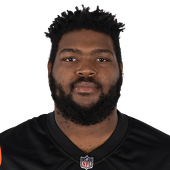 Bengals inactives today: DE Darius Hodge, CB Nick McCloud, DT Tyler Shelvin, WR Mike Thomas. CB Tre Flowers will be active for the first time in Cincinnati.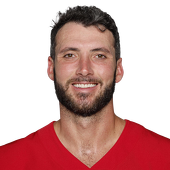 Brandon Allen time. Burrow snaps together his baseball hat and put it on for the final five minutes.

After listening to the @Dan_Hoard pregame show interview with future Hall of Famer Chris Evans, I like my new favorite Bengals player even more.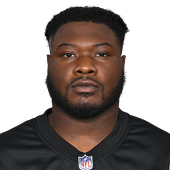 Will have to see but it looks like rookie sixth-round pick Trey Hill might be starting at center today over Trey Hopkins for the #Bengals. He's running with the first team in pregame warmups. Again, we will see what they come out in, but keep an eye on that.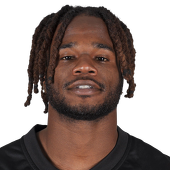 I expect them to activate some guys from IR tomorrow. Mike Thomas is the only one on PUP, and he's probably still a couple of weeks away from playing. twitter.com/jt25saints/sta…
I know this sounds weird, but the Bengals dodged a bullet on that 24-yard completion to Andrews. Ravens had Hollywood Brown matched up on Akeem Davis-Gaither with no safety help. Lamar went to Andrews instead.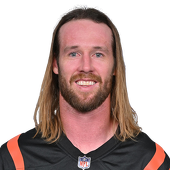 Darius Phillips opens the game as the punt returner after getting benched last week in favor of Trenton Irwin.

One of the more mundane inactive lists the Cincinnati Bengals will ever put out went public Sunday before the team's game against the 5-2 Baltimore Ravens.

After a good-looking injury report for most of the week that finished with only two backups being listed as questionable, the Bengals listed the following players as inactive:

Elsewhere, the Bengals had previously called up linebacker Joe Bachie from the practice squad for the game, a move made to compensate for a lack of depth and special teams work with Jordan Evans out for the season
Devonta Freeman's 1-yard TD run pulls Ravens into a 10-10 tie with Bengals late in 2Q. That score was set up by Jackson's 16-yard run to the 2-yard line on third-and-two.

Just really bad football for Ravens. Back-to-back false start penalties after a timeout. Ty'Son Williams then heads out of bounds few yards short of the sticks on 4th-and-15. They'll have 2 weeks to recover from this one and they'll need it.
In pre-game warmups, RB Devonta Freeman is running with the starting offense. Latavius Murray is out with an ankle injury. espn.com/nfl/story/_/id…
Lamar finally gets TE Mark Andrews involved with completions of 24 and 23 yards, the second of which converts third and 6 and gets the Ravens to the #Benals 26 on the final play of the first quarter.
Rashod Bateman closing in on his first 100-yard game. Taking the Sammy Watkins role. LET'S GO
Justin Tucker ties the game 3-3 with a 45-yard field goal. Tucker is 14-of-15 (93.3%) this season.
Chuck Clark and Marlon Humphrey both jumped a short route and Burrow hits a wide open Uzomah streaking down the field. Uzomah, who breaks a tackle attempt by Elliott, scores his second TD, this one from 32 yards. Bengals lead 20-17 with 11:06 left in 3rd quarter.
I think the Bengals are about to catch a break here ... Chuck Clark was clearly out of bounds.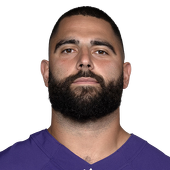 Right tackle Patrick Mekari (ankle) has been ruled out for the rest of the game.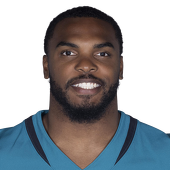 Can't speak to other games going on right now, but Bucs rookie Jaelon Darden's 43-yard punt return is longer than any punt return this season in the NFL entering today. Ravens' Devin Duvernay had it at 42 yards.

Trent Williams is inactive for the 49ers. Jaylon Moore will start at LT
Bengals TE CJ Uzomah credits TE Drew Sample for blocking Calais Campbell 1-on-1 on his TD catch.

John Harbaugh on his message to the players: "We'll keep it internal. What we talk about will be very honest and very real in terms of all the details that we need to get better at. It will be what we need to do to get better to become a more consistent team."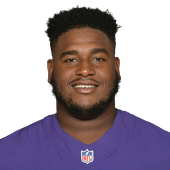 Ravens RT Patrick Mekari needing help to get off the field. Seems to be lower right leg issue. Tyre Phillips now in the game.
Pernell McPhee with a dumb hit after the pass on Burrow immediately puts the Bengals near midfield.