| | | | | | |
| --- | --- | --- | --- | --- | --- |
| LV | 10 | 7 | 14 | 3 | 34 |
| DEN | 7 | 0 | 3 | 14 | 24 |
Odds Across Sportsbooks
Game Charts
LV100%
DEN0%
Game News
So much for worrying about the Raiders offense today. Josh Jacobs untouched touchdown run gives LV a 31-10 lead in the third quarter
Daniel Carlson MISSES … wide right. Grazed the upright. It's still 10-7.
Maxx Crosby: "There are always things going on with the Raiders. But the guys in our building are resilient."
Bryan Edwards shows up big at the end of games when the Raiders offense is rolling. Wow, what a throw, catch and run on third down to get well into game-sealing range.
Solomon Thomas forced the fumble, Denzel Perryman with the scoop.
#Raiders QB Derek Carr is tearing up the Broncos blitz so far, going 7-of-9 for 178 yards and a TD against the blitz, including his 40-yard throw to Henry Ruggs III that set up their most recent TD, per @ESPNStatsInfo
Note on Philon being inactive for the #Raiders: There's 54 players on the roster & teams can only have 48 players active on gameday, so they had to make 6 inactive. Kendal Vickers & Damion Square are both bigger than Philon, so maybe that's why they got the nod with Hankins out.
That was a wild play. Looked like Kendall Hinton and Nate Hobbs simultaneously caught the ball initially, but Hobbs pulled it away by the time they hit the ground. It's under review. That's a tough call to make.
Looks like Brandon Facyson has replaced Amik Robertson at outside corner. Believe these are his first snaps since signing with the #Raiders. Robertson was struggling.
Great hustle play by Solomon Thomas. Stuck with it to force a huge fumble. @Raiders at the @Broncos 42
Another big missed tackle for Robertson. Just a brutal game for him so far. Casey Hayward looked to cramp up (again), which is why he was in.
#Broncos RB Melvin Gordon III (hip) is expeced to play today, source said, despite being listed as questionable.
Tim Patrick is back in the game. Good news.
Justin Simmons honoring Justin Simmons. A special shoutout to Feature Producer Scott Harves and Coordinating Producer Greg Jewell, who did incredible work here. And thank you to cameramen Mark James and Cody Shimek, and editors Amanda Winkler and Jenna Kijowski. pic.twitter.com/XZhUBabwse
Touchdown, 1⃣4⃣

: CBS pic.twitter.com/Lr3jK7CMj0

— Denver Broncos (@Broncos) October 17, 2021

Courtland Sutton wasn't going to be denied.

The Broncos receiver slipped, weaved and pushed past Raiders defenders for a 12-yard touchdown on Sunday.

The score cut Las Vegas' lead down to 31-17
#Broncos Teddy Bridgewater getting extra mental/physical reps in pregame. He is a competitor. The QBs and Sutton had contest on who could hit crossbar from 40 yards out Friday. Lock hit it and Teddy did the same on his last pass. Need good game from him today #Denver7 pic.twitter.com/0DA6cu74Uw
In the locker room after the game, Von Miller told the team that everyone needs to look themselves in the mirror and figure out what they can do better instead of looking at other people, according to Noah Fant.
Just saw CB Ronald Darby warming up. He is active for first time since opener and is expected to start. #9sports
The Broncos now have 7 double-digit home losses under Vic Fangio. That's the most endured by any Broncos coach since Lou Saban (12, 1967-71). For comparison, they had 6 double-digit home losses under Mike Shanahan — in 14 years. Under Fangio, they surpassed that in 2.35 seasons.
Pat Surtain is the only Broncos CB that hasn't been beat deep in the past two games.
Injury updates: LB Andre Mintze (hamstring) is now OUT. LB Alexander Johnson (chest) is OUT.
Injury update: LB Baron Browning is being evaluated for a possible concussion.
Matthew Wright of the @Jaguars is the fourth kicker in NFL history to make two 50+ yard field goals in the 4th quarter, including the game winner as time expires. He joins Greg Joseph (last week), Brandon McManus (2019) and Mason Crosby (2016).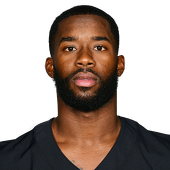 John Brown is active and WILL play today. Big-time speed for Broncos' offense.
Duane Brown is yelling at center Kyle Fuller after that 3rd-down sack by Highsmith around LT Brown. #Seahawks
Mike Boone has been all over the field today. Love the creativity with him. Hasn't touched the ball yet though.
Edwards beat Bryce Callahan for a monster 51-yard play on third down. Game over.
Kendall Hinton MADE THE CATCH. Broncos ball. First down on the Raiders 12 yard line.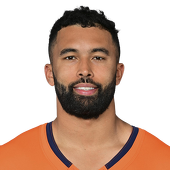 Micah Kiser and Justin Strnad are the Broncos' only ILBs left for this game.
Broncos GET the onside kick. Eric Saubert comes up with the ball. A miracle is still needed
Melvon Gordon and Kareem Jackson are both active and will play. Big boost for both sides of the ball.
Bobby Massie held Crosby and he still registered his *checks notes* 200th sack of the game.