| | | | | | |
| --- | --- | --- | --- | --- | --- |
| CLE | 7 | 0 | 0 | 0 | 7 |
| NE | 7 | 17 | 7 | 14 | 45 |
Odds Across Sportsbooks
Game Charts
CLE0%
NE100%
Passing
FP
ATT
CMP
YDS
YPC
TD
INT
LONG
SACK
RATE

Baker Mayfield

4.92
21
11
73
6.6
1
1
13
2
56.25

Case Keenum

3.24
12
8
81
10.1
0
0
18
3
85.76
Rushing
FP
ATT
YDS
YPC
LONG
TD
FUM

D'Ernest Johnson

22.7
19
99
5.2
24
0
0

Johnny Stanton

0
1
0
0
0
0
0
Receiving
FP
TAR
REC
YDS
YPR
LONG
TD
FUM

D'Ernest Johnson

22.7
8
7
58
8.3
18
0
0

Austin Hooper

12.5
5
4
25
6.2
11
1
0

Jarvis Landry

6.6
5
4
26
6.5
11
0
0

Harrison Bryant

3.8
2
2
18
9
13
0
0

Donovan Peoples-Jones

2.6
5
1
16
16
16
0
0

David Njoku

2.1
4
1
11
11
11
0
0

Anthony Schwartz

0
1
0
0
0
0
0
0

Rashard Higgins

0
1
0
0
0
0
0
0
Kicking
FP
FGA
FGM
PCT
LONG
XP

Chase McLaughlin

1
0
0
0
0

1

/

1

Team Defense
FP
PA
TD
SACK
FR
INT
YDS

CLE

-2
45
0
2
0
0
452
Passing
FP
ATT
CMP
YDS
YPC
TD
INT
LONG
SACK
RATE

Mac Jones

19.92
23
19
198
10.4
3
0
26
2
142.12

Brian Hoyer

7.2
3
3
85
28.3
1
0
48
0
158.33
Rushing
FP
ATT
YDS
YPC
LONG
TD
FUM

Rhamondre Stevenson

27.4
20
100
5
18
2
0

Kendrick Bourne

24.1
3
43
14.3
17
0
0

Brandon Bolden

10
3
32
10.7
22
0
0

Brian Hoyer

7.2
2
-2
-1
-1
0
0

J.J. Taylor

1.1
6
11
1.8
3
0
0
Receiving
FP
TAR
REC
YDS
YPR
LONG
TD
FUM

Rhamondre Stevenson

27.4
5
4
14
3.5
8
0
0

Kendrick Bourne

24.1
4
4
98
24.5
48
1
0

Hunter Henry

19.7
4
4
37
9.2
19
2
0

Jakobi Meyers

14.9
4
4
49
12.2
26
1
0

Brandon Bolden

10
3
3
38
12.7
20
0
0

Nelson Agholor

4.1
4
2
21
10.5
11
0
0

N'Keal Harry

3.6
1
1
26
26
26
0
0
Kicking
FP
FGA
FGM
PCT
LONG
XP

Nick Folk

9
1
1
100
38

6

/

6

Team Defense
FP
PA
TD
SACK
FR
INT
YDS

NE

11
7
0
5
0
1
217
Game News
Browns' QB Baker Mayfield is questionable to return due to a knee injury.
From @ESPNStatsInfo: D'Ernest Johnson had 58 yards rushing on the Browns' opening drive. That's the 2nd most rush yards on an opening drive against the Patriots under Bill Belichick.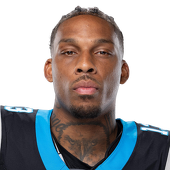 Troy Hill update. Neck injury. Has movement in his extremities. Being taken to local Hospital for further evaluation. #Browns
Austin Hooper saved David Njoku's butt with clutch 2-y TD back of end zone on 4th down. 7-0, Cleveland. Nice opening script.
Myles Garrett: We didn't make the adjustments on the sideline or when we had time to.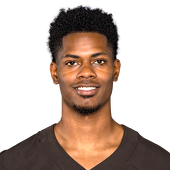 Greedy Williams (shoulder) inactive, but JOK is active vs. Pats #Browns
#Browns hope to have Nick Chubb and Demetric Felton back next week from COVID-19 for the #Lions game, and that their mid-size outbreak -- including at least 5 players and several staff members -- subsides: #Browns Insider cleveland.com/browns/2021/11…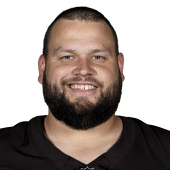 Joel Bitonio says #Browns have been too jekyll and hyde: "We have to figure it out quick. In the AFC, 9-8 is not going to get you into the playoffs…."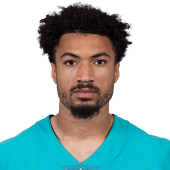 Anthony Schwartz gave up on the route that led to an INT and Baker's original shoulder injury against Houston. He got an earful from Stefanski when he came off the field. Why does that matter now? Schwartz just gave a great effort to break up what should've been another INT.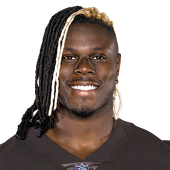 David Njoku looks great in warmups running routes without a shirt. But once he puts clothes on, he drops easy passes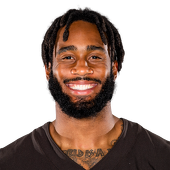 John Johnson is having one of the worst games from a safety I've ever seen…
Jack Conklin makes a difference for the #Browns offense. So does - shocker - Chubb and Hunt. If people want to criticize Mayfield, fine. But there was a reason the org waited on that extension and maybe you're seeing it. Getting this info before an extension is better than after.
Case Keenum is warming up to come in the game #Browns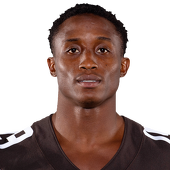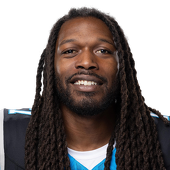 When the Cincinnati Bengals hosted the Cleveland Browns in Week 9, a late hit on Joe Burrow by Jadeveon Clowney caused a fight.

That fight, which featured Bengals linemen Quinton Spain and Jonah Williams getting after Clowney, had coaches talking after the game about how much they liked it.

A week later, it turns out Clowney wasn't fined for the late hit on Burrow, according to NFL Network's Ian Rapoport. But Browns defensive tackle Jordan Elliott got fined twice — $5,793 two times — for unnecessary roughness flags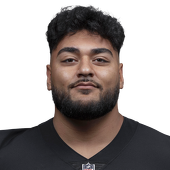 Tommy Togiai sighting. Guessing he'll be the start of several Buckeyes actually getting picked by this Browns administration.
Mayfield is standing up talking to Alex Van Pelt. Would imagine his day is over but nothing from this angle would indicate he's really hurt.
Patriots' RB Rhamondre Stevenson, listed as questionable for today due to a concussion, is expected to play vs. the Browns, per a league source.
Gives the Patriots a big back on first and second down if they want to keep Brandon Bolden in the third-down role he's held down since James White hit IR. twitter.com/adamschefter/s…
Tight ends warming up: Hunter Henry, Matt LaCosse and Devin Asiasi. No sign of Jonnu Smith
From @ESPNStatsInfo: The Patriots' opening TD drive took 9:39, their longest opening drive TD under Bill Belichick (since 2000).
Kendrick Bourne! In between two defenders. What concentration. What hands. 21-7 #Patriots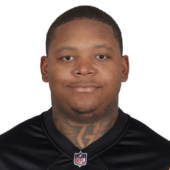 Starting offensive line in warmups: LT: Isaiah Wynn LG: Ted Karras C: David Andrews RG: Shaq Mason RT: Trent Brown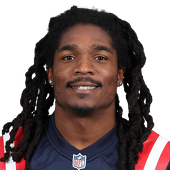 Kyle Dugger: 3rd interception of the season. He also leads the team in tackles (53).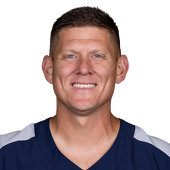 Quick-hit thoughts/notes around the Patriots and NFL (impressive Christian Barmore and the second-round trade-up; Mac Jones grinds through "little dry spell"; OBJ follow-up; Cam's return to Panthers; Nick Folk's accuracy; 1,000th game for Patriots etc.). es.pn/3ovraQq
Patriots rushing yards during their four-game win streak: 148 vs. NYJ 142 vs. LAC 151 vs. CAR 184 vs. CLE* *without Damien Harris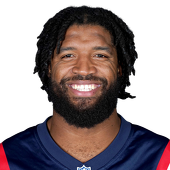 Deatrich Wise was just the latest defender to get flagged for playing football.
9.5 sacks on the season for Matthew Judon, as he splits that one with Dont'a Hightower.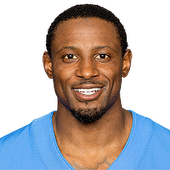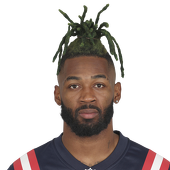 Patriots injury update: DB Jalen Mills (arm) is questionable to return.
N'Keal Harry does do a very good job angering opposing defenders.
#Patriots offense with 197 total yards part way through the second quarter against one of the better defenses in the league…without their top running back and starting tight end. Let me be the first person to say this Josh McDaniels guy really sucks 👍 #CLEvsNE
Brian Hoyer coming in. 8:15 remaining in the fourth quarter.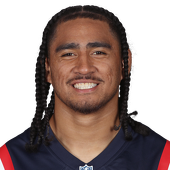 Kyle Van Noy with the strip on third down. The Pats were close to recovering. Instead, Cleveland will punt.
This will be Devin Asiasi's first game since Jan. 3, 2021 and Matt LaCosse's first since Jan. 4, 2020. Some fresh faces in that tight end group with Jonnu Smith out.
Press-box view: Rookie Ronnie Perkins works with director of skill development Joe Kim on developing his pass-rush skills. pic.twitter.com/ML708iJ67b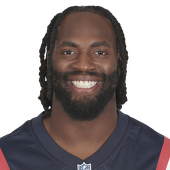 Matt Judon was an absolute menace during that three-play sequence: Crushing QB hit Half-sack Drawn hold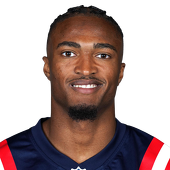 Patriots CB Shaun Wade looked like he just came off the practice field in sweats. That's a sign he could be inactive today.
Patriots' O-line in warmups: LT: Wynn LG: Karras C: Andrews RG: Mason RT: Brown Mike Onwenu also took reps at RT with the first group.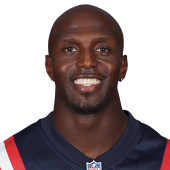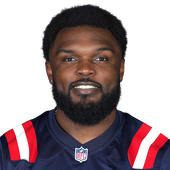 Ja'Whaun Bentley got to Johnson very quick there. That run stuff knocked Johnson back three yards. Great play
Isaiah Wynn has been a different player since returning from COVID. Like. Whew.
Tough drive for Shaq Mason, but Jones hits Henry for TD. Patriots answer with long drive of their own. 26 seconds left in 1Q. 15 plays, 83 yards. CLE 7, NE 7.
Devin McCourty on Kyle Dugger, who helped spark the Patriots with an early INT today: "I ask him all the time how he ended up as a Division II player, because he's a physical freak." Said he and Adrian Phillips marvel as some of the plays Dugger makes. pic.twitter.com/6PTnI5NAnC
Heading to New York City tomorrow with a few of the boys from the @BuffaloGBusters for the Ghostbusters: Afterlife NYC premier. I'll be on the red carpet representing and hoping to hug Bill Murray 🤞
Scoring Summary
| Team | QTR | TIME | SCORING PLAY | | |
| --- | --- | --- | --- | --- | --- |
| CLE | 1ST | 10:09 | Baker Mayfield passed to Austin Hooper to the left for 2 yard touchdown | 7 | 0 |
| NE | 1ST | 0:31 | Mac Jones passed to Hunter Henry to the right for 3 yard touchdown | 7 | 7 |
| NE | 2ND | 14:48 | Rhamondre Stevenson rushed to the left for 5 yard touchdown | 7 | 14 |
| NE | 2ND | 5:46 | Mac Jones passed to Kendrick Bourne down the middle for 23 yard touchdown | 7 | 21 |
| NE | 2ND | 0:20 | Nick Folk kicked a 38-yard field goal | 7 | 24 |
| NE | 3RD | 5:08 | Rhamondre Stevenson rushed to the right for 2 yard touchdown | 7 | 31 |
| NE | 4TH | 13:37 | Mac Jones passed to Hunter Henry down the middle for 3 yard touchdown | 7 | 38 |
| NE | 4TH | 4:20 | Brian Hoyer passed to Jakobi Meyers to the right for 11 yard touchdown | 7 | 45 |
Full Play-by-Play
Injury Report
| Name | Pos | Injuries | Status |
| --- | --- | --- | --- |
| Chris Hubbard | OT | Triceps | OUT |
| Jack Conklin | OT | Elbow | OUT |
| Takkarist McKinley | DE | Groin | OUT |
| Kareem Hunt | RB | Calf | OUT |
| Ryan Switzer | WR | Foot | OUT |
| Nick Chubb | RB | Covid-19 | OUT |
| John Kelly | RB | Covid-19 | OUT |
| Montrel Meander | LB | Torn Achilles | OUT |
| Greedy Williams | CB | Shoulder | OUT |
| Drew Forbes | G | Knee | OUT |
| Stephen Carlson | TE | Knee | OUT |
| Lawrence Cager | WR | Covid-19 | OUT |
| Nick Harris | C | Covid-19 | OUT |
| Jacob Phillips | LB | Biceps | OUT |
| Demetric Felton | RB | Covid-19 | OUT |
| Tre Harbison | RB | Concussion | OUT |
| Name | Pos | Injuries | Status |
| --- | --- | --- | --- |
| James White | RB | Hip | OUT |
| Henry Anderson | DE | Pectoral | OUT |
| Trent Brown | OT | Calf | OUT |
| Jonathan Jones | CB | Ankle/shoulder | OUT |
| Raekwon McMillan | LB | Acl | OUT |
| Harvey Langi | OLB | Knee | OUT |
| Troy Fumagalli | TE | Undisclosed | OUT |
| Terez Hall | LB | Undisclosed | OUT |
| N'Keal Harry | WR | Knee | OUT |
| Jarrett Stidham | QB | Back | OUT |
| Chase Winovich | DE | Hamstring | OUT |
| Byron Cowart | DT | Undisclosed | OUT |
| Dalton Keene | TE | Knee | OUT |
| Anfernee Jennings | LB | Undisclosed | OUT |
| Joshuah Bledsoe | S | Wrist | OUT |
| Cameron McGrone | LB | Knee (acl) | OUT |
| Quinn Nordin | K | Abdomen | OUT |
| Malcolm Perry | RB | Foot | OUT |