Where You Should Prioritize Tank Dell on Week 4 Waiver Claims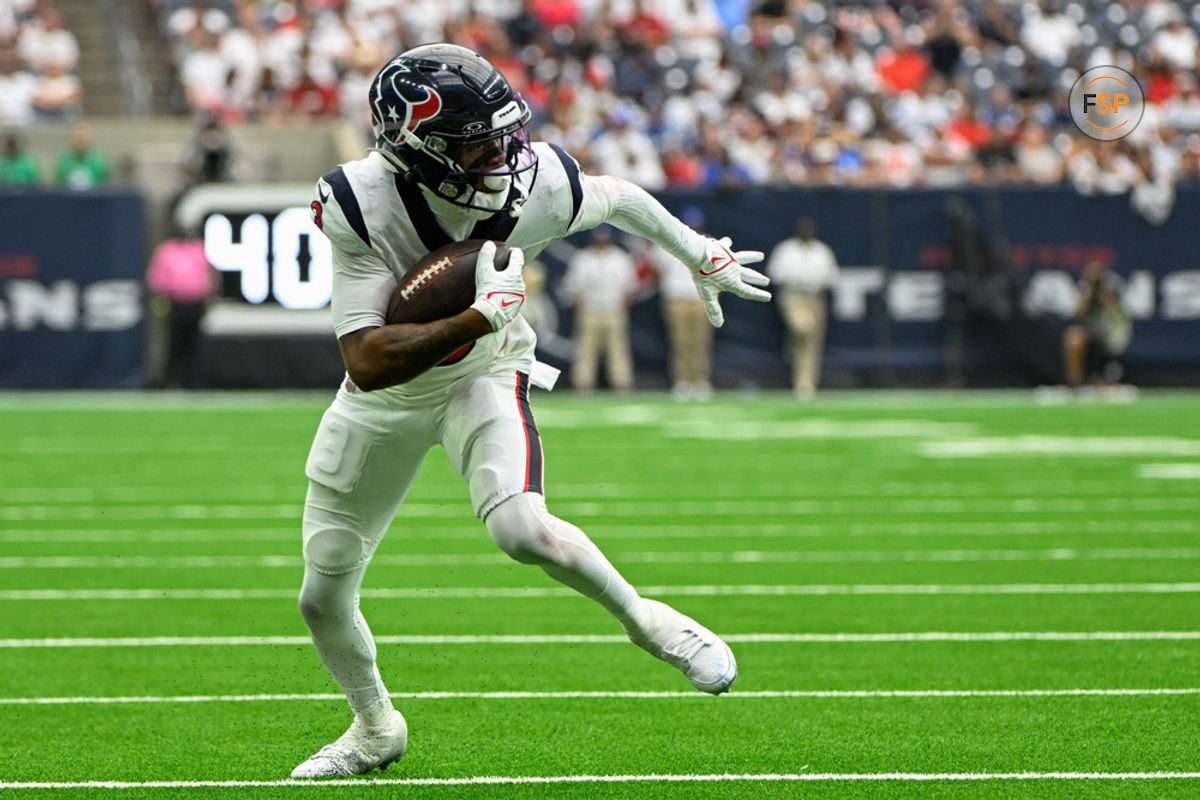 Houston Texans wide receiver Tank Dell was one of the rookie skill players that excelled on the field in week 3. After a couple solid weeks of production, his expected waiver interest (EWI) is one of the highest in the league going into week 4.
Let's discuss Dell and his fantasy outlook going forward, and then determine how you should be prioritizing him among other players.
Want to make sure you don't waste your FAAB budget? Sync your fantasy teams with our Fantasy Assistant to access our Predictive Analytics, which predict the average winning FAAB bids for each week's hottest pickups BEFORE waivers are run, with accurate predictions landing each Tuesday!
Tank Dell Fantasy Football Outlook
Dell was the Texans' leader in targets in week 3. The rookie caught five of the seven passes thrown his way, accumulating 145 yards and a touchdown by the end of the contest. He caught his lone red zone target in the game.
Dell accomplished all that while only playing 34 offensive snaps. He played the fourth most snaps of Houston pass catchers.
Dell is now up to 251 receiving yards and two touchdowns on 21 targets and 15 receptions through three weeks. He also ranks fourth in snaps played on the season, yet leads the team's pass catchers in fantasy points scored.
The third-round pick of Houston also returns punts for the team, so if your league rewards returners, there's a few more opportunities in a game for Dell to score.
Houston had to pass quite a bit in the first two weeks of play to try and keep up with their opponents. In week 3, the Texans were leading the entire game and still passed for 280 yards, with a Dell touchdown helping secure the win. What I'm trying to get across is that the Texans should continue to pass the ball at a high rate, so Dell's long-term success won't take any kind of big hits from any kind of wild tendencies that were formed in weeks 1-3.
Where to Prioritize Tank Dell
I'm always skeptical of rookie players, especially receivers, until they can show on multiple occasions that they can deliver. Dell has looked the part through three weeks and should only continue to improve as he adjusts to the pro level.
Of the players currently atop the EWI charts, which can be accessed through FantasySP's Fantasy Assistant tool, Dell is one of my favorites. 
Dell has the top EWI of a group of six wideouts high on the chart. The other wideouts behind Dell in EWI are Joshua Palmer, Adam Thielen, Josh Downs, Marvin Mims and D.J. Chark. 
Dell, Downs and Mims are rookies from that group. Dell and Mims have performed the best of the trio, but Dell has gotten significantly more playing time, so I'd prioritize Dell over Mims. Downs has also shown flashes that he can be a solid fantasy asset, but has produced about half of his stats in one week, so I'd take the more consistent Dell so far.
Palmer is a guy I wrote about earlier, and I like him a lot after the injury to Mike Williams. Given his history in the NFL, I'd prioritize Palmer just ahead of Dell. If you are in a dynasty league, then I'd swing my top priority to Dell.
Thielen and Chark are both on the same team, and will be battling for targets all season. I like what I've seen from the Houston offense more through three weeks, so I'd also prioritize Dell over those two players.
The only other skill players with high EWIs are running back De'Von Achane and tight ends Donald Parham and Luke Musgrave. If you are desperate for help at RB or TE, then that certainly swings the priority a bit more toward players at that position. 
If you are a solid team overall and are just looking for a depth piece that can maybe start down the road or when players are on bye weeks, then I'd take Dell over all three guys. Achane had a huge week 3 performance, but is part of a loaded Miami Dolphins backfield. Parham isn't even a starter for his time and is simply being added because of his touchdown total through three weeks. Musgrave is an emerging player at the tight end position, but the Green Bay Packers also have a lot of other mouths to feed, so his production likely won't be as consistent as Dell's should be.
Every owner's waiver wire priorities are different, but regardless of what kind of state your team is in, Dell is a guy I like moving forward. If he isn't at the very top of your priority list, he shouldn't be much lower.
#tank-dell
#texans