Is Now the Right Time to Trade Away Dolphins' Raheem Mostert?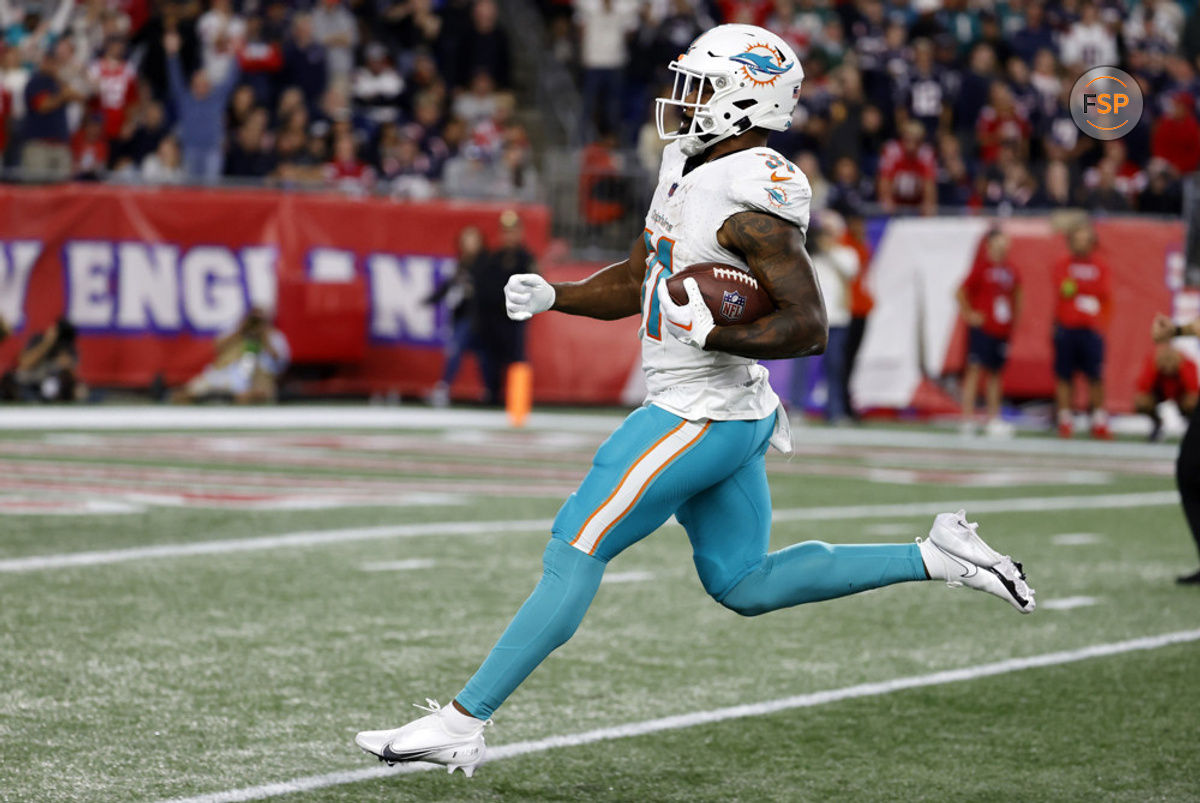 The Miami Dolphins 70-point outing on Sunday against the Denver Broncos turned a lot of heads across the league. Several players delivered monster performances, and if you started one of the stars, you had a pretty good chance of winning your overall matchup.
While most of the big games just reinforced how special players like Tua Tagovailoa and Tyreek Hill are, some big games came from new names, which clouded the future for some others. Raheem Mostert had a huge outing, but somehow was overshadowed by rookie De'Von Achane.
Let's dive into the numbers for the pair of running backs, then discuss what the future offensive gameplan might look like, determine who can be trusted going forward and entertain the idea of trading Mostert.
Explore the best in-season tool to manage lineup/start decisions including predictive waiver analytics to help prioritize waiver pickups, projections, auction values, trade suggestions, trade value charts, rest of season rankings, power rankings, and tons more with Fantasy Assistant.
Miami Backs Score 4 Touchdowns Each
Miami was pretty much able to do whatever they wanted against Denver, running for 350 yards and five scores while throwing for an additional 376 yards and five touchdowns. Mostert and Achane combined for eight of the scores.
Mostert was on the field for 37 offensive snaps. He received 20 touches and went for 142 total yards. Mostert rushed 13 times for 82 yards and three scores and caught all seven of his targets for 60 yards and an additional score.
Achane made his name known after getting 22 touches on just 30 offensive snaps. Achane rushed for 203 yards and two touchdowns on 18 carries, while hauling in four passes for 30 yards and two more scores.
Achane toted the ball six times in the red zone, while Mostert got three red zone carries.
Both performances were incredible and rewarded owners who started them with huge outputs. While Mostert is the team's starting back and certainly played well enough to hold that spot, Achane's outburst has Mostert owners a touch worried.
Fantasy Outlook for Miami Running Backs
As I just mentioned, Mostert's job shouldn't be in any kind of immediate jeopardy, as he's put together a solid season so far. The concerning thing is Achane looked like a superstar and definitely is going to get some more looks going forward. 
The only reason Achane was playing is because usual No. 2 back Salvon Ahmed was out with a groin injury. Ahmed had played 31 snaps and gotten nine touches through the first two weeks, accumulating 24 yards on six rushing attempts and 28 yards on three catches.
We haven't even discussed Jeff Wilson yet. He's currently on injured reserve, but is expected to be back in a couple weeks.
That makes four running backs that the Dolphins have at their disposal. That will be a nightmare situation for fantasy owners to try and sort through on a weekly basis, and it's something coach Mike McDaniel plans to use to his advantage.
A season ago, Mostert served as the team's lead back, but had just over 1,000 scrimmage yards and five total touchdowns. Wilson finished just below 500 scrimmage yards and four scores, while Ahmed had just 72 yards and a score.
As I mentioned in my waiver wire story on Achane, if any coach can find a way to incorporate three or four backs into a gameplan, I'd trust McDaniel to do it. I think it's more likely that three backs emerge, and if I had to guess who the odd man out is, I'd guess it's Ahmed.
What to do with Mostert
While I believe Mostert will be involved in some fashion in the Dolphins' offense all season, his lack of a 1,000-yard rushing season in his career suggests that it'd make more sense to have him split carries and touches so that he's available all season. I see Achane getting the other carries until Wilson returns, and then all three backs sharing the load on a weekly basis.
In an offense that lacks a ton of skill players outside of Hill and Jaylen Waddle, I actually think Mostert, Wilson and Achane could all be viable fantasy assets if this kind of scenario played out.
That being said, fantasy owners can't expect 100+ yard games and multi-touchdown performances from every guy. Sure, any one of them is capable of producing those numbers, but they will be hard to predict. 
For that reason, I am in agreement with the handful of owners that are trying to trade Mostert away now while his value is high. According to the FantasySP Fantasy Assistant tool, Mostert has an expected trade interest percent of 11%. Those numbers can be accessed in the predictive trades tab.
Mostert jumped up to 26th among running backs in the FantasySP player ratings. Many owners probably value him quite a bit higher though, as he's the highest-scoring back through three weeks.
I'm not saying you can trade Mostert for Christian McCaffrey, but you might be able to trade for a back ranked in the teens. If you aren't in need of a running back in return, Mostert is ranked 54th overall, and has a number of top quarterbacks and strong receivers and tight ends around him. Seeing as Mostert wasn't likely drafted by you to fill out your starting lineup, I'd try to deal Mostert away for some depth.
If you are going to make a move with Mostert, now is when I would make it. Waiting another week not only makes the return of Wilson more prominent, but it also allows Mostert's stock to take a hit if he doesn't perform well this weekend. The worst case scenario would be having Achane play more than Mostert and deliver another good showing, at which time Mostert's stock would plummet. I'd play things safe and deal Mostert now.
#dolphins
#raheem-mostert
#jeff-wilson
#devon-achane