Finding The Top Week 4 Fantasy Football Pickups With Predictive Analytics: De'Von Achane, Tank Dell, Joshua Palmer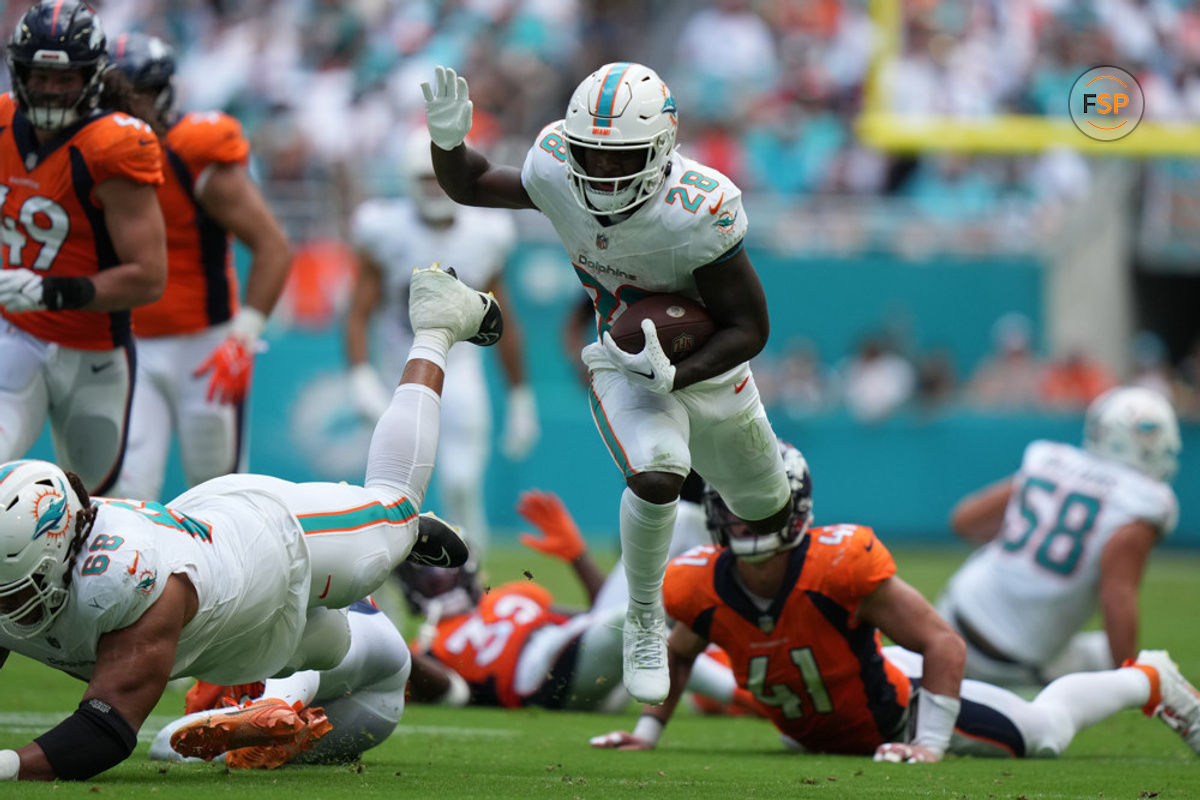 Let's take a look at fantasy football's most popular waiver wire options heading into Week 4! We can use the Predictive Analytics tool in the FantasySP Fantasy Assistant to help identify the top candidates. This tool predicts the Expected Waiver Interest (EWI) for every player, plus predicts their new rostership level following this week's waiver moves. Here are its current predictions for this week:
Top Predicted Week 4 Fantasy Football Adds
This one was pretty obvious. Anyone who is rostered in only 37% of leagues and puts up 20+ points is usually a very hot commodity; Achane put up 49.3 Half-PPR points. It's hard to know what to expect from him going forward, as even this Dolphins team isn't going to put up 70 points every week. There is a real chance that with Raheem Mostert still in town, plus Jeff Wilson Jr. likely returning soon, Achane sees just a handful of touches most weeks. This would likely leave him as a boom-or-bust flex play, with potential for huge weeks but also his fair share of duds.
On the other hand, with his explosiveness and the way this offense is rolling, Achane could easily be a must-start, league-winning type of player on even 15 touches a game. If I had to guess, this is the less likely of the two options, at least while Mostert and Wilson are healthy. But that might not be forever (after all, Wilson isn't even healthy now). More importantly, in fantasy football, and especially when making waiver or FAAB decisions, chasing upside is the most important thing. Achane has shown literally more upside than any other player in the league so far this season, and he's more than worth your top waiver slot or a hefty chunk of FAAB.
Want to make sure you don't waste your FAAB budget? Sync your fantasy teams with our Fantasy Assistant to access our Predictive Analytics, which predict the average winning FAAB bids for each week's hottest pickups BEFORE waivers are run!
WR Tank Dell, Houston Texans
Another undersized rookie who had a huge week, Dell caught five of his seven Week 3 targets for 145 yards and a touchdown. He has clearly established a connection with fellow rookie C.J. Stroud, who even requested the Texans draft him upon landing in Houston. Dell is now a top-10 WR on the season and unsurprisingly generating a very healthy 59% EWI. 
However, I'm not as excited about Dell as the fantasy public. Prior to his big week this week, Dell was actually third among the Texans' three WRs (Dell, Nico Collins, and Robert Woods) in snaps, routes, and targets. Even this week, he still lagged behind the others in snaps, although he ran more routes than Collins and obviously led in targets. With that in mind, Stroud has shown he is willing and able to spread the ball around, and I would not be at all surprised if next week one or both of Collins and Woods has a big game while Dell takes a backseat. Spreading the ball around can work great for NFL teams, but is a nightmare for fantasy players. While I'm sure Dell will have a few more big weeks, that might come too inconsistently for you to ever feel good about having him in your lineup.
I'm not entirely out on Dell, and he is still certainly worth adding in all leagues. The same upside argument I gave for Achane can be applied to Dell: After all, he is a rookie three games into his NFL career; perhaps he can establish himself as the Texans' clear to target and a weekly fantasy stud. But his ceiling outcome isn't quite as tantalizing as Achane's, and I believe he's less likely to hit it, so I wouldn't overprioritize him on waivers this week.
#fantasy-football
#week-4
#waviers
#devon-achane
#tank-dell
#joshua-palmer