Week 4 Fantasy Football RB and WR Droppables: Should I drop Dalvin Cook, Antonio Gibson, and Brandin Cooks?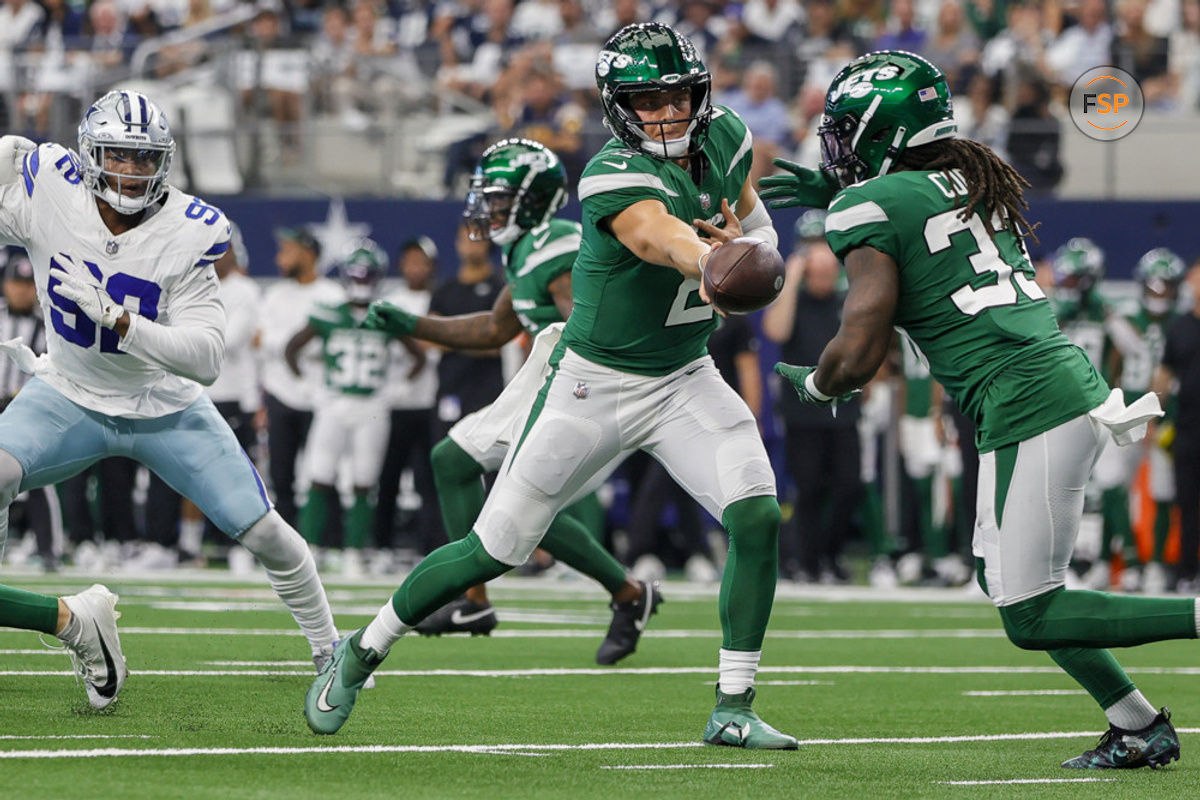 We're always looking to make moves in fantasy football, and this is going to be a weekly spot where we look at some of the most widely-dropped players across fantasy leagues and decide whether you should (or shouldn't) cut bait with them – due to either underperformance, injury, or otherwise. 
We covered waiver adds already, but in order to pick up someone, you have to drop someone. And that isn't a decision you should take lightly. We've all made drops we've come to regret.
With quarterbacks and tight ends in the books, let's take a look at some of the most droppable running backs and wide receivers for Week 4.
As always, check out the fantasy assistant for personalized waiver wire recommendations and team analysis. Make moves based on projections, strengths and weaknesses, waiver alerts, and lots more.
Week 4 Fantasy Football Droppables
It's safe to say that literally nothing went as the Jets planned this offseason. With Aaron Rodgers out for the year, the offense has looked abysmal (and that's putting it kindly) with Zach Wilson under center. And sadly for Dalvin Cook, that's been a bad thing for his fantasy production as defenses have unsurprisingly stacked the box. Through three games, Cook is averaging 2.3 yards per carry (25 carries for 58 yards) and has just seven receptions that have gone for 42 yards. While he's actually touched the ball more than Breece Hall, the Jets are still working Hall back from injury so I'd expect Hall to out-touch Cook from this point on. I understand the urge to keep him (he was a top-20 pick last season!), but the Jets offense is going to prevent him from being a difference-maker this year.  
Verdict: Drop 
Gibson has seen his fantasy stock drop quite a bit since being a consensus top-30 pick in 2021 drafts. Brian Robinson Jr. has a stranglehold on the Commanders' RB1 job, and Gibson is really just there to pick up the pieces. Gibson has yet to see more than five touches in a game (just 14 total touches on the season) while Robinson has 50 total touches. Even though Gibson has upside and big-play potential, he's just not seeing enough usage to warrant a spot outside of extremely deep fantasy leagues (or as insurance for owners who have Robinson on their roster) 
Verdict: Drop 
Perine was a popular later-round pick during drafts as Javonte Williams was a bit of a question mark coming off injury. However, Perine is looking like nothing more than a Williams handcuff through three weeks of the season as he's touched the ball just 21 times through three games. Williams, for comparison, has touched the ball 44 times. While Perine has enough talent to be a week-to-week starter if Williams gets hurt, he doesn't have enough standalone value while seeing 7-8 carries and 2-3 catches per game. He can safely be dropped unless you have Williams on your roster and are looking for insurance. 
Verdict: Drop
It hasn't looked great for Cooks through three weeks of the season as he's missed one game due to injury and hasn't done much in the other two games. But I still think there's enough upside to warrant holding onto the veteran. While he's caught just four total balls for just 39 total receiving yards in two games, Cooks has seen 11 total targets to the Cowboys are making an effort to get him involved. He's still the second option for the Cowboys behind CeeDee Lamb, and while he'll have to fight with Michael Gallup and Jake Ferguson for non-Lamb targets, Cooks has enough upside (and track record) to keep him on your roster for now. 
Verdict: Hold
What a difference a week makes. I would've had Moore as a solid drop last week after putting up four total catches on four total targets through the first two weeks of the season. However, Moore was much more involved in the Cardinals offense during their Week 3 win over the Cowboys, and I am now intrigued. Moore still only put up eight yards on four catches (which is impressively bad), but saw six targets and carried the ball three times for 54 rushing yards and a score on the ground. While he won't put up that type of 2021 Deebo Samuel-esque production every week, I'm interested to see if the Cardinals try to get him the ball more moving forward so I'm hanging on for at least another week.
Verdict: Hold
---
Fantasy SP has worked diligently to bring you next-level sports betting analytics, prop betting tools, public betting splits, and so much more! Become an Edge+ member today! 
#droppables
#drop
#nfl
#fantasy
#waivers
#rb
#wr
#week-4