Week 4 Fantasy Football QB and TE Droppables: Should you drop Justin Fields, Daniel Jones, and Cole Kmet?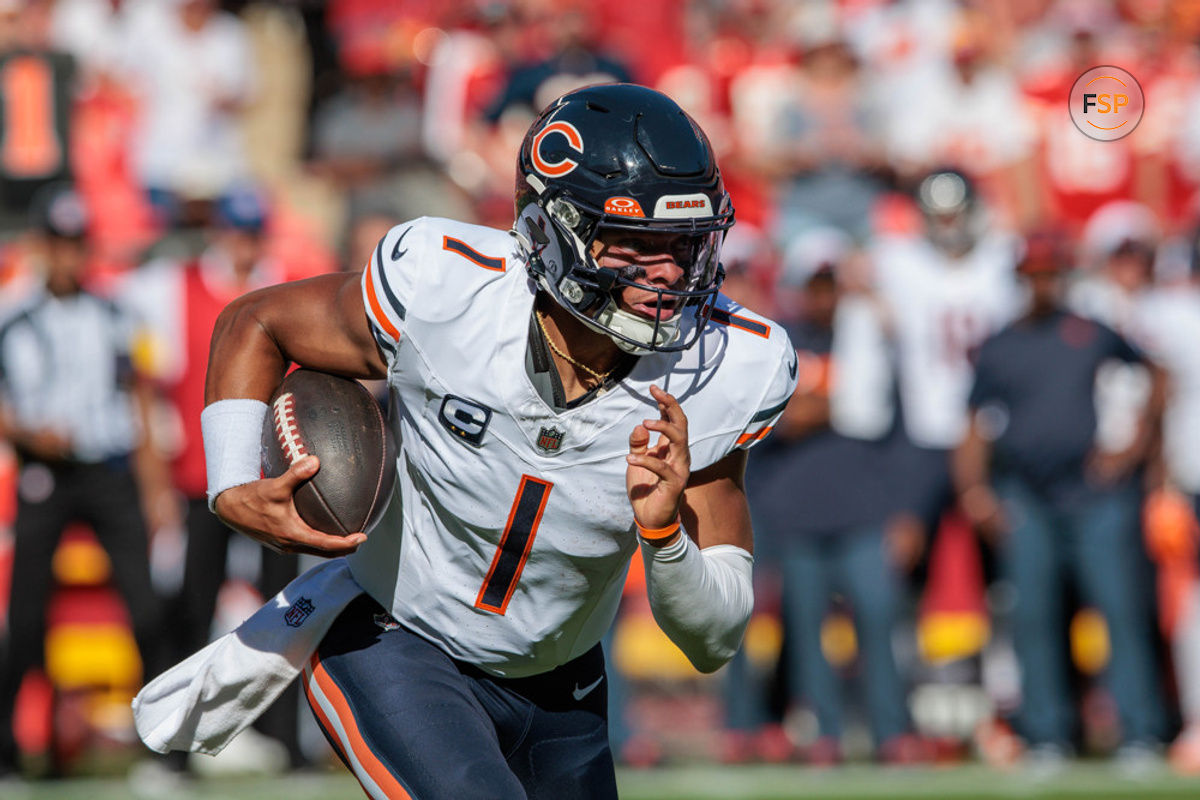 We're always looking to make moves in fantasy football, and this is going to be a weekly spot where we look at some of the most widely-dropped players across fantasy leagues and decide whether you should (or shouldn't) cut bait with them – due to either underperformance, injury, or otherwise. 
We covered waiver adds already, but in order to pick up someone, you have to drop someone. And that isn't a decision you should take lightly. We've all made drops we've come to regret.
So let's take a look at some of the most dropped players for Week 4 and decide if they're actually drop-worthy. 
As always, check out the fantasy assistant for personalized waiver wire recommendations and team analysis. Make moves based on projections, strengths and weaknesses, waiver alerts, and lots more.
Week 4 Fantasy Football Droppables
After being selected as a top quarterback in most drafts, Fields hasn't exactly played like a top quarterback through the first three weeks of the season. He's yet to top 15 fantasy points in a game and has generally looked lost. He's also running the ball nearly as well as he did last year and hasn't surpassed 59 rushing yards in a game (with just four total rushing yards in Week 2). While I understand the urge to drop Fields, he still has too much upside to cut bait just yet. We can most definitely revisit this take in a couple of weeks as the Bears seem to be spiraling already, but Fields should be able to turn things around in Week 4 against a Broncos defense that just gave up 70 points to the Dolphins. 
Verdict: Hold
Jones had a solid 2022, but that success hasn't carried over to 2023 just yet. A low-end QB1/high-end QB2 in most drafts, Jones had a monster Week 2 (which was really just the second half of that game) and two really really bad weeks in Week 1 and Week 3. While Jones has a somewhat high floor due to his rushing abiility, he lacks a high upside due to the Giants lack of playmaking options. With two tough matchups coming against the Seahawks and Dolphins, I think Jones is safe to drop to waivers in most leagues. There are enough middling options that you're not going to miss out on much. 
Verdict: Drop 
Derek Carr, QB, New Orleans Saints
It's always hard to know what to do when a player is dealing with a "week-to-week" injury, but it's safe to drop Carr in most leagues. He has QB1 upside, but the Saints have played things fairly conservative this year, and we also might be looking at multiple weeks of having to carry an injured Carr on our fantasy bench. While I like his receiving options and his potential to put up big games, there are other solid quarterback options out there (C.J. Stroud, Jordan Love, etc) that can do similar things to Carr. And they don't carry the injury uncertainty. 
Verdict: Drop 
Njoku was a popular middle-to-late round tight end option in drafts, but he hasn't quite lived up to the expectations many had for him as they envisioned him furthering his 2022 success with a full season with Deshaun Watson. 2023 hasn't been awful for Njoku, but he's yet to put up more than four catches, four targets, or 48 receiving yards in a game. That's just not going to cut it. With Elijah Moore in the fold, Njoku seems to have dropped to at least third on the Browns' target priority list and is nothing more than a weekly flier at this point. I still think he has enough upside to hold so I'm sticking with the recommendation, but I wouldn't fight anyone who wanted to drop him for a higher upside player.  
Verdict: Hold
Cole Kmet, TE, Chicago Bears
Kmet is in a similar boat to Njoku in that he looked good at the end of last year, and we all thought he'd take another step forward as Justin Fields progressed this season. We've already covered Fields, but Kmet has suffered along with him. While Week 1 and 2 were relatively promising in that Kmet saw 13 targets, he saw that number drop to two in Week 3 and he's yet to put up more than five catches or 44 yards in a game this season. With the Bears offense scuffling (and that's probably being kind), I think Kmet can be dropped to waivers if you're looking to add someone. 
Verdict: Drop
---
Fantasy SP has worked diligently to bring you next-level sports betting analytics, prop betting tools, public betting splits, and so much more! Become an Edge+ member today! 
#droppables
#drop
#nfl
#fantasy
#waivers
#qb
#te
#week-4