Can Justin Fields Turn it Around? | Can You Start Justin Fields in Fantasy?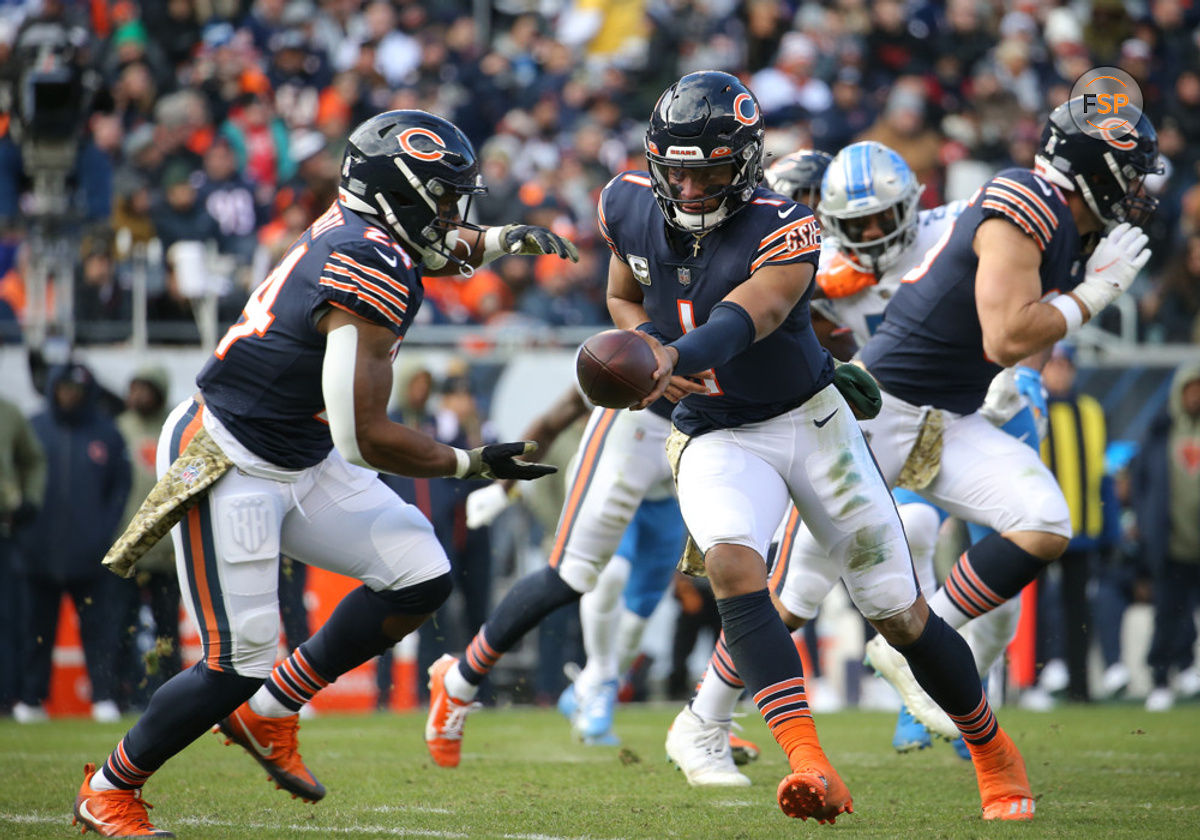 I saw Justin Fields (along with Lamar Jackson) as the quarterback most likely to finish in the top three in fantasy scoring this season other than the big three of Patrick Mahomes, Josh Allen, and Jalen Hurts.  He ran for 1,143 yards and eight touchdowns last season, and Fields seemed to be blossoming into a consistently great fantasy quarterback, even if he was lacking something as a real-life QB.
Fields has gone the other way, though, as he has scored just the 16th-most fantasy points among quarterbacks (according to Fantasy Pros, which I will reference a lot for fantasy scoring and rankings).  He is on pace for over 100 more pass attempts and 1,000 more passing yards than he had in 2022, which would sound like a good thing, but it's coming at the expense of his rushing production.  That rushing production is what made him the sixth-highest scoring quarterback in fantasy football last season.
The Power of Rushing Production
Fields had 307 fantasy points last season, and 162.3 of those were from running the ball; that means almost 53% of his production came from rushing statistics (not accounting for lost fumbles).  Running the ball is what made Fields both a fantasy starter and a player with potential for great things, especially if he could improve his passing at the same time.
He has run the ball 13 times for 62 yards and a touchdown this season, good production for a quarterback.  That projects to about 110 carries for 527 yards.  That's great for most quarterbacks, but it represents more than a 31% drop in carries and almost a 54% drop in yards from last year's totals in just 15 games.
The drop in carries is the most concerning thing for me.  If Fields was just as efficient last year but ran the ball 31.25% less times (110 total), he would have finished with 786 yards and 5.5 touchdowns.  Again, that would be great for most quarterbacks.  It represents a loss of 50.7 fantasy points for Fields, though, and that would drop him from QB6 to QB13.  That's a player who is barely getting drafted in 10-team leagues, not a hot commodity with potential to break out.
What Does it Mean Moving Forward?
Things might change, and Chicago could revert to something closer to last year's offense.  That would calm some of these concerns, as the counting stats would pile up.  There's reason to think that won't be the case, though.
Justin Fields made comments this week (then tried clarifying) about playing "robotic" and linked it to coaching.  He said he is at his best when he plays free, but the coaches are making him over-think and it's slowing him down.  I heard a nugget on a Sirius XM sports talk show (that I wish I had some kind of link to) that Chicago's front office views 2023 as a developmental year and aren't expecting to compete for the division.
This is purely speculative, but it sounds to me like the Bears are challenging Fields to learn the quarterback position more and develop as a passer rather than setting up designed runs, knowing it won't result in a lot of success this season.  This might be great for his development, but it makes him close to a non-factor in fantasy.
Fields without his rushing production, as we saw above, drops over 10 spots in fantasy rankings among quarterbacks.  Game and team situation matter a lot in fantasy, from the amount of time a player spends on the field to the plays designed to get him the ball.  Last season, the Bears set Fields up for fantasy success with a heavy workload: Hurts ran 163 times, but the 160 carries for Fields were 22.5% more than third-place Allen (124).
(Those numbers don't take out kneel downs, and that makes me think it's more in Fields's favor: the Eagles and Bills surely kneeled more often than the Bears, so Fields probably had the most attempts.  Oddly, I couldn't find that data easily.)
Fields is tied for the fifth-most QB rushing attempts in 2023, and his 13 attempts are nine less (41%) through two weeks than first-place Daniel jones.  He is still using his legs, which will always be a part of his game, but Fields is part of the middle now instead of the best rushing quarterback in the league.  Chicago is NOT setting Fields up for fantasy success this season.
The Verdict
Our fantastic Morgan Rode looked at Fields earlier in the week, and he recommended holding onto Fields for the time being unless you can trade him.  I agree with that sentiment, and it matters how much you want to move on.
Dropping Fields isn't an option, because someone will immediately pick him up and insert him in their lineup; he was drafted too high for that (as Morgan said).  If you really want to get rid of him through trade, just make sure you're getting someone valuable.  A receiver like Jordan Addison or tight end like Evan Engram would feel like a light return after the offseason hype around Fields, but it's a way to cut ties and improve your team.
If you want something more valuable in return, the best option is to find someone who still views Fields as a top option and thinks they can buy low.  In this case, a fantasy owner isn't going to give you their top back or receiver; you're looking for a better secondary option who seriously upgrades your team, so it depends on what your roster looks like.  Travis Etienne, Amari Cooper, or (maybe) Hunter Henry would be solid returns. 
If you see reason to doubt Fields, which I do, this is a great time to pull the trigger before more quiet games drop his value.  If you think he can bounce back, though, and will run more, keeping Fields is a perfectly sensible move.  We know what the ceiling looks like, and it's a fantasy boon.
#justin-fields