Are The Eagles Super Bowl Favorites? NFL Power Rankings Week 3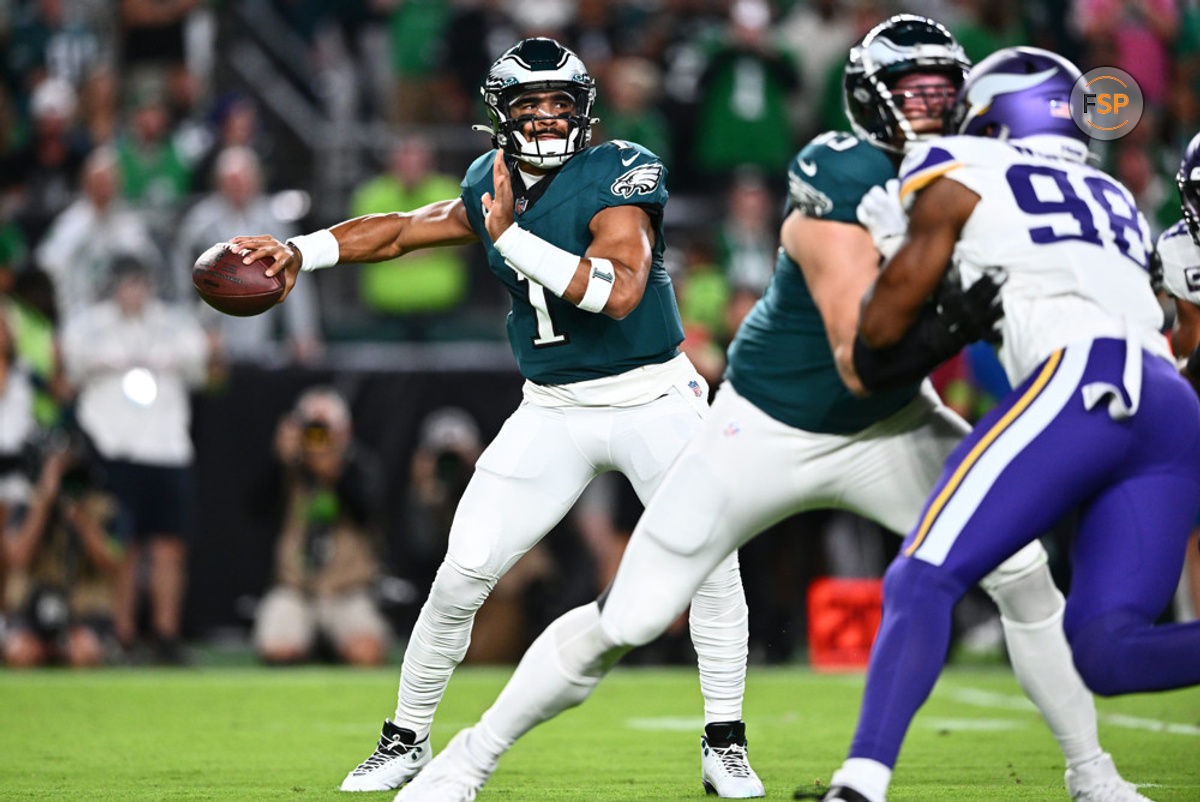 Two weeks of the NFL season are in the books, and some things are already starting to take shape. Keep in mind that two games is 11.8% of the season. It may seem early, but there are nine teams that are 0-2. Historically in the Wild Card era, only about 10% of teams that start 0-2 make the playoffs. For some teams, the season may be over before it's really begun.
With that in mind, here is the latest power ranking, with no change at the top three spots:
Sync your fantasy football league with the Fantasy Assistant to get rankings, waiver help, trade suggestions, optimal lineups, and more. Not sure Who You Should Start? We can help. Utilize our fantasy football trade analyzer for trades.
NFL Week 3 Power Rankings
Philadelphia Eagles: Until they lose, the Eagles aren't falling off of this perch. The scary thing is they still haven't played their best game yet. The scarier point is they may not be the best team in their division this year.
San Fransisco 49ers: Sandwiched between the two NFC East behemoths is this 49ers team who may also end up emerging to represent the NFC this year in the Super Bowl.
Dallas Cowboys: At some point, this Cowboys team has to break through for a deep playoff run. They are 2-0 and have one division win under their belts. They were 12-5 each of the last two seasons and should at least get to 12 wins again.
Baltimore Ravens: The Ravens sit atop the AFC North and are the only 2-0 team in the division. And most impressively, they have a divisional win against their main rivals, the Cincinnati Bengals. With the Bengals sitting at 0-2, the Ravens already have what is an essence a three-game lead.
Miami Dolphins: If Dolphins QB Tua Tagovailoa can stay upright, he could lead the Dolphins to the AFC East Title, represent the AFC in the Super Bowl, and be the league MVP.
Kansas City Chiefs: After a tough opening night home loss, the Chiefs did what champions do; they went into a tough road game and came out with a hard-fought victory. 
Buffalo Bills: Everything about the Chiefs can be said about the Bills. They underperformed in the Meadowlands in Week 1 and came back with a convincing victory in their home opener. 
New Orleans Saints: The Saints may very well have the second-best defense in the NFC, only behind the Cowboys. The question is, can defense alone take a team to the Super Bowl in 2023?
Seattle Seahawks: The Seahawks entered a very hostile and motivated Ford Field crowd in Detroit, just waiting to celebrate their Lions. It took a comeback, and it took overtime, but Pete Carroll's gang was able to get it done. Hopefully, Lions fans don't jump off the bandwagon, they have a solid team to root for.
New York Jets: If they can end Sunday at 2-1, with a home win against the Patriots, they will be worthy of staying in the top 10, but a loss putting them under .500 will plummet them down this list.
Detroit Lions: The Lions have an extremely intriguing game this week. They are eerily similar to the Jets. Both teams have been "It" teams all offseason. They are ranked next to each other, and each is 1-1. The Lions are home against a surprisingly good 2-0 Falcons team. This may determine whether or not the Lions are for real.
Jacksonville Jaguars: There are the "have's" (2-0 teams) and the "have nots" (0-2 teams). And then there are all the 1-1 teams in the middle. The Jaguars are one of those teams. 2-1 is far different than 1-2 to start a season. The Jags should take care of business at home against an 0-2 Texans team.
Atlanta Falcons: The Falcons may be the surprise team of the season so far, and rookie RB Bijan Robinson is proving to be the real deal. He went from only playing 33 snaps in Week 1 to ending Week 2 as the RB with the third most snaps. We will see how far the Falcons can go in 2023 building around their stud rookie RB.
Cincinnati Bengals: This is getting serious now. The Bengals are 0-2 and have questions surrounding QB Joe Burrow. They'd better take care of business on Monday night at home against the Rams, or it's going to be a long season.
Washington Commanders: The Commanders have clawed to the top of of the rankings based on their two victories. If they can leave DC 3-0 with a home win against the Bills, it will really throw shock waves throughout the league.
Los Angeles Chargers: How can this team be 0-2? They faced a really solid team in Week 1, losing to the Dolphins. But there was no excuse for losing to Tennessee this week.
Cleveland Browns: The Browns lost a tough game to the Steelers, turning the ball over four times. But more importantly, they lost the services of RB Nick Chubb for the season, which is awful.
Tampa Bay Buccaneers: Who needs Tom Brady? Veteran QB Baker Mayfield is doing just fine. He has the Bucs at 2-0 on the year and moving up this list. But a date with the Eagles is waiting for them. If they can dance their way to a 3-0 start, it will be extremely impressive ... but it's extremely unlikely.
Minnesota Vikings: The Vikings may be the best 0-2 team this season. Both of their losses were by one possession. QB Kirk Cousins is actually having a great season, with a 6/1 TD/INT ratio and his QBR sitting at 114.2. This week's matchup against the 0-2 Chargers is, in effect, a knockout game … knowing these teams, they'll probably tie.
Green Bay Packers: The Packers snatched defeat out of the jaws of victory, losing by one point late against the Falcons. The team hasn't missed a beat without Aaron Rodgers, and it's starting to look like Jordan Love is the heir apparent who'll be around for a while in Green Bay.
Pittsburgh Steelers: This team, behind the leadership of Mike Tomlin, is so resilient. They aren't very talented on paper, but they just find ways to win. I keep going back to the fact that they have never finished a season below .500 under Tomlin. 
Tennessee Titans: This was a huge game for HC Mike Vrabel and QB Ryan Tannehill. Another loss would have increased the grumblings to replace both men. They earned at least a week's reprieve before playing the Browns in Cleveland, who still may be reeling about Nick Chubb.
New York Giants: A loss to the Cardinals and the G-Men may have been at the bottom of this list, but a win has jumped them up into respectability. 
Denver Broncos: The Broncos played great in the first half and awful in the second half, only to connect on a Hail Mary which would have won them the game if they converted the two-point conversion. I know Sean Payton has the faith of the fanbase, but after last season, his leash is awfully short.
Indianapolis Colts: QB Anthony Richardson has looked serviceable, and the team is sitting at .500. A true test will be this week as they travel to one of the few best teams in the conference, playing Lamar Jackson and the Ravens.
Las Vegas Raiders: Last Sunday was a tough spot for the Raiders. They traveled cross country to play at 1 p.m. against a Bills team smarting after a loss. This week they are at home against their mortal enemy, the Pittsburgh Steelers, who always seem to play well in primetime.
Los Angeles Rams: The Rams actually played the 49ers tough, coming up a bit short. HC Sean McVay has done a solid job piecing it together to get the team to 1-1. They are up against a hungry Bengals team that absolutely has to have a win. 
Chicago Bears: The Bears have been awful, and it's not going to be easier going into Kansas City. It's hard to imagine they leave with anything but an 0-3 record.
New England Patriots: A loss this week could put the nail in the coffin of the Patriots Dynasty (which was over the day Tom Brady signed with Tampa Bay). An 0-3 start with two division losses, and heading to Dallas to go 0-4, would be devastating. It would also undoubtedly fast-track Bill Belichick's departure from the team.
Carolina Panthers: This is a work in progress and basically a 36-month window for the Panthers and their fans. Patience is necessary. The team is just lacking the offense to compete on a week-to-week basis.
Houston Texans: Rookie QB C.J. Stroud has actually played well. He has a 91.2 QBR, with two TDs and no picks, and he's averaging over 300 passing yards per game. But they are 0-2 and will most likely leave Jacksonville 0-3.
Arizona Cardinals: For a team trying to tank, the Cardinals keep playing pretty well. They are 0-2, right on schedule, but have had the lead in each game … and a dominant lead against the Giants this week that took everything QB Daniel Jones had to come back from. This Cardinals team may just win a few games by accident.
#week-3
#power-rankings
#nfl