Why You Shouldn't Trade for Lions' Josh Reynolds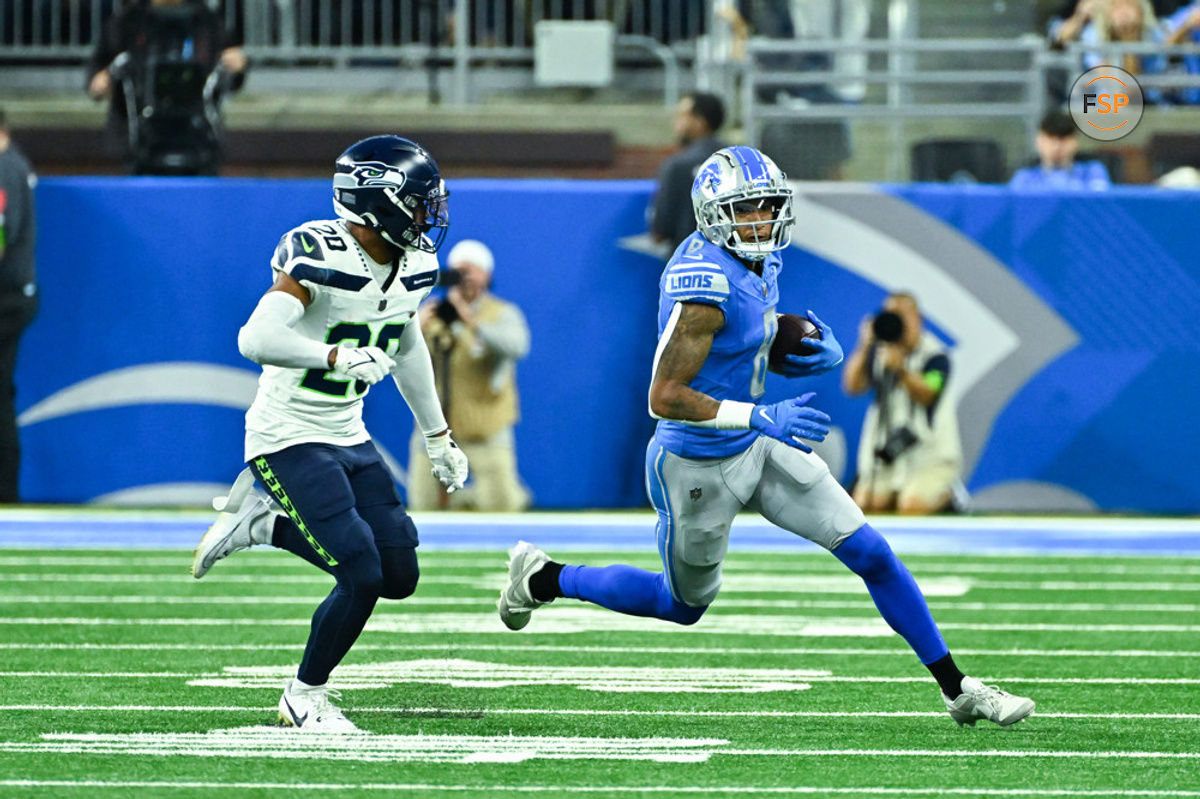 The beginning of the NFL season can be torturous for fantasy owners. Many leave their fantasy drafts with high expectations, only to have their opinions changed after two weeks of the season.
Maybe your team started 0-2 and you are scrambling to reconfigure your roster. Maybe you won a time or two already, but have lost one of your best players and are now scrambling to find a replacement.
FantasySP's Fantasy Assistant tool shows you the players that are being added, dropped and traded for the most, and it's fun to see what players are the popular ones each week. When perusing the predictive trades list this morning, I came across Detroit Lions receiver Josh Reynolds.
At the time of posting, Reynolds was the third-highest player when it comes to Expected Trade Interest (ETI), trailing Cleveland Browns' running backs Jerome Ford and Kareem Hunt by just a couple percentage points. I understand the interest in the Browns' backs and most of the other players near the top of the ETI, but Reynolds isn't one I'd be targeting. Let me explain to you why I'd avoid targeting him.
Explore the best in-season tool to manage lineup/start decisions including predictive waiver analytics to help prioritize waiver pickups, projections, auction values, trade suggestions, trade value charts, rest of season rankings, power rankings, and tons more with Fantasy Assistant.
Josh Reynolds Strong Start to the Season
I get some of the hype around Reynolds, as he's had a productive start to the 2023 season. He's been targeted 13 times in two weeks, which trails only star wideout Amon-Ra St. Brown among Detroit's pass catchers.
Reynolds has nine catches, trailing only St. Brown (12) and rookie tight end Sam LaPorta (10). Reynolds has accumulated 146 receiving yards, which trails only St. Brown. Reynolds has caught two of the team's four touchdown passes.
Reynolds has also been on the field a bunch, with 102 snaps played already. Only St. Brown (115) and LaPorta (112) have played more.
This is Reynolds' second year with the Lions, so some progression is exactly what the team was hoping for. In year one, he tallied just 38 grabs on 59 targets for 479 yards and three scores. Reynolds is currently on pace for 77 catches, 111 targets, 1,241 yards and 17 touchdowns.
Those are great numbers for a player who was not taken in most re-draft leagues. Our charts now show that Reynolds is owned in 55% of leagues and being started in 13%.
Why You Should Avoid Trading for Reynolds
The first reason I would avoid trading for Reynolds is because he went undrafted. There aren't many times I'm trading for someone who went undrafted. If I were going to, I'd be targeting a guy with the production of Los Angeles' Rams' Puka Nacua. Reynolds has put up solid numbers, but our judgment is being clouded by his two-touchdown performance in week 2.
I also see some regression in Reynolds' game in the near future. First off, his touchdown production is going to drop off. It's simply crazy to expect him to score once a game. His most touchdowns in a season was five, and that was all the way back in 2018. 
St. Brown is the leader in the wideout room and will continue to be the most-targeted player. He's also going to be targeted most often in the red zone. I would expect the targets to swing in St. Brown's favor as the season moves on.
You also have LaPorta settling into a bigger role on offense. He was targeted once more than he was in the opener, while Reynolds was targeted one less time, and I see that trend continuing as the season rolls along. Quarterback Jared Goff has only thrown one incomplete pass when targeting LaPorta, while Reynolds' catch rate percentage is behind all but one Detroit pass catcher that's played through two games.
Another reason I see Reynolds' numbers dipping is the continued development of rookie running back Jahmyr Gibbs. The first-round pick of the team in the most recent draft has only been on the field for 51 snaps through two games, but already had his touches jump from 9 to 14 from week 1 to 2. Coach Dan Campbell said after the season opener that the team was going to work Gibbs into the swing of things, so his touches will continue to rise as the season goes on.
When healthy, running back David Montgomery is also going to be a big part of the team's offensive gameplan. He played in 85 snaps and got 38 touches in the first two weeks. He's currently dealing with a thigh injury, so there's reason to believe the Lions pass a bit more if he misses a couple games or is limited. When Montgomery is back to full health, he and Gibbs will probably take up 35+ touches a game.
Another reason down the road that Reynolds' stock will take a hit is when receiver Jameson Williams comes back from his suspension. Williams is out the first six weeks and can return in week 7. Williams was injured for much of his rookie season in 2022, but the Lions surely will look to get him involved after spending the 12th overall pick on him. Williams might not take Reynolds off the field, but he will take away a few more targets and touches, further dropping Reynolds' stock.
Reynolds' Injury Concern
While I am recommending you not trade for Reynolds, if you currently roster him, he would be a solid fantasy option as the Lions are dealing with a number of injuries to skill players. Montgomery, St. Brown and receiver Antoine Green are all on this week's injury report, but so is Reynolds with a groin injury. If he were to miss the upcoming game, that just gives more skill players around him the chance to steal away snaps in the future. 
If Reynolds is able to go this weekend, he might be a must start depending on what other guys are available. He'd likely be the top-targeted wideout without St. Brown playing. Reynolds could also be worth a starting spot if Montgomery is out, as the team would likely pass a few more times to avoid giving Gibbs a big increase in touches.
Final Thoughts and Suggestions
I do believe Reynolds will contribute for the Lions during the course of the season, but there's also too many factors working against him to put up similar numbers from weeks 1 and 2. That's why I'd be against trading for him, even if you are looking at a guy to start for the next few weeks. I think he eventually falls to fourth or even fifth when it comes to touches per game. If you are desperate for just a couple weeks of help, just make sure you don't overpay for Reynolds. Use the FantasySP Trade Value Chart for reference.
If you are one that owns Reynolds, I'd suggest trading him while his value is high, but his groin injury complicates things. If he's cleared to go by Saturday, I'd try and flip him. You probably aren't going to get a consistent fantasy performer in return, but it's still a good return for a guy you likely didn't draft and instead picked up since the regular season started.
If no trade partners emerge, you can simply hold on to Reynolds and start him when the matchups are favorable. If he falls down the pecking order like I believe he will, then you can simply drop him after a couple of weeks of less production. 
#lions
#josh-reynolds