Start Darren Waller vs. Hunter Henry vs. George Kittle vs. Sam LaPorta vs. Dallas Goedert | Fantasy Football Week 3 TE Start Decision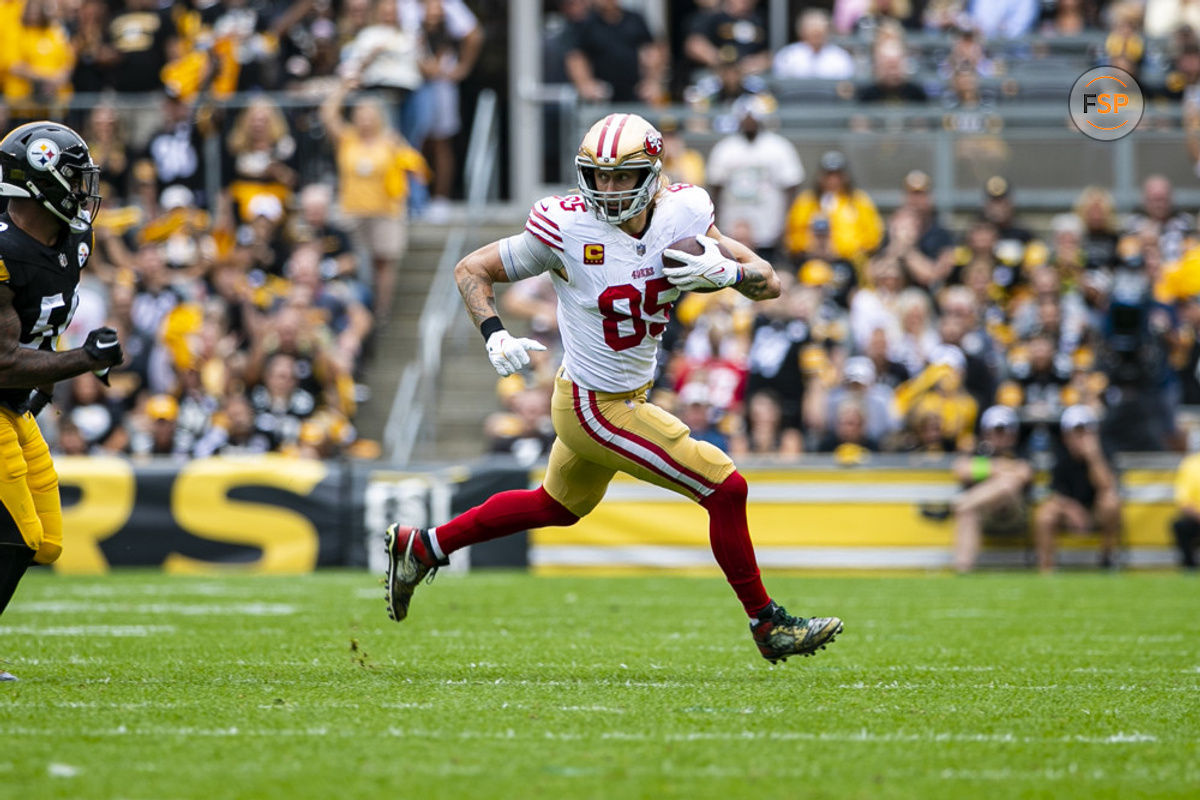 The tight end position continues to be one that baffles fantasy owners. FantasySP's "Who Should I Start? tool is full of trending decisions including tight ends, so let's break down five players.
This discussion will include New York Giants' Darren Waller, New England Patriots' Hunter Henry, San Francisco 49ers' George Kittle, Detroit Lions' Sam LaPorta and Philadelphia Eagles' Dallas Goedert. Waller and Kittle are part of the Thursday night matchup, while Henry and LaPorta play Sunday and Goedert on Monday.
Tough start decision? We have you covered. Find out in depth stats, red zone opportunities, projections, breaking news, and crowdsourcing real fantasy owners faced with the same start/sit decision. Check out our Who Should I Start tool. 
Why You Should Start Darren Waller
Waller has been the Giants' most-targeted pass catcher through the first two weeks of the season. He's caught nine of the 13 passes thrown his way, going for 112 yards. Waller has yet to score, but is tied for the team lead in red zone receptions (2).
Waller has been on the field a lot, with his 99 snaps played only trailing Darius Slayton (103). Waller is the leading scorer from a fantasy perspective of any pass catcher, even without a touchdown.
Waller and the Giants will take on the 49ers on Thursday night. The Niners' defense has allowed an average of three catches and 17 yards to opposing tight ends through two weeks. Opposing tight ends have been targeted 15 times in total and have scored once, which all adds up to eight fantasy points a game.
Waller will likely be the focal point of the Giants' offense with running back Saquon Barkley out for the contest. Two offensive linemen are also out. As over 10-point underdogs, New York might have to pass early and often to simply stay in the contest, and that's a good thing for Waller owners.
Waller is the highest-ranked tight end of the five players we are discussing, coming in fifth in our week 3 projections.
Why You Should Start Hunter Henry
Henry is off to a strong start to his 2023 season. He's been targeted 13 times, tied for the second-highest mark on the team. He's caught 11 passes, accumulated 108 yards and has scored twice.
Henry has played the most snaps (131) over any other pass catcher on the team. He also leads the team in fantasy points.
Henry and the Pats take on the New York Jets in the first slate of Sunday games. Despite having a strong defense, the Jets have struggled against opposing tight ends, allowing an average of 5.5 catches on 6.5 targets. Those catches are averaging just 31.5 yards a game, but tight ends have also scored twice already. The 15-point average from opposing tight ends is tied for the sixth worst mark in the league.
Henry is ranked 15th in our weekly projections.
Why You Should Start George Kittle
Kittle is one of the better players at the tight end position in the league, but has struggled so far. He's been targeted nine times and caught six passes, but for only 49 yards and no touchdowns.
Kittle has been targeted just once in the red zone, and he did not catch the pass. Kittle is still being heavily used, currently ranking second on the team in snaps played (102).
The San Fran tight end is tied for third on the team in fantasy points so far, but is a distant contributor at more than four times fewer points than Deebo Samuel and Brandon Aiyuk.
Aiyuk is listed as questionable for the Thursday night game, which means regardless of Aiyuk's status, Kittle should be a bigger part of the team's passing game.
The Giants' defense has allowed an average of 5 catches on 9.5 targets through two games, with the receptions going for 49.5 yards and no touchdowns. The 10-point average is right in the middle of the league.
Kittle is still the seventh-ranked tight end for week 3 despite his slow start.
Why You Should Start Sam LaPorta
LaPorta has been one of the better rookie offensive skill players in the league through two games. He's already been targeted 11 times, making 10 grabs for 102 yards.
LaPorta has not scored yet, but he did reel in his lone red zone target. He's played the second-most snaps (112) on the team, behind only Amon-Ra St. Brown.
LaPorta could have an even bigger role in week 3 as a couple of the team's wideouts are dinged up. Wide receivers Josh Reynolds, Antoine Green and St. Brown were all on the first injury report of the week. Running back David Montgomery is likely to also miss the game, so it's presumable that Detroit passes a bit more than in the first two weeks.
The rookie tight end's strong start has vaulted him up to sixth in our week 3 projections, sandwiched right between Waller and Kittle.
LaPorta and the Lions will battle the Atlanta Falcons in week 3. Atlanta has done a good job of slowing opposing tight ends so far, with averages of 36.5 yards on 6.5 targets and 5 catches against them. Opposing tight ends have scored once in two weeks, which leads to a 12-point average.
Why You Should Start Dallas Goedert
Goedert is another one of the more talented tight ends in the league, but is also struggling to get going. He's been targeted eight times, catching six for just 22 yards and no scores. He has not been targeted in the red zone.
Goedert is second on the team in snaps played to just DeVonta Smith. The tight end has as many fantasy points as Quez Watkins, who has played 63 snaps.
Philly does not play until Monday, so its first injury report of the week won't be available until Thursday.
Goedert ranks eighth in our week 3 projections as the team hits the road to face the Tampa Bay Buccaneers. The Bucs' defense has allowed averages of 7.5 catches, 10 targets and 52.5 yards to opposing tight ends through two weeks. No tight end has scored on them so far, but the 13-point average against them is in the bottom 10 in the league.
Final Numbers and the Recommended Start
Instead of boring you with a lot of numbers, I'll just let you know that Waller and Kittle are the two most-preferred players in this five-player discussion. Owners that roster both guys are starting them each 16% of the time and starting them together 60% of the time as of this publication.
I would agree that Waller and Kittle are the top two options in this discussion. Both should be heavily involved in the Thursday game, especially with a teammate out or banged up. I see New York as trying to keep up with San Fran most of the night, so I like Waller just a bit more than Kittle. 
Waller and Kittle are the only two tight ends I'd start together. If you have one of them and then one of LaPorta, Henry or Goedert, I'd use your flex spot on another player.
I'd go with LaPorta next even though he's got a bit tougher matchup than Henry and Goedert on paper. He's clearly built a good connection with quarterback Jared Goff, and should be even more involved in week 3 with some other skill players on the team dealing with injuries.
I'm most comfortable with Henry over Goedert given what each guy has produced so far. Goedert should eventually come around, but Henry has been one of the leaders in the Patriots' passing game, so I'd start him over Goedert if I rostered both.
#darren-waller
#hunter-henry
#george-kittle
#sam-laporta
#dallas-goedert