Cam Akers Fantasy Outlook on the Minnesota Vikings | RB Outlooks for Alexander Mattison, Ty Chandler & Myles Gaskin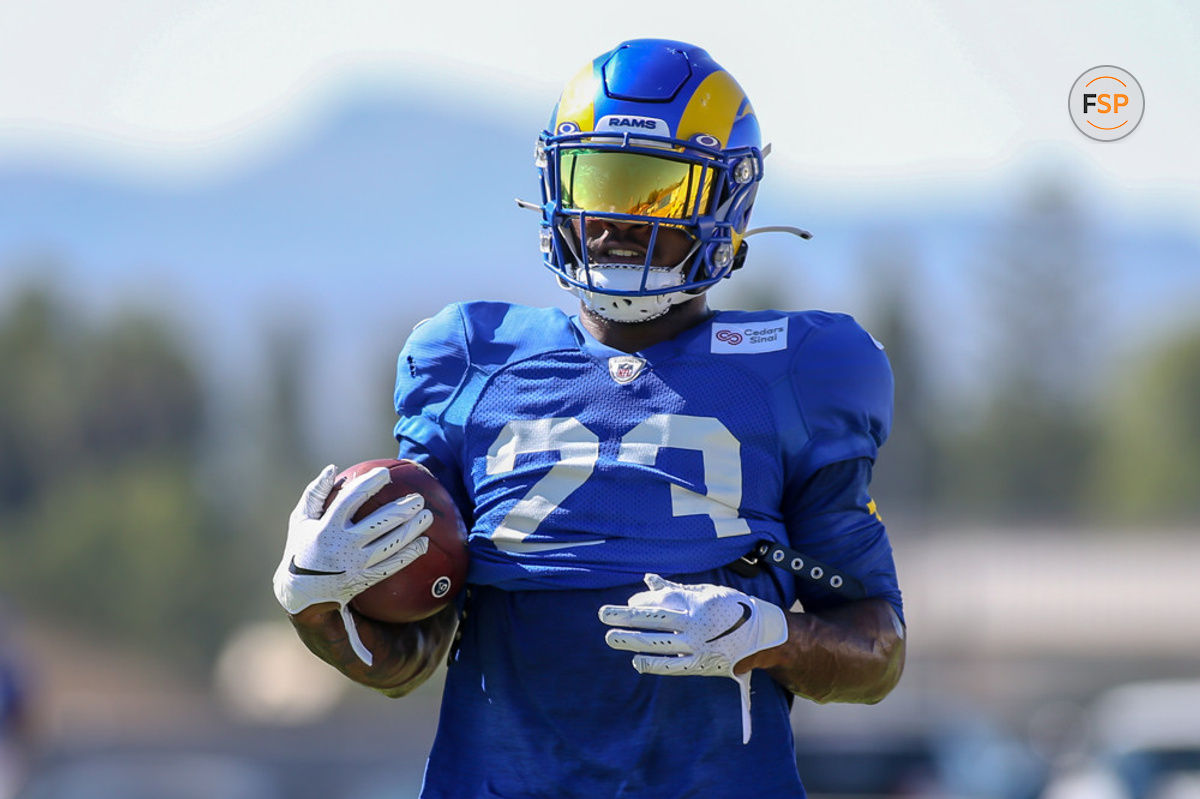 The Los Angeles Rams have traded running back Cam Akers to the Minnesota Vikings. This is what it means for your fantasy team. 
Cam Akers has been traded to the Minnesota Vikings after the Los Angeles Rams made him a healthy inactive last week and placed him on the trade block. The Vikings acquired him for next to nothing. The Rams received a 2026 pick swap. The former star prospect hasn't been the same since tearing his Achilles last summer, an injury no running back has ever returned to form from. He will now join a running back room led by Alexander Mattison with Ty Chandler and Myles Gaskin behind him. 
In theory, this trade makes sense. We didn't know how Mattison would fair as a feature back and through two games he has been less than spectacular. With the Vikings starting their season off 0-2, they could be pressing the panic button. The issue is that it's more than likely that Akers is cooked and his career will be wrapping up soon. There is a ton of data that tells us it's over and he's never going to bounce back. That's why we avoided him like the plague in drafts all summer. 
The fact that Akers was moved for a pick swap in 2026 tells you all you need to know about his current value. The Rams gave him away and the Vikings didn't invest enough to make them feel obligated to him. This situation parallels closely what happened with James Robinson last season who was also battling back from an Achilles injury. Things did not go well for him. He eventually ended up getting cut and is now out of the league. Akers could suffer the same fate if things don't turn around in a hurry. 
Fantasy Impact
Cam Akers Fantasy Outlook
If you have Akers and anyone is willing to roll the dice on him, sell now! He's never going to bounce back and he's not going to win the starting job in Minnesota. They will give him a shot, nonetheless, it will be short-lived. Looking at the Vikings' running back room, he's currently the fourth-best back on the roster. Akers isn't better than Gaskin. This is a Hail Mary by a spiraling team that reeks of desperation. The Rams are thrilled they got anything for him and you should be too if you can any kind of value back. Sell in both re-draft and dynasty and please don't buy him for any reason. 

Alexander Mattison Fantasy Outlook
This isn't ideal for Mattison, but we also aren't quite ready to give up on him yet. So far this season, he has only managed 62 yards on 19 carries. However, he was shut down by a dominant Eagles' front seven and also faced a potentially touch Bucs defensive front. It's been a rough start, nevertheless, we aren't moving on from him for at least a few more weeks. The concern isn't Akers though, the concern is the message the team is sending. Akers isn't going to supplant Mattison, but that doesn't mean another back on the roster won't. If the team is looking for another option at running back, Chandler and Gaskin could both be trouble for his rest of season outlook. The best-case scenario at this point seems to be Mattison holding on to the starting job and developing into a low-end RB2 or volume flex play. 

Ty Chandler Fantasy Outlook
Chandler is unproven and has a very small sample size with 10 career carries for just 20 yards. So far this season it hasn't been good. He's carried the ball four times for zero yards but has caught all three of his targets for 27 yards. All he is at this point is an unproven projection that some fantasy owners seem to like because they haven't seen him fail yet. It's possible he ends up winning this job and becoming a league winner, but we wouldn't bank on that. 

Myles Gaskin Fantasy Outlook  
Gaskin was an underrated back who flashed in Miami despite playing behind a horrific offensive line on a team devoid of talent for the majority of his tenure. He showed the ability to handle a significant amount of carries, excelled as a pass-catcher in space, and isn't a detriment in pass protection. It would be intriguing to see how he could do if he got a real opportunity on an offense like the Vikings who have some serious weapons on the outside and a proven veteran QB. Don't be shocked if Gaskin ends up surprising a lot of fantasy owners and we end up talking about him a lot more than expected by the end of the season.  
#cam-akers
#alexander-mattison
#ty-chandler
#myles-gaskin