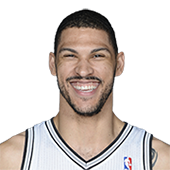 No player news within the past 60 days.
Add or Drop Jeff Ayres?
Top
The current trend indicates that there has been no movement in terms of ADDS or DROPS for Ayres. In the past week his own percentage has hardly any movement . Meanwhile his start percentage has remained steady.
In the past 30 days, the highest own percentage for Ayres is 0% and his lowest is 0.00%. In terms of start percentages, his highest start percentage is 0% and lowest is 0.00%.
Jeff Ayres Injury News
Top
DATE
OPP
M
FG
PTS
AST
STL
REB
BLK
TO
FPT
Diff
Totals:
0
/
Jeff Ayres Fantasy Graph
Top
Fantasy Chart Loading...