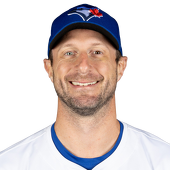 (click date to expand)
[+] December 3rd 2015

1 Updates
Posted 508 days ago. via Nationals Baseball
One of the knocks on Max Scherzer entering last year was that he threw a lot of pitches. That happens if you strikeout a lot of people (which Max does), throw a lot of innings (which Max does), and aren't particularly known for precise control (which Max wasn't until last year).

That last point is important because there was some hope during last season that Max wouldn't end up throwing a lot pitches because he was giving up a lot fewer free passes. While he did successfully lower his P/PA to a career low (3.73 after usually being over 4.00) there were enough innings, HRs and various other things to keep his pitches up near the top of the majors. That marks his 6th season in a row of being such.
Add or Drop Max Scherzer?
Top
The current trend indicates that there has been no movement in terms of ADDS or DROPS for Scherzer. In the past week his own percentage has hardly any movement . Meanwhile his start percentage has increased by 1.11% .
In the past 30 days, the highest own percentage for Scherzer is 99% and his lowest is 89.09%. In terms of start percentages, his highest start percentage is 94.61% and lowest is 72.54%.
Max Scherzer Injury News
Top
DATE
OPP
INN
K
WLK
ER
DEC
ERA
WHIP
PTS
Diff.
04/23
@NYM
8.0
9
1
3
WIN
1.95
0.83
26
4
04/18
@ATL
7.0
7
3
0
WIN
1.37
0.86
26
0
04/12
STL
6.0
10
2
1
LOSS
2.13
0.95
21
5
04/07
@PHI
6.2
7
2
2
WIN
2.70
0.90
22
0
Totals:
27.2
33
8
6
95
Max Scherzer Fantasy Graph
Top
Fantasy Chart Loading...