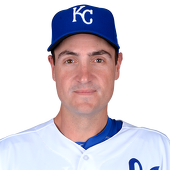 (click date to expand)
[+] November 11th 2009

3 Updates
Posted 3023 days ago. via rotowire.com
Young (shoulder) plans to begin throwing this week, according to the San Diego Union-Tribune. [...]
Posted 3023 days ago. via kffl.com
The San Diego Union-Tribune's Bill Center reports San Diego Padres SP Chris Young (shoulder) was given a clean bill of health and will begin a throwing program Friday, Nov. 13. "Thus far, I've been pretty encouraged from what I've done," Young said. "There's been no pain. And I'm doing some movements now that I couldn't do before the surgery.
Posted 3023 days ago. via rotoworld.com
Chris Young, who underwent exploratory shoulder surgery in mid-August, is scheduled to begin a throwing program Friday. young is hoping to be completely healthy by the start of spring training. [...]
Add or Drop Chris Young?
Top
The current trend indicates that there has been average movement in terms of ADDS or DROPS for Young. In the past week his own percentage has decreased by 7.37% . Meanwhile his start percentage has increased by 99% .
In the past 30 days, the highest own percentage for Young is 11.11% and his lowest is 0.90%. In terms of start percentages, his highest start percentage is 99% and lowest is 0.00%.
Chris Young Injury News
Top
DATE
OPP
H
HR
R
RBI
SB
BB
AVG
PTS
Diff.
06/17
N/A
nan
nan
-2
28.68
06/09
N/A
nan
nan
-2
34
06/04
N/A
nan
nan
3
33
05/31
N/A
nan
nan
7
31
05/21
N/A
nan
nan
7
26
05/14
N/A
nan
nan
2
21.34
05/09
N/A
nan
nan
-2
33
05/02
N/A
nan
nan
8
22
04/25
N/A
nan
nan
0
28.5
04/23
N/A
nan
nan
2
28.5
04/21
N/A
nan
nan
5
32
04/12
N/A
nan
nan
-2
28.34
04/09
N/A
nan
nan
2
24.34
04/05
N/A
nan
nan
1
28
Totals:
26
Chris Young Fantasy Graph
Top
Fantasy Chart Loading...