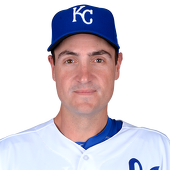 (click date to expand)
[+] February 22nd 2016

1 Updates
Posted 639 days ago. via Boston Herald
FORT MYERS — The Red Sox were the sixth-best team in the majors against left-handed pitching last season, when they hit .265 with a .740 OPS.With Chris Young on board, they should be even better against southpaws this year.Young, the lefty-masher who was signed to a two-year, $12 million contract in the offseason, arrived to Sox camp yesterday excited to begin his career on the other side of the Boston-New York rivalry after he spent his last two seasons playing for the Mets and Yankees.
Add or Drop Chris Young?
Top
The current trend indicates that there has been minimal movement in terms of ADDS or DROPS for Young. In the past week his own percentage has increased by 0.06% . Meanwhile his start percentage has remained steady.
In the past 30 days, the highest own percentage for Young is 2.80% and his lowest is 1.59%. In terms of start percentages, his highest start percentage is 50.00% and lowest is 16.67%.
Chris Young Injury News
Top
DATE
OPP
H
HR
R
RBI
SB
BB
AVG
PTS
Diff.
06/17
HOU
N/A
nan
nan
-2
28.68
06/09
@OAK
N/A
nan
nan
-2
34
06/04
@ANA
N/A
nan
nan
3
33
05/31
N/A
nan
nan
7
31
05/21
@STL
N/A
nan
nan
7
26
05/14
TB
N/A
nan
nan
2
21.34
05/09
@BAL
N/A
nan
nan
-2
33
05/02
@BOS
N/A
nan
nan
8
22
04/25
MIL
N/A
nan
nan
0
28.5
04/23
N/A
nan
nan
2
28.5
04/21
@DET
N/A
nan
nan
5
32
04/12
ANA
N/A
nan
nan
-2
28.34
04/09
SEA
N/A
nan
nan
2
24.34
04/05
N/A
nan
nan
1
28
Totals:
26
Chris Young Fantasy Graph
Top
Fantasy Chart Loading...